Need-based funding, Merit-based funding, General grants/scholarships
View Other Details

Program Details

University

National University of Ireland - Galway
13 travelers are looking at this program
The summer Galway program is ideal for students interested in learning about Irish studies in a lively, student-oriented city on Ireland's west coast. Galway's magical combination of ancient history and contemporary culture makes it a great location for Irish studies.
The Galway program consists of one 5-week Summer session offering academic coursework in literature, history, theatre, music, and the Gaelic language taught by established Irish and US scholars. Many of these courses include enticing field trips offering hands-on experience with the subject matter, such as walking tours of Galway, outings to the Connemara gaeltacht (Irish-speaking area), live theatre, and guest lectures by leading playwrights and directors, private Irish film screenings, and private in-class music concerts by leading traditional musicians and singers. Those with Irish roots can enroll in a 1-credit course to trace your family's genealogy.
There are LGBTQIA+ friends, colleagues, and allies throughout the world. However, cultural understanding of gender identity and sexuality does vary from country to country. USAC has compiled a lot of resources to help you through that learning process.
USAC is dedicated to working closely with students with disabilities to ensure the best study abroad experience possible. You may request reasonable accommodations after your initial application is complete. We routinely receive requests for scheduling, material, and environmental accommodations for the classroom setting, which may include assistive technology, scribes and readers, printed material, and interpretation.
Environmentally-conscious students choose USAC because many of our programs are held in some of the most sustainable countries in the world. There are options to take coursework in sustainability and the environment, as well as field trips and studies where students can leave a lasting impact on their host country.
Program Highlights
Enjoy summer festivals, especially the Galway Film Fleadh, Ireland's most prestigious film festival, and the Galway Arts Festival, one of the most vibrant celebrations of music, theatre, and arts of all sorts in Europe
Join in field trips that include the ancient Aran Islands and the rugged mountain landscapes of Connemara
Trace your Irish roots through a genealogy course
About National University of Ireland - Galway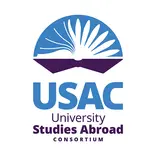 USAC Scholarships and Financial Aid
USAC awards over $2 million in scholarships and discounts each year to assist students with their study abroad expenses.