Service-Learning Intensive Semester Program with SIS
Term
Academic Year, Fall, Spring
View Other Details

Program Details

Degree Level

Bachelors

Masters

Pricing

What's Included

Accommodation

Activities

Classes

Meals

Transportation

Visa

What's Not Included

Airfare

What's Not Included (Extra)

Personal travel, personal insurance
0 travelers are looking at this program
If you want to spend your semester abroad a little differently, consider the Service Intensive Semester offering of Siena Italian Studies! Similar to our multi-destination programs, this semester option allows students to complete their coursework the first 6 weeks in Siena, focusing on learning the Italian Language, as well as Intercultural Communication, European Development Policy other related courses. The last 8 weeks of the program are dedicated almost entirely to one or more service-learning placements in Siena. These can range from teaching English in public schools, working with refugees or riding an ambulance alongside other volunteers, or caring for Siena's Medieval walls, among many others. Service can also be customized if the student has a particular area of interest!
Throughout the semester students will be housed with our trusted host-families and will participate in a series of trips and activities offered by the program.
Program Highlights
Earn academic credit and complete an intensive service experience
Learn the language and really engage with the host community and other volunteers through service-learning
Challenge your perspective on service, study abroad and the world!
Enjoy beautiful Siena, Italy and the benefits of SIS!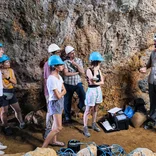 We all know how hard it is for students studying science to find both the time and the right courses in a study abroad program. This is why SIS has created a Scientific Track to satisfy this need. Courses in natural, environmental and applied sciences, as well as select courses in math and statistics are available in this program. The science courses are instructed in English, but students participating in this program will also complete the intensive and semester Italian course.