ISA Study Abroad in Salamanca, Spain
Term
Academic Year, Fall, J-Term, Spring, Summer, Winter
View Other Details
13 travelers are looking at this program
Study abroad with ISA in Salamanca, Spain, at the University of Salamanca. This is the first program ISA ever offered, back in 1987, and it has retained a great reception through today. Salamanca is a great place to study in Europe, with a relatively close proximity to a major city (Madrid) and a retained cultural atmosphere relatively untouched by outside western influence. The city is small enough to navigate by foot, allowing you to gain an intimate understanding of the local landscape and culture.
Known to offer some of the best and purest Spanish language and culture courses in the world, the University of Salamanca is a great place to reach the next level in your Spanish proficiency. Sign up with ISA today to travel to this beautiful city, and have the trip of a lifetime!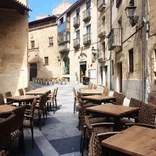 The Universidad de Salamanca (USAL), founded in 1218, is the oldest university in Spain. It is world-renowned for its specialization in the teaching of the Spanish language, making it ideal for study abroad students. The university buildings are spread amidst the golden sandstone cathedrals and cobblestone streets of Salamanca--a quaint, walkable, college town
ISA by WorldStrides Diversity Scholarship
This scholarship is offered for summer and semester programs and is intended for students with identities historically underserved in education abroad. This can include, but is not limited to, individuals who identify as African American/Black, Hispanic/Latino, Asian American, Alaskan Native, American Indian, Native Hawaiian, LGBTQIA+, First-Generation College Students, U.S. Military Veterans, students with disabilities, and/or students at Minority-Serving Institutions.