Summer High School Programs in Fiji with Rustic Pathways
View Other Details

Program Details

Program Type

Direct Enrollment

Pricing

Price Details

Costs vary depending on the program. Price does not include international airfare.

What's Included

Accommodation

Activities

Airport Transfers

Meals

Transportation

Wifi

What's Not Included

Airfare
75 travelers are looking at this program
Our community partnerships in Fiji date to 1993. These deep roots mean that we have friends in every village we visit and our expert local staff members make students immediately feel at home. Arriving students are welcomed to their programs with a traditional sevu sevu ceremony and invited to share a taste of kava. Our Fiji programs visit villages on remote islands and in the mountainous highlands, locations not available to the average tourist.
Sailing through the islands of Fiji feels like you're in a postcard brought to life. Whether you are in the highlands or among the islands, you will constantly be surrounded by calming tropical scenery. The warmth of the Fijian people make you feel at home and you will find yourself easily adjusting to island life.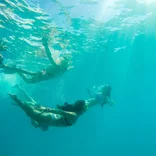 Work on a variety of community service projects while staying at our beautiful Eco-Lodge Service Base in Fiji. From tutoring at a local school to working on small construction projects, you'll have the ability to do a range of service work. Get to know Fijian culture through our local staff who will teach you about the country's history, perform a traditional dance, and show you how to cook delicious local food.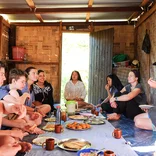 Adventure through Fiji on this jam-packed, two-week adventure. Start your trip by heading out to the village of Somosomo on Naviti Island where you will swim and kayak in pristine waters. Help out on a village service initiative and contribute to the community in a positive way. Spend a few days getting to know the Fiji highlands, hiking across the mountains and experiencing rural village life.
Rustic Pathways Scholarships
Every year, travel company Rustic Pathways give away $250,000 to students from across the world. Scholarships are varied and it's worth checking back in after they've been awarded as late-season scholarship redistribution -- where uncollected grants are reallocated to new applicants -- takes place a few months later. Among their scholarships, the most relevant to prospective volunteers are the following:
Service Scholarships: Available to those who have never participated on a Rustic Pathways program before, this scholarship covers most or all of the program fees for a service-learning project with the company and is available to those who demonstrate financial need.
Gap Year Scholarships: Recognizing academic merit, these scholarships are available to cover some of the fees of a one-semester gap year program with Rustic Pathways.