View Other Details

Program Details

Housing

Guesthouse

Host Family

Hostel

Groups

Small Group (1-15)

Medium Group (16-30)

Pricing

What's Included

Accommodation

Airport Transfers

Equipment

Meals

Transportation

What's Not Included

Airfare

Domestic Airfare

SIM cards

Travel Insurance

Visa
8 travelers are looking at this program
Travel to Ghana, a country with an abundance of nature, from mountains, waterfalls, and wildlife, to diverse beach coasts. In the city of Accra, visit forts and castles detailing over four centuries' worth of history, or be sure to try the traditional kelewele, a favorite savory side dish.
You'll join a team of like-minded participants, GVI staff, and partners to support sustainable development projects. Focuses include childhood development, education, global health awareness, and women's empowerment, and your efforts directly contribute to the UN Sustainable Development Goals (UN SDGs).
This is an opportunity to get involved in assisting with vocational training, financial planning for local livelihood initiatives, teaching English to youth, or conducting workshops on gender disparities within the community. At the same time, learn about culture, gain hands-on skills, and meet people from around the world, while traveling and exploring Accra, Ghana.
Program Highlights
Connect with participants from around the world and actively contribute to the UN SDGs.
Learn about different cultures and traditions, and try a variety of local cuisines.
Assist with women's empowerment, childhood development, and health awareness initiatives.
Become a global citizen as you better understand local and international issues around community development.
Explore mountain ranges, relax on beaches, and visit historical monuments that are over four centuries old.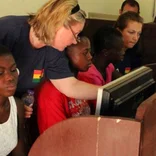 By joining this program, you are supporting community members in their chosen career focus, and contributing to the UN Sustainable Development Goal 8: Decent Work And Economic Growth, and Goal 5: Gender Equality. Focus areas include English language, business management, IT literacy, and financial planning. You will also have the opportunity to learn more about culture in Ghana, and explore the surrounding west coast of Accra.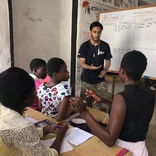 In Accra, Ghana, on the West coast of Africa, team up with other like-minded participants to support the development of children and young adults. You will be actively contributing to the UN Sustainable Development Goal 4: Quality Education, and Goal 10: Reduced Inequalities. Activities include planning and conducting lessons, assisting local schools with their educational capacity, and supporting the improvement of educational resources and environment.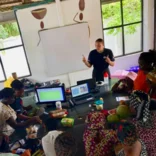 Support local partners to conduct training workshops focused on global health awareness, and gender equality and disparity within the community. You will be supporting improved access to quality education, and reproductive health education for local women. This is also an opportunity to gain cross-cultural skills while contributing to the UN Sustainable Development Goal 4: Quality Education, and Goal 5: Gender Equality.