View Other Details

Pricing

Price Details

The Volunteer contribution includes all your food, accommodation, training materials and project equipment.
96 travelers are looking at this program
Visit Giannitsochori, a coastal village, to engage in sustainable projects that assist with the protection of endangered loggerhead turtles. Learn about the nesting process through a first-hand experience while also gaining technical marine conservation skills. Activities could include assembling protective structures, surveying and monitoring nesting sites, and ensuring they are safeguarded from natural predators in the area.
Your contributions support the hatchlings safe journey to the ocean and align with the UN Sustainable Development Goal 14: Life Below Water, and Goal 15: Life On Land. This is also a way to meet people from around the world and connect with skilled conservationists and local community members.
While in Greece, develop your palate with local dishes before exploring nearby mountain terrain and heading back to your beachside campsite for the night's nesting activities.
Program Highlights
Observe and assist in the nesting cycle of the loggerhead turtle.
Travel around Greece.
Hike nearby mountains with panoramic views over the Ionian Sea, taste traditional dishes, learn about the art and culture of Greece, and explore archaeological sites and fortresses.
Connect with local community members and people from around the world.
Develop practical conservation techniques and skills, and contribute towards the 17 UN Sustainable Development Goals.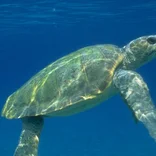 Join conservation efforts along the west coast of Greece, where GVI partners with a local organization to protect loggerhead turtles and their breeding sites. You'll monitor nests and turtles, build protective structures, and collect data. With your assistance, the growing awareness of these turtles will lead to better protection for them, ensuring more hatchlings join the population each year. This is also an opportunity to traverse archaeological sites and learn about ancient Olympic history.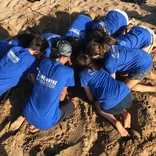 This is a program for young adults between 15 and 17 years old to collaborate with the safeguarding of endangered loggerhead turtles. You will learn practical conservation skills such as, surveying and collecting data on nesting activity and turtle behavior and building protective structures. Contribute to the turtle hatchlings safe journey to the sea, while supporting the UN SDG Goal 14: Life Below Water, and Goal 15: Life On Land.