17 travelers are looking at this program
In Kerala, a coastal strip along the Arabian Sea, address economic and gender disparities in the country through community development projects. Support workshops to encourage men and boys to talk about gender issues, assist with the improvement of girls literacy skills, contribute to the English language skills of local youth, and assist children and adults in self-care WASH (water, sanitation, and hygiene) routines.
GVI measures all impact against the 17 UN Sustainable Development Goals (UN SDGs), and has a Child and Vulnerable Adult Protection Policy in place to ensure ethical best practices. This is an opportunity to be immersed in a different culture, environment, and form life-long friendships with other participants from around the world. In your free time, take a boat cruise along Kerala's beautifully scenic backwaters, made up of a network of rivers and lagoons. With palm-lined jungle greenery, and an ever changing horizon, it's a peaceful and effervescent sight to behold.
Program Highlights
Have the unique opportunity to join a multi-country GVI program and experience three Southeast Asian countries, India, Laos, and Nepal. You will contribute to the sustainable development objectives of each area.
Learn about multiculturalism, and become a global citizen with a greater perspective and understanding of social and environmental issues around the world.
Gain practical skills in health education, economic workshopping, and teaching. You will learn how to facilitate and create lesson plans, while also having the opportunity to start learning a different language.
Contribute directly to the 17 UN SDGs, and learn about volunteering ethically and sustainably.
Meet people from around the world with varying cultural backgrounds, and connect with local community members.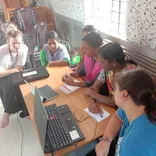 Reside in Kerala, a coastal country supporting a warm tropical climate, where you will engage in education programs, health projects, and income initiatives to encourage equal access for women and young girls. This supports the UN Sustainable Development Goal 5: Gender Equality, and Goal 4: Quality Education.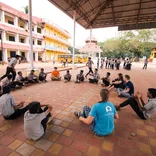 Through ethical best practices, and GVI's Child and Vulnerable Adult Protection Policy, you can provide valuable assistance to local teachers and educational programs. These programs include the development of resources for classes, and life skill based education initiatives that encourage youth development. This is also an opportunity to take language classes, explore the Keralan backwaters, meet other international participants and develop cross-cultural skills.