Projects Abroad Volunteer Programs in Kenya
View Other Details

Program Details

Timeframe

Short Term

Spring Break

Summer

Winter

Year Round

Pricing

Price Details

See website for prices.

What's Included

Accommodation

Activities

Airport Transfers

Meals

Transportation

Wifi

What's Not Included

Airfare

Visa
5 travelers are looking at this program
At Projects Abroad we're passionate about travel with a purpose. Since being founded in 1992, more than 120,000 volunteers and interns have traveled to Kenya and 20+ other destinations around the world.
Come and support teachers and promote early childhood development, or take part in community outreaches on our medical internships. You can also get involved in vital conservation work, conducting research on the critically endangered Rothschild's Giraffe.
Wildlife safaris are probably Kenya's most famous tourist activity, so don't miss out on the chance to see lions, rhinos, and buffalo in their natural habitat. Hiking opportunities abound, and adventurous souls can challenge themselves summiting Mount Kenya.
Do you want to know more about our projects in Kenya? Follow the link to speak with a Project Expert!
Program Highlights
Choose a project you are passionate about that fits your interests
Select your own start date and duration
Get 24/7 support from the local staff
Make a difference where it is needed most
Have fun exploring the country and its culture over the weekends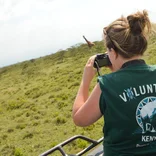 Live in the Kenyan wilderness and join our efforts to protect the endangered Rothschild Giraffe and other African wildlife.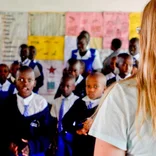 Travel to Africa and get practical classroom experience while helping children improve their English.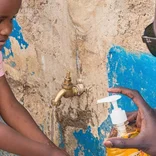 Work with disadvantaged children and support early childhood development in Nanyuki.