Choosing the right city is the first step to having the ultimate experience as you go overseas. Would you rather marvel at the neon-lit streets of Tokyo or find calm in the snowy mountains of Sapporo? Do you want to learn about history in Kyoto or eat until you drop in Osaka? Discover the best cities for studying abroad in Japan and find your perfect urban match!
Not only are these the favorite cities among the Go Overseas community, but they are also the places that offer the biggest variety of programs for studying abroad in Japan. Read on to learn more about what makes each of these cities so popular -- but don't be surprised if it makes it a little harder to choose which one you'll study abroad in.
#1 - Tokyo: Neon Lights & Peaceful Parks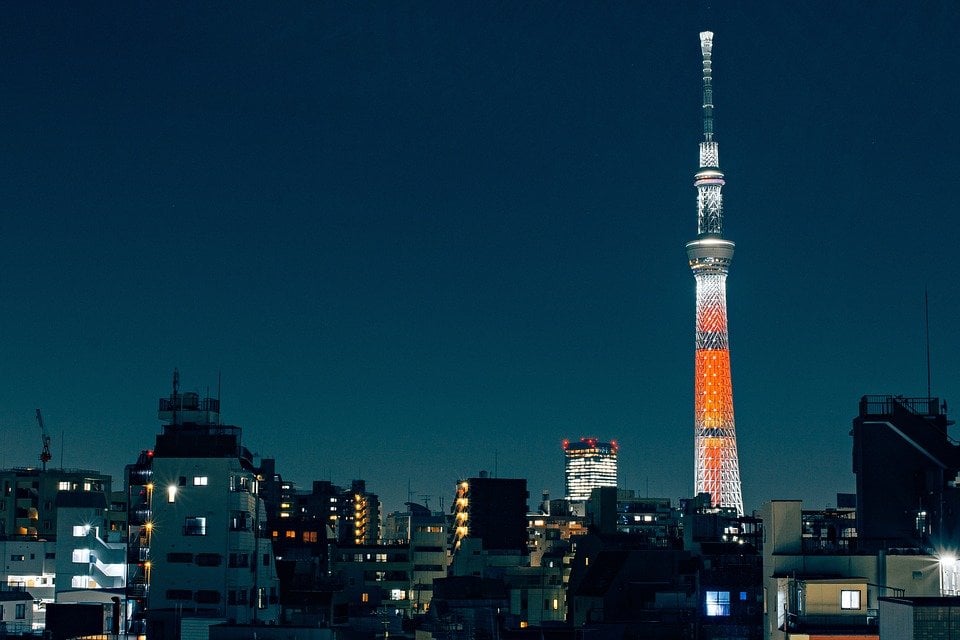 As one of the biggest metropolitan areas in the world, Tokyo is a place where pretty much anything is possible. Whether you're drawn to Japan because of its ancient history, first-class art museums, breath-taking nature, innovative technologies, diverse foods, kawaii culture, or beautiful religious architecture... Tokyo has got you covered.
Not only does the Japanese capital have the biggest variety of programs for studying abroad, the metropolis also offers an incredible diversity of everyday life. Overwhelming to some, others cannot get enough of the endless opportunities in the urban sprawl. Walking the iconic zebra crossing in front of Shibuya Station, it's hard not to feel like a movie character in your very own version of Lost in Translation.
When in need of a moment away from that constant buzz of Tokyo, there's no reason to actually leave the city. Simply take the subway to Yoyogi Park, Hibiya Park, the Imperial Palace East Gardens or one of the many other sites of greenery in the city center. These parks -- filled with trees, temples and ice cream stands -- offer a world of serenity, while only a stone's throw away from the chaotic city streets. Students love to go here to practice sports, play music or take a long, stress-relieving walk.
Must-do: Go up the Tokyo Sky-Tree -- the world's tallest tower at 634 meters -- to enjoy breath-taking panoramic views over the city. When the skies are clear you can see the iconic Mount Fuji and hills surrounding the metropolitan area.
Related: A Guide to Studying Abroad in Tokyo
#2 - Hiroshima: Laid-Back Locals & Lots of Trees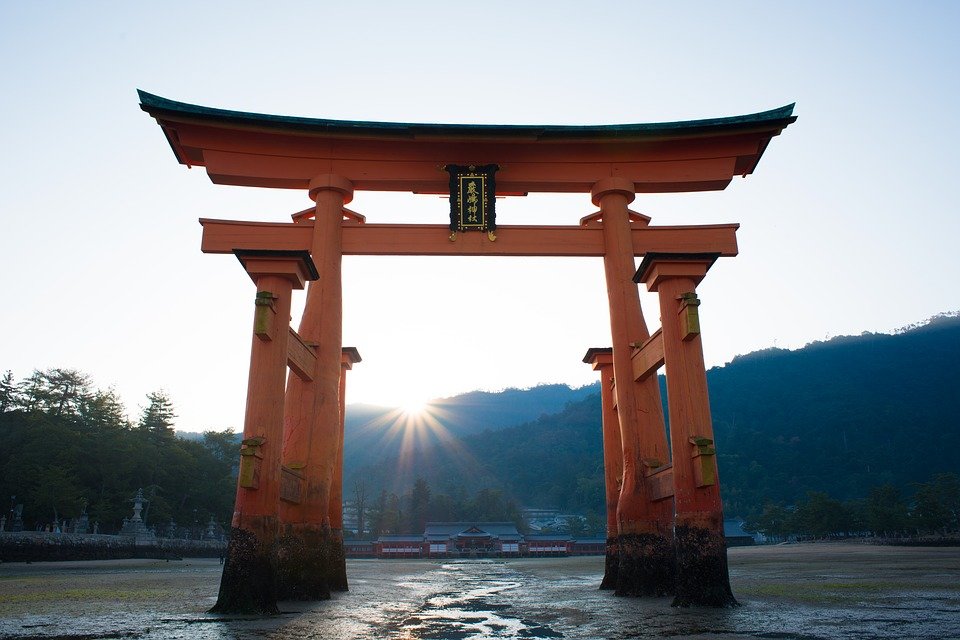 Those who enjoy big cities -- but not so much of the fast-paced lifestyle that often comes with them -- might find that Hiroshima is the perfect place to study abroad. Although the city has over a million inhabitants, it is shrouded in a cool, easy-going atmosphere.
When hearing the name 'Hiroshima', most people immediately think of one thing: the atomic bomb that destroyed this city on 6 August 1945. This dark chapter of Japanese history is still remembered in the Atomic Bomb Museum and the Peace Memorial Park, two of Hiroshima's main attractions.
Despite the dark history of the area, present-day Hiroshima is known as one of Japan's most laid-back cities. Locals are genuinely friendly and the green, tree-lined streets -- with their wide sidewalks -- will immediately help you forget about your study-related stress. A local delicacy that students adore is Hiroshima's famous okonomiyaki, a layered savory pancake.
Must-do: A 10-minute ferry trip brings you from Miyajimaguchi Station to the island of Miyajima. This beautiful getaway contains one of Japan's most scenic shrines, hundreds of wild deer and a hiking trail that leads to the top of Mount Misen. Miyajima is a popular spot, so try to visit outside of the tourist season to avoid big crowds.
#3 - Kyoto: Ancient Shrines & Modern Geisha's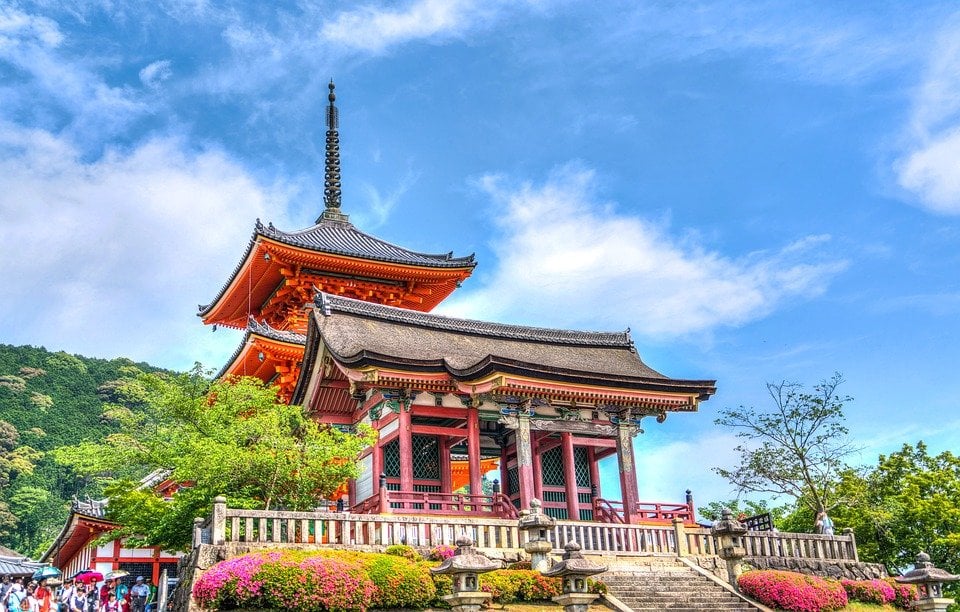 For over a thousand years, this city served as the capital of Japan. Despite many wars and fires that destroyed parts of Kyoto, an incredible amount of cultural heritage and ancient architecture survived. History lovers will immediately opt for this city, where modern-day geisha's walk through the alleyways of the old town and fascinating, time-worn monuments lie around each corner.
There is a reason that Kyoto is called the "city of 10,000 shrines." The city offers an abundance of UNESCO World Heritage Sites, including wooden pagodas, a temple coated in gold leaf, a world-famous Zen rock garden, and an impressive seventeenth-century castle. Gion, the old town and geisha district, is characterized by old wooden architecture and traditional teahouses – walking around here feels like time travel.
Despite its historic character, Kyoto also has one eye set on the future -- the skyscrapers downtown and the new central train station show the Japanese love for design and architecture. Picking this city to study abroad doesn't mean you'll miss out on cultural events and a buzzing nightlife!
Must-do: Walk the picturesque Path of Philosophy. This thirty-minute stroll got its name from a Kyoto University professor and famous Japanese philosopher who used to walk the route on a daily basis. Is some of his wisdom still ingrained in the stones of the canal-side path, ready to inspire young students? Even if you don't believe in spiritual things, there's no harm in enjoying the calm stream, bright flowers, and cherry blossom trees along the way!
Related: A Guide to Studying Abroad in Kyoto
#4 - Sapporo: Snowy Mountains & Warm People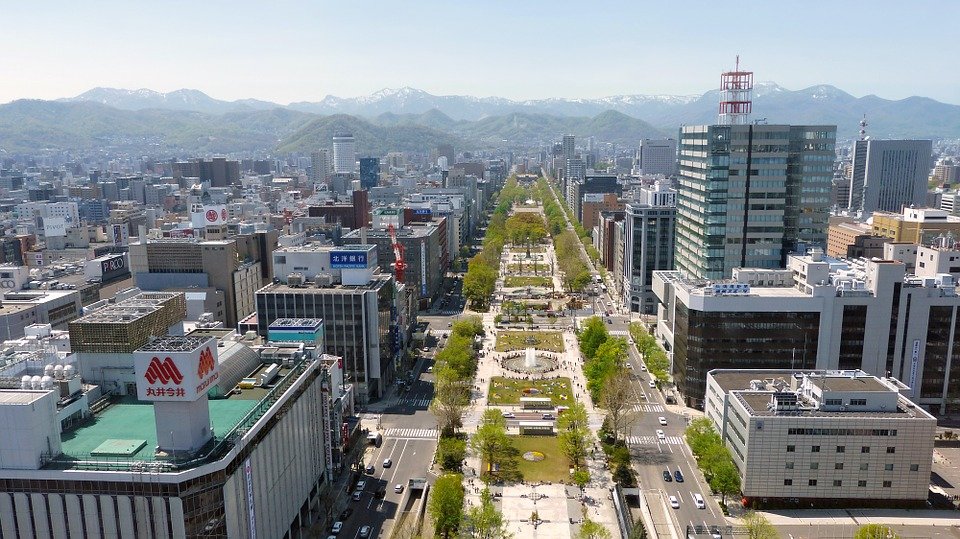 Sapporo lies in the north of Japan, so be aware: winters are accompanied by a thick layer of snow. Who doesn't mind the cold, however, will be rewarded with outstanding natural beauty, ideal circumstances for winter sports and a warm welcome by the hospitable locals.
Sapporo -- capital of Hokkaido, Japan's most northerly main island -- lies at about the same latitude as Montreal, Canada. In the winter months, the volcanic mountain ranges south and west of the city turn into one of the world's most highly esteemed places to go skiing. In summer, those same areas offer a breath-taking scenery for hikers. Nature lovers need to look no further for the ideal place to study abroad in Japan!
If your aim is to learn about Japanese language and culture, there's another reason to go to Sapporo. Hardly anyone in this city speaks more than very basic English, meaning your Japanese skills will improve in no time! The secluded area and its lovely inhabitants provide a welcoming gateway into authentic Japanese culture.
Must-do: Is the cold of Sapporo getting to you? Immerse yourself in one of the most addictive elements of Japanese culture: the onsen, natural hot springs where Japanese go to relax, restore energy and socialize. Learn about this part of the culture while indulging in a spa-like experience -- a regular visit to the onsen is all you need to make it through winter!
#5 - Osaka: Good Food & Good Times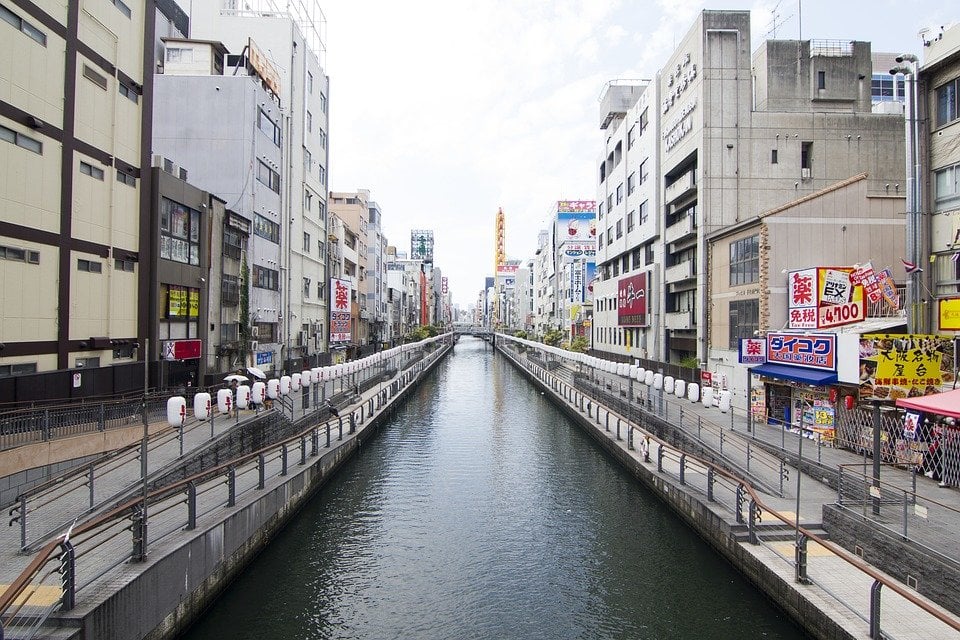 At first sight, Osaka might look somewhat similar to Tokyo -- both cities are concrete jungles filled with neon signs and cute mascots. Culturally, however, the two cities have less in common than you might think. If Tokyo is like New York, Osaka is more like Nashville, Tennessee: a city of showbiz, music, and an authentic, local culture. People from Osaka pride themselves of being down-to-earth and fun-loving as opposed to their "sophisticated" Tokyo counterparts.
Whereas Tokyo offers a lot of international restaurants, Osaka is where you'll find the best traditional Japanese food. Locals associate Osaka with the word kuidaore, which loosely translates as: "ruining yourself by overeating". The city is riddled with restaurants and street food stands, many of which are both cheap and phenomenal. Try the local takoyaki, grilled octopus dumplings, from one of the many street vendors.
Students who are passionate about nightlife will probably want to consider studying abroad in this bustling city. Dance clubs and a booming live music scene characterize the entertainment area Dotonbori. This neighborhood, full of canals and bright advertising billboards, looks like an oddly charming combination of Venice and Las Vegas. Go here and you will likely end up in a karaoke bar before you know it.
Must-do: Osaka is known for its never-sleeping nightlife, but also for its traditional theatre shows. Bunraku, a type of story-telling through music and puppetry,and kabuki, an extravagant theatre style where actors wear heavy makeup, are unforgettable performances to experience.
As each city has its own unique character and advantages, it is up to you to decide whether you prefer the diversity of Tokyo, the laid-back lifestyle of Hiroshima, the heritage of Kyoto, the nature of Sapporo or the street food of Osaka. Ultimately, it's hard to go wrong with any of these!