Teach Abroad
What Salary Will You Earn Teaching Abroad in Vietnam?
Pho soaked streets, invigorating Vietnamese coffee, and a welcoming population, but how much will you earn teaching abroad in Vietnam?
Do you want the experience of living in a bustling, developing, tropical country where you have the potential to live incredibly cheaply and comfortably while making a close-to Korean salary to pocket into your savings account? Consider teaching abroad in Vietnam. Over the past few years, Vietnam has slowly but surely made itself onto the list of English teacher's dream destinations.
I had my sights set on Southeast Asia the moment I decided that I wanted to become an English teacher. I pictured white sandy beaches dotted with limestone, bungalows, palm trees, and sipping cocktails in this luxurious setting for days. Like many new and naive English teachers, Thailand was my first pick.
I completed my CELTA at International House Bangkok and began working at an international school in a small southern city near the gulf Thai islands. My income was about $1,000 per month, working full time -- 7:45 am to 4:15 pm -- teaching who-knows how many hours (too many!). I hardly had time to travel to the nearby islands, let alone the money to finance the trips that I had dreamed of.
I pretty quickly ditched that gig and booked it back to Vietnam, where I had been traveling by motorbike for months prior to teaching and had quickly fallen in love with the magical landscape. I landed myself a gig as a lecturer at a financial university and never looked back. I've been teaching for over a year now, and now I'm salaried with plenty to live off of and save a bit and get nearly 18 weeks paid leave per year. It's the perfect position for someone with the travel bug like myself.
I make a decent hourly teaching rate while living in a country with a low cost of living (Vietnam is one of the cheapest countries in the world to live and travel in -- cheaper than Thailand by far), and on top of this I get paid office hours for lesson planning!
Why Teach Abroad in Vietnam?
How and why has such an underdeveloped country made itself to the top of the teaching destinations list, up there with China and South Korea?
As the Vietnamese economy has grown in the years since the war, they have placed a huge emphasis on learning English from an early age in the hopes that the future generation of Vietnamese will be able to compete in the career sphere of the global economy.
This means that youngster Vietnamese students are learning English from primary school onwards, and many young people, including some of my university students, are prepping for IELTS so that they can study abroad in English-speaking countries. With so many potential teaching opportunities--in public schools, private schools, English/IELTS test prep centers, and at universities, there is a higher demand for native speaking English teachers than ever before!
How Much Can You Make Teaching English in Vietnam?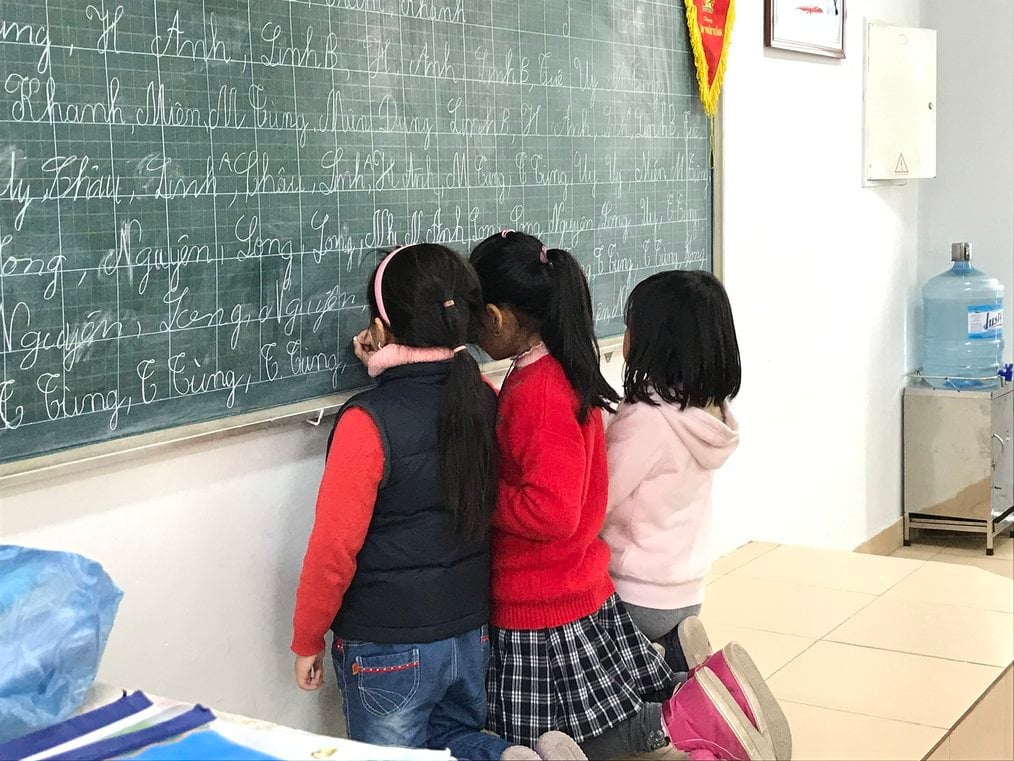 Let's get into some salary basics. Here are some of the salary ranges you might expect for different types of teaching jobs in Vietnam:
Private language centers: $1,200-$1,800 per month
Public schools: $1,500-$2,100 per month
Universities: $900-$2,200 per month
Tutoring: $60-$100 per hour
Other jobs: $25-$30 per hour
Let's dive into each of these a bit more to explain those salaries.
1. Private Language Centers: $1,200-$1,800 per month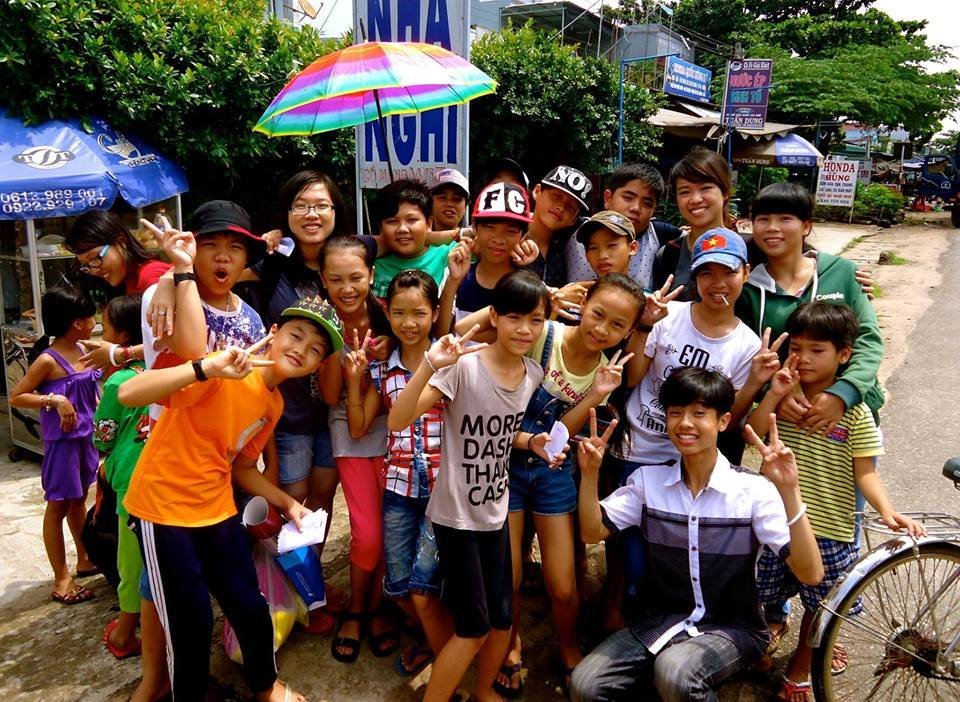 There are hundreds of different language centers and companies that you can go through. Many reputable centers only hire on-the-ground teachers who are able to perform (paid) demo lessons. I highly recommend applying in-country to those who are comfortable living in a fast-paced developing country setting and simultaneously job-hunting, as it will give you a real feel for what you are signing up for; most teaching contracts in Vietnam are a year long.
Expect to be offered an hourly rate of 400,000 VND to 500,000 VND ($17-$22) per hour before taxes. This can translate to a salary of up to 33,000,000 VND or $1,500 per month, with many companies also offering a tax-free housing stipend of up to $300 per month.
Teaching hours are usually in the evenings and most teachers get two days off per week as well as Vietnamese holidays. Many language centers offer substantial bonuses (of up to $2,000 for 4 months) to teachers who accept placement in more remote cities (outside of Hanoi and Ho Chi Minh).
It is normal to be put through an intense and unpaid training process, usually lasting about a week, before you actually start your contract. Some language centers are a bit deceptive with their "hourly rates" and "salary guarantees," as they will expect you to show up way before your classes begin in order to prep or perform other administrative tasks that do not count as paid teaching hours.
Many of the larger centers pride themselves on a "no lesson planning" approach (meaning you follow a pre-planned curriculum during class), but you will still be expected to print off worksheets and have everything in order before the students even step into the classroom. Make sure to check with your chosen center about what will be expected of you before deciding to sign a contract.
2. Public Schools: $1,500-$2,200 per month
There are several ways to work within the public school system in Vietnam. The first way involves being hired by a school directly, as either a part-time or full-time teacher. Expect anywhere between 400,000 to 450,000 VND or $17 to $20 per hour for these positions.
Another possibility is going through an agent who essentially contracts you out to different public schools in order to meet the overall English class demand. Some of these agents operate illegally or on a very small level and offer little to no resources to their teachers. They usually offer the same rate as listed above, but you will likely be expected to transport yourself between different schools in different districts (which can be incredibly hectic in the large metropolitan areas of Saigon and Hanoi).
There are also much larger agencies who hold contracts with various public schools throughout both Hanoi and Ho Chi Minh. As an employee, you will be obligated to be at their office during normal business hours (Monday-Friday) and will then be transported to the schools during your teaching shifts.
Expect a salary offer of $1,900 to $2,200 per month before taxes. Maximum teaching hours per week usually fall between 20 to 25, but it's been reported that often times the actual teaching hours are as low as 15. The rest of the time you will be in the office, which is well stocked with resources, and expected to be "lesson planning and/or working on professional development," although it has been reported that at times it gets quite slow in the office and many teachers spend their required hours doing less-than-productive activities.
3. Universities: $900-$2,000 per month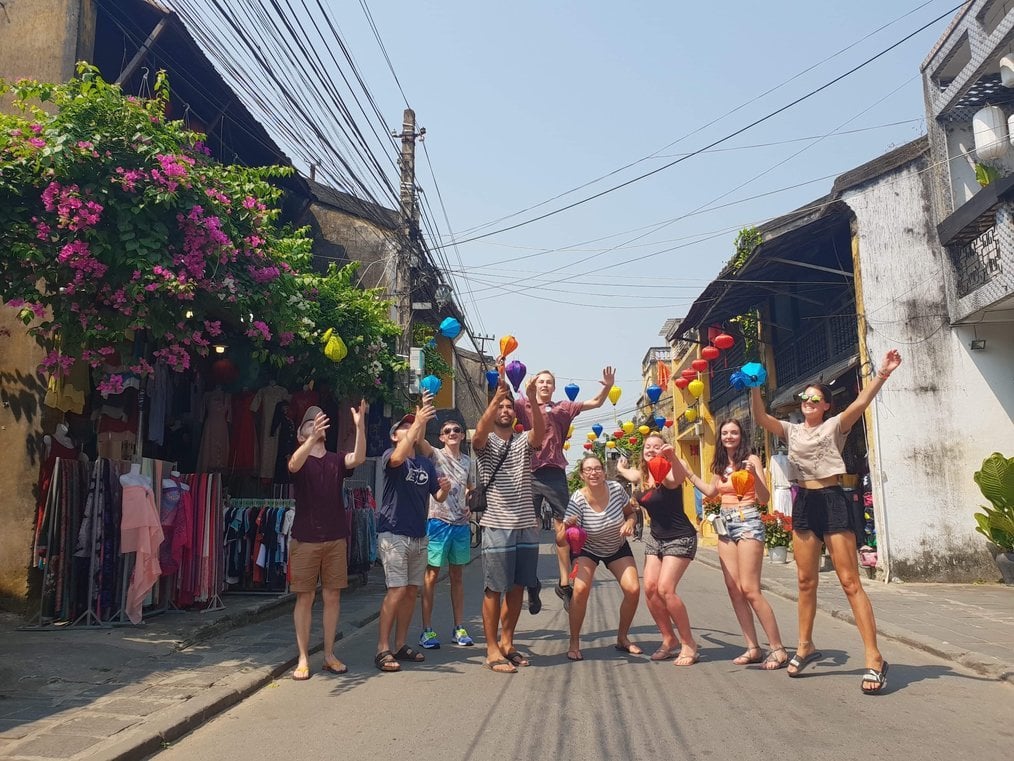 Universities offer between $20-25 per teaching hour, and many will also pay you for office hours (a rarity in Vietnam). The monthly salary may come out as relatively low compared to other workplaces due to the enormous amount of time off that most full-time University lecturers receive.
I chose the University route because I enjoy the freedom that time off gives me to travel and write. University lecturers usually work less than 5 days per week, have weekends and evenings off, as well as time off when students do -- mid-semester break, Tet holiday in February, and between academic years in the summer.
4. Tutoring: $60-$100 per hour
Tutoring positions are whatever you want to make out of them. How much you charge is entirely dependent on you as well as your client base. Qualified tutors with high credentials like a CELTA or TrinityCert TESOL, a bachelor's degree in English, and/or several years teaching experience can charge up to $100 per hour.
Finding clients and retaining tutoring positions will likely be the most difficult task. Offering to commute to your clients' homes or offices and teaching group tutoring sessions will boost your tutoring income -- another great way to make some spending cash on the side. I also have my contact and basic tutoring information on my business card, which created opportunities as built a network and community in Vietnam.
5. Other Teaching Jobs: $25-$30 per hour
Other kinds of teaching gigs in Vietnam are not uncommon. At one point, I helped to facilitate an English-learning program for Doctors and nurses at a Vietnamese hospital. The payoff for this was $25 per hour after taxes.
Some companies also offer last-minute time-and-a-half to teachers who can cover public school classes (often coming out to a whopping 700,000 VND or $30 for the hour). Once a local agent gets ahold of your phone number, expect your line to be ringing regularly with cover class offers. The format of these gigs is generally: show up, teach with limited materials, and be reimbursed after class cash-in-hand style. For many teachers who don't work full 40 hour weeks (and most don't), this is a great way to earn some pocket change in order to keep your salaried earnings in savings.
Keep your wits about you when applying to small centers and agencies. Unfortunately, many of these organizations will not support a work visa and may ask that you work without a permit which means that you have no legal protection if they break the contract. Many of these sketchy centers will ask you to perform unpaid demo lessons, will not have valid websites, or will not be able to provide you with references to talk to about the position you are being offered.
How Much Does it Cost to Live in Vietnam?
While Vietnamese salaries may not be comparable to Western salaries, your dollar goes much further in Vietnam than it would back at home. Here are some general living costs to keep in mind.
Monthly rent for a one-bedroom apartment: $300-$600 before utilities in the city, depending on where you want to live. Expect to pay more to live in an expat district, and much less for a shared accommodation or an apartment in a rural area. Almost all accommodations come furnished with internet and are "serviced" meaning that a cleaner will come to your apartment several times per week.
Mobile Data: 90,000 VND (or $4!) per month for unlimited data
Food: 25,000 to 50,000 VND ($1-2) for a typical Vietnamese-style street meal and however much you want to spend for western or specialty food (generally under $10). I am guilty of over-indulging in food-delivery services (delivery itself is usually free or $1) and it still doesn't break the bank. Most teachers don't buy groceries regularly simply because the price of eating out and ordering in is so low.
Transportation: Like most developing Asian countries, you will likely need to learn how to ride a motorbike in order to commute to work. I rent my Honda Wave for $55 per month. Petrol usually last me a week and costs 50,000 VND or $2 per tank. Traffic in Ho Chi Minh and Hanoi can be terrifying to a new rider, so if you don't feel comfortable you can always take a grab bike (the Uber of Southeast Asia!) for around or less than 25,000 VND or about $1 each way, depending on where you live and where you are commuting to.
Night life: You can grab a lager-style beer at most local restaurants and bars for less than 25,000 VND or less than $1. Drinks at fancy expat bars or events can run you upwards of 400,000 VND or $17 per cocktail (that's an hour of teaching!) so I tend to make attending such events a rarity. You can purchase craft beer at an expat bar for 100,000 VND or about $4.50.
Health Insurance: As a legal worker, your center or school will most likely provide health insurance as either a benefit or as a 50/50 split between teacher and employer. The total amount comes out to about 400,000 VND or $17 per month.
Total: You can live incredibly comfortably on as little as 16 million to 23 million VND or $700-$1,000 per month. Your biggest expense will probably be your accommodation, so your savings will likely reflect on how comfortable you want your living space to be.
Other Costs & Financial Issues to Keep in Mind While Teaching in Vietnam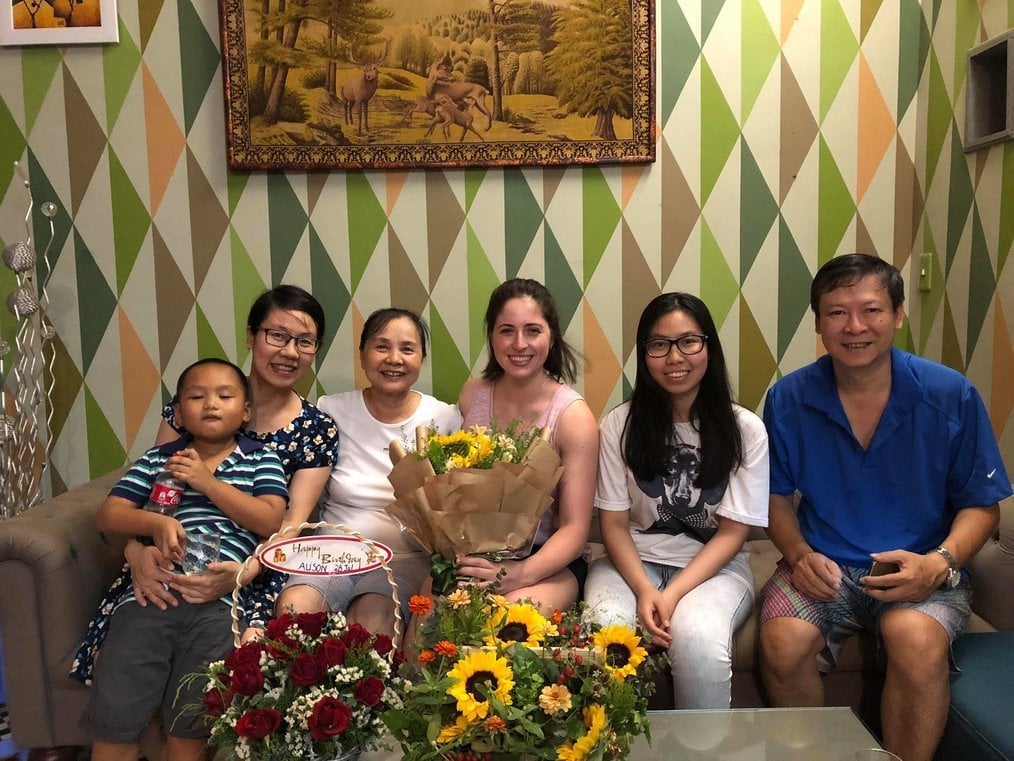 In addition to the above information regarding salaries and cost of living, it's important to keep the following additional things in mind as you compare teaching contracts and decide where and how you want to teach in Vietnam:
Taxes are high in Vietnam, with up to 20% of your revenue being deducted per month depending on income.
Vietnam is a cash-based economy; while you may be required to open a bank account to receive your salary, expect to pay for nearly everything (except for higher-end shops, restaurants, and food delivery orders) in cash.
You must be a native speaker of English, have a TEFL or teaching credential, and a Bachelor's degree to apply for a work permit in Vietnam. If you are not yet TEFL certified, this may be a significant start-up cost.
Work permits are generally supported by large companies and language centers, but they may deduct the fees out of your first few paychecks and reimburse you at the end of your contract. Check with your chosen workplace to see what their policies are.
Working illegally in Vietnam is possible and, while not recommended, many teachers do choose to go this route. Deportation is possible but highly unlikely. Expect to pick up shifts at many different centers or public schools and have to commute around the city but be paid a tax-free rate anywhere from 400,000 to 500,000 VND or $17-22.
I have absolutely no regrets about my last-minute decision to teach in Vietnam. If you are looking to live a comfortable lifestyle, travel frequently (to the mountains or beaches that are scattered across this beautiful country), and save substantially, then Vietnam is surely the ESL teaching destination of your dreams.
This post was originally published in January 2017, and was updated in March 2019.
New English Teaching Jobs in Vietnam