9 Tips For Surviving Your First Days of Study Abroad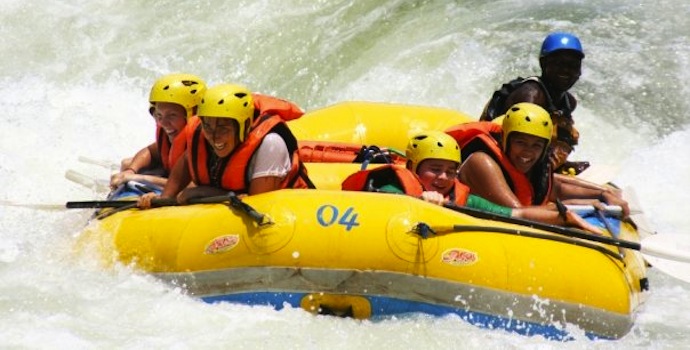 That countdown app is finally flashing a zero. After months and months of planning and years and years of dreaming, the day is finally here. You're waving (perhaps teary) good-byes to Mom and Dad at customs, passport confidently in hand, 4 months of supplies rolling steadily behind you. It's the first day of your semester abroad, and even though you've already come to terms with the lack of peanut butter in your intended destination, there may remain a few daunting thoughts hiding out in the back of your mind.
Though scoring the window seat on the flight over may quell some of your immediate fears, your first day abroad doesn't have to be stressful or scary. Just remember that everything is different and will take some getting used to. If you're still nervous (or just want to grab the bull by its horns), read on for ways to make your transition into life abroad a smooth (and dare we say... fun!) experience.
1. Find Your Study Abroad Rep at the Airport
Hopefully, by this point, your study abroad company has already arranged your airport pick up upon arrival. (Note: if this isn't sorted yet, I'd make sure to give them a call reeeeal soon). Whether their team touches base with you in the USA or abroad, be sure to have a clear understanding of what to look out for once you've landed.
While I was an advisor for China Study Abroad, we would always wait cheerfully at the exit gates in our best CSA gear, holding a poster with the student's name in big, bold letters. You may be meeting with an individual like this, or meeting up with a big group of students (who are also probably walking around the airport with a slightly terrified look on their face).
Securing that first point of contact will instantly make you feel comfortable in your new surroundings. Check in with your Resident Director about upcoming activities in the next few days, so you can start a mental list of things you need to do independently vs. what they're organizing already.
2. Exchange Some Cash Money
Hopefully you've landed in your new homefront with some USD in your pocket. Now would be a great time to exchange a portion of it - just be mindful that exchange bureaus in airports charge notoriously high commission. I would recommend not handing over all of your money, unless you believe convenience has no price tag.
You will likely have quite a few start up costs in your first days abroad. You may have to venture out on your own for some grub, or figure out how to add time to your cell's local SIM card. It doesn't hurt to have a cushion of cash available for all of these unexpected incidentals. Cabs will also be more convenient until you sort out the public transportation system (which can sometimes feel like a serious accomplishment). I recommend exchanging about a week's worth of money, which will give you ample time to settle in and find the nearest ATM.
3. Give Mom and Dad a Call
If your parents haven't sent a rescue squad in to make sure you're where you need to be, add another check mark to the "success" column. Mom and Dad are going to want to know ASAP if you've made it okay, so do them a little favor by making the initial effort to get in touch with them. Whether you opt to bring your smart phone or borrow your study abroad office's internet, a quick note/text/hello will make a world of difference for them - and it'll probably be a fun first story telling for you!
If by chance it isn't possible for you to communicate with your parents in your first few days, don't be afraid to ask your study abroad program to send your parents a note on your behalf. Knowing their baby is safe and sound will help everyone sleep better at night!
4. ZZZZZ Stay AWAKE!
Jet lag might be the worst thing ever. I don't care if it is 9am in California or 4pm in New York, you are now living in a new time zone and need to adjust your inner clock accordingly. During my first few days in Shanghai, I took a "nap" at 4pm only to wake up at midnight. I was starving / terrified / overwhelmed; I had no idea where I was and it was dark outside. Five hours later, I was chomping at the bit, still wide awake, and first in line at the buffet in the hotel lobby.
This travel-party-foul messed me up for days - paired with the lack of (delicious) coffee in China, my first few experiences abroad were more difficult to enjoy since I was a groggy mess.
Keep busy, keep moving, go out, find a cute cafe, upload your first photos to Instagram. Have dance parties with your new friends to stir up some energy. Keep at it and voila - three days later you'll be good as gold.
5. Unpack and Get Settled In
Congrats! You've made it this far, now its time to make your new space really feel like home. Avoid living out of your suit case, even if its only for a few days - your wrinkled clothes aren't fooling anyone. Don't be surprised if you need to head to the store to pick up a few items you kinda forgot you take for granted back home (hangers, anyone?). Once everything is nice and organized, you'll feel proud of your new space and prepped to make it feel like somewhere you belong. What's more, you'll kick those pesky feelings of homesickness to the curb, and step outside with more confidence than ever.
Whether you're doing a homestay, rockin' your own apartment, or settling in to an international dormitory, don't be afraid to ask your study abroad resident directors for help or guidance. They may have extra bedding, insider tips on where to find cheap cleaning supplies, etc. You'll never know if you never ask!
6. Leave Your Bedroom Door Wiiiide Open
Yup, this is Freshmen year all over again (except in a cooler place with hotter accents). Instead of curling up into a brooding ball of solitude and texting your friends about how much you miss them, now's the time to let your inner extrovert shine! An open door lets folks know you wanna chat and make new friends. If you're not having any luck from drop-by visitors, be sure to venture out into the hallways and strike up conversations with other students or family members as well. At the risk of going public with my love for Jim Carrey, you might be surprised what the "Yes Man" mentality can do for you.
One of my now lifelong friends was a Mexican guy standing next to me in line at registration. Even that first friend feels like a big relief - if you make friends like these along the way, whether at the airport or elsewhere, be sure to organize some meeting times/places to hang later. Then let the games begin.
7. Explore your campus!
You'll never feel acquainted with your new school grounds if you don't walk around them! Even if you have maps out and look like a total tourist, there's no better crash course in familiarity than exploring by foot. Seek out the most important buildings on campus, such as where you'll take your placement exam, or where your classes will be conducted. Get a first taste and orient yourself with the routes that will (eventually) become second nature.
Let your exploring extend even beyond campus walls - just be sure to let a friend or your resident director know if you are venturing off alone (psst... check out tip #6 to avoid solo adventures!).
8. Sort Out the Nitty Gritty
Getting a cafeteria card, opening a local bank account, buying a used bike, registering at the campus gym, signing up for classes, the list may go on and on. But if you chip away at it, little by little, you'll see that each of these mini-victories is another way for you to feel more like a functioning, independent BA in a new country. All of this upfront work will ensure smooth sailing for the coming months, so even if you start to feel like you're barely keeping afloat, just. keep. swimming. Grab some new friends from your program to help you jump through all those little bureaucratic hoops.
If the language barrier is too difficult, I suggest asking your awesome resident directors to help you - they know their stuff! Many of these activities may be pre-planned in your welcome orientation, but having a clear understanding of what will make your life abroad a more pleasant experience doesn't hurt.
9. Don't Sweat the Small Stuff
You have four months to make new friends and feel at home, so don't feel down if your first day doesn't go as expected. Just keep reminding yourself: it's only the beginning! It won't be long til you'll be looking back on your first dazed and confused days abroad and giggling at your faux pas. You'll look around at your life and wonder how you got on for so long without the new friends that you've made, or how you survived your first few days without feeling the confidence you have now in your language skills. You may start to find that a semester abroad isn't enough (you can always go back for a victory lap!).
Whatever adventures may come, you had to start somewhere, and that is today. Relish in your callow knowledge of this exciting place and let everything feel as wonderful as it seems. Wanna know the best part? Your semester abroad is only going to get better and better!
Whew, you've accomplished so much in so little time! Don't belittle these first steps abroad, as they will often set the tone for your entire semester. Now that you're a bonafide traveler extraordinaire, it's time to #treatyoself (gelato, 3 scoops?) and discover more and more of what your new home has in store.