Adventure Guide Program | Queenstown, New Zealand
View Other Details

Program Details

Activities

Camping

Hiking

Rock Climbing

Timeframe

Fall

Spring

Year Round

Pricing

Price Details

- Adventure tourism training Program based in Queenstown, New Zealand

- All accommodation

- 6 weeks food allowance

- All climbing equipment, program related transport & travel

- Qualified & experienced technical instructors

- Certifications and qualifications

What's Included

Accommodation

Activities

Equipment

Meals

Park Fees

Tour Guide

Transportation

What's Not Included

Airfare

Airport Transfers

Travel Insurance

Visa
73 travelers are looking at this program
Head to New Zealand for 6 or 12 weeks of adventure travel to rival any other. Whether you are looking for a foot in the door to an adventure tourism career or the ultimate adventure holiday, this program will perfect your outdoor survival skills, surround you with awesome like-minded travelers, and showcase the most unreal New Zealand backcountry locations.
Our New Zealand Adventure Guide Program offers you an epic time in some of the most impressive landscapes in the world. You will hike and climb your way through Mt Cook National Park, Mt Aspiring National Park and even the Fjordlands! But while this is an Adventure Guide Program, it's not all about the outdoors and outdoor pursuits. There will be cultural activities and exchange; sightseeing and touring; personal development; community and social events; free time and plenty of opportunity for exploration.
We understand that we have a long way to go in achieving the diversity we strive for among our students, staff, and partners. We are committed to fostering a more diverse and inclusive organization, and we recognize that this requires time, effort, and resources.
All of our Pure Exploration programs are LGBTQIA+ friendly, and our operations team have attended CIS Abroad's LGBTQ+ Allyship Training, to ensure we're doing what we can to support this community. We provide an open and non judgemental space for students to explore who they are and to take their initial steps into the outdoor adventure world.
Sustainability is one of the 4 core components of each Pure Exploration program, where we provide students with the environment to learn about local environmental issues, how to travel sustainably, and have them think deeply about their impact and what they can do in their daily lives to affect change. We recently embarked on a Net Positive Benefit project where we are qualifying what impacts our groups have on the local communities, taking into consideration carbon emissions +/- social impacts +/- conservation impacts +/- community impacts.
We make a conscious decision to partner with suppliers who are passionate about our students' participation and involvement with them being of a positive benefit to the community. We want our presence to enable positive, sustainable growth for our partners and this mantra is ingrained in the fabric of our programs.
Program Highlights
Develop the skill set to be a confident outdoor adventurer
Gain industry outdoor guiding qualifications
Dive into an incredible journey of learning, coaching, and experiences in New Zealand's breathtaking outdoors.
Have some free time to explore Queenstown, which is known as 'the Adventure Capital of the World'
Hike two of New Zealand's Great Walks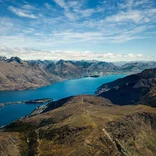 This is the shorter version of our Adventure Guide program, for those that don't have a full 12 weeks to spare.
You will complete 2 weeks of Bush training, 2 weeks of Rock training, PHEC First Aid + Swift Water rescue! All jam-packed into 42 days based in the stunning resort town of Queenstown, NZ! This is a perfect program for those looking to experience the best that New Zealand has to offer, in a shorter amount of time and at a lower cost than our full 12 week program.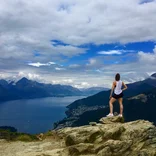 You'll love your stay in Queenstown – it's a great place for hiking mountains, swimming in lakes and rivers, pub crawls, live music, locals food and drink specials, frisbee golf and fireside chats.
Whether you are looking for a stepping stone into the adventure tourism career pathway as a guide, or just an awesome educational opportunity to live in one of the most amazing places on earth, the Adventure Guide Program is an epic and rewarding way to spend 3 months in New Zealand!