View Other Details

Program Details

Activities

Backpacking

Camping

Canoeing

Hiking

Kayaking

Mountain Climbing

Remote Exploring

Rock Climbing

Pricing

Price Details

The total cost includes all tuition and fees for the course. This covers your food, technical gear, and equipment while on course including the WFR certification. Not included in this total cost are personal expenses such as clothing, insurance, and airfare.

What's Included

Accommodation

Activities

Equipment

Meals

Transportation

What's Not Included

Airfare
26 travelers are looking at this program
Are you interested in the field of Outdoor Education? Begin your journey towards a career in the outdoors with one of our Outdoor Educator courses by gaining the experience, knowledge, and integrity essential for effective leadership. With an emphasis on student dynamics, group and individual facilitation, and safety and risk management, we'll give you the educational toolkit to become a successful outdoor educator with proven and practical expertise.
On these expeditions, you'll get a peek behind the scenes at what it takes to deliver an inspiring, life-changing outdoor experience and get feedback from your peers and our highly-trained instructors to help you improve your craft. You'll earn the industry standard Wilderness First Responder certification, learn Outward Bound educational methods, and clock 800+ field hours to add to your resume all while experiencing some of the best wilderness our country has to offer!
Program Highlights
Develop technical skills with the best Instructors in the industry
Learn group and individual facilitation, along with safety and risk management
Return home as a confident outdoor leader and compassionate educator with proven and practical expertise
Receive your Wilderness First Responder certification
Explore some of the best outdoor landscapes in the Pacific Northwest and the Blue Ridge Mountains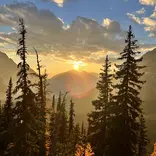 The San Juan Islands are nestled between Vancouver Island and the North Cascades. This archipelago is a unique coastal landscape with large expanses of sparkling water and mountain scenery.
The North Cascades are called the "American Alps" for their rugged beauty and glaciated peaks; they remain some of the wildest and least traveled wilderness in the US. They host the greatest concentration of glaciers in the "Lower 48" and host wildflower meadows, alpine lakes, and glaciated river valleys.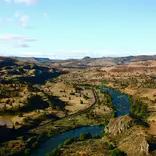 Spring is a magical time to spend on the east side of the Cascades. During this course you'll backpack in the Pueblos Mountains in Southeastern Oregon, rock climb at Smith Rock State Park, and raft the wild and scenic Deschutes River.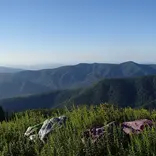 The Blue Ridge Mountains is one of the oldest mountain ranges in the world. The long geological history of the Southern Appalachians has created one of the most biologically diverse regions in North America; some even say it is "rainforest-like." This region is home to beautiful rushing rivers, hundreds of waterfalls and some of the highest peaks in the Eastern United States—including Mt. Mitchell (elevation 6,684 feet), the highest point east of the Mississippi River.