View Other Details

Pricing

Price Details

Program Fees from US$6,573 for 8 weeks - includes arrangement of your placement, orientation, accommodation, and 24/7 in-country support

What's Included

Accommodation

What's Not Included

Airfare

Domestic Airfare

Transportation

Travel Insurance

Visa
1 traveler is looking at this program
Award-winning and accredited intern programs in London with Intern Abroad HQ. Start when you want and choose a duration from 8-24 weeks.
Through Intern Abroad HQ, you'll gain access to the most affordable internship opportunities, and save $000s on tuition fees by gaining additional course credits.
Get a guaranteed internship in a range of fields, including Marketing, Communications, Law, Human Resources, Journalism, Arts, Construction, Business, Tech, Social Services and more. We organize everything for you, including your customized internship placement, accommodation, airport pick-up, orientation, 24/7 in-country support, an international reference from your host organization, and more.
Intern Abroad HQ specializes in securing internships abroad for students and recent graduates who are seeking an immersive, personalized experience to enhance their employability. Intern alongside English-speaking professionals, or practice your local language skills!
Program Highlights
We guarantee to secure a placement for you, personalized to your career ambitions
All-inclusive affordable internship abroad programs from just US$6,573 for 8 weeks, including accommodation and more.
Affordable way to earn college credit - 5 credits for only US$500!
International reference letter to make your resume stand out.
Flexible durations from 8-24 weeks, with year-round start dates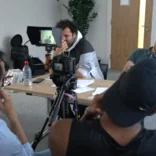 Gain professional experience in one of the world's most iconic global cities. Home to some of the world's oldest national broadcasters, including the BBC, London is the ideal destination when it comes to gaining exposure to the industry! Interns with Intern Abroad will benefit from a broad range of opportunities and enhance their professional communication skills to build their resumes.