View Other Details

Pricing

What's Included

Airport Transfers

Some Meals

What's Included (Extra)

24-hour emergency phone, 24-hour in-country support

What's Not Included

Some Activities

Airfare

Travel Insurance

Visa
21 travelers are looking at this program
Pursue a career in marine conservation with an Internship in Greece, Giannitsochori. This is an opportunity to gain your Biological Survey Techniques Certification, and ILM Endorsed Leadership Certification. With hands-on experience, you can improve your CV and learn technical and soft skills from experts in the field.
Partner with a local organisation to safeguard loggerhead turtles and their breeding sites. You will monitor nests and turtles, build protective structures, and collect data. With your assistance, the growing awareness of these turtles will lead to better protection for them, ensuring more hatchlings join the population each year.
GVI has short, mid, and long-term objectives in place that measure against the UN Sustainable Development Goals (UN SDGs). This is an opportunity to make a sustainable impact alongside participants from all around the world.
Program Highlights
Work alongside local partner organizations to raise awareness on the endangered loggerhead sea turtle.
Enhance your CV and future career opportunities to get ahead in a competitive industry.
Hike nearby mountains with panoramic views over the Ionian Sea, taste traditional dishes, learn about the art and culture of Greece, and explore archaeological sites and fortresses.
Connect with local community members and people from around the world.
Develop practical conservation techniques and contribute towards the UN SDGs.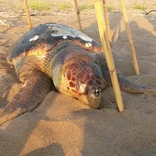 Stay in a small coastal village walking distance from the Ionian sea. Alongside international conservationists, assist to protect endangered loggerhead sea turtles and their hatchlings. In this short term internship, you will gain technical marine conservation skills and qualifications to kickstart your career. You will use survey techniques to collect data, and construct shelters to safeguard hatchlings from predators and environmental threats, while also guiding them successfully to the sea.