Why did you decide to study abroad with GlobaLinks in Sydney, Australia?
Kristin: I had known for a long time that I wanted to study abroad in Australia – I'm a history major, and the idea of an entire nation founded as a convict colony fascinated me. Plus, it's a country that's also a continent, it's far enough away that I might never have otherwise gotten there, and it's full of animals, plants and landscapes that you can't see anywhere else in the world.
As I started to look into different study abroad programs, AustraLearn really stood out in the level of support they provided before and at the start of the study abroad experience. As part of this, they have a week-long culture and adventure orientation program that takes place in Cairns, which was a blast and allowed me to begin making friends. When I learned that they also provided housing, I was sold.
I decided on Sydney for a few reasons – I normally go to a small school in rural Ohio, so I wanted to expand my horizons by going to a large university in a vibrant city. The University of Sydney has a strong academic reputation as well as an active student union – while I was there, I joined a student madrigal society and attended the weekly improv shows at the student center. It was also centrally located, which made it easy to explore the city and take full advantage of the public transportation.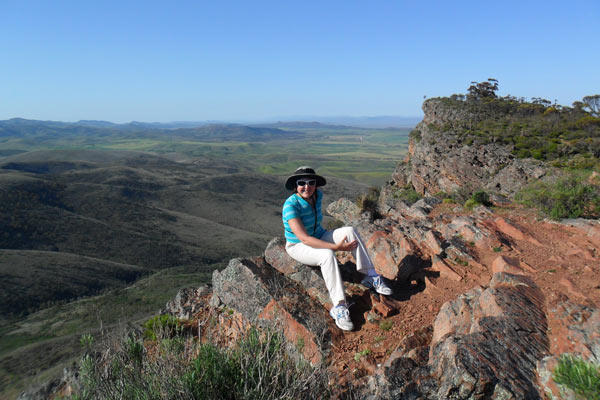 What made your study abroad experience unique and special?
Kristin: I only had classes three days per week, so every weekend I made sure to travel somewhere. Most of the time it was just a day trip somewhere within New South Wales, but I also got to visit each state and major territory over the course of six months. Airplane flights are really cheap (for example, I could get from Sydney to Melbourne and back for $50), which made weekend trips really affordable.
I also spent spring break road-tripping and camping through the outback – this was amazing to see a part of Australia outside the cities, meet other young travelers, and experience a totally foreign landscape. The ability and ease to travel to so many different locations and stay with local families or in a hostel, meeting people from various backgrounds and hearing their stories, this is what really made my time in Australia special.
How has this experience impacted your future?
Kristin: First of all, it makes me want to go back to Australia, and to travel more! Beyond this, though, I have become very interested in global, intercultural education. I want to be a teacher, and I hope to institute exchange trips, global studies clubs, or the like into school children's curriculum. The US is a wonderful place to live, but there is so much more out there, and I want everyone to be able to experience it!