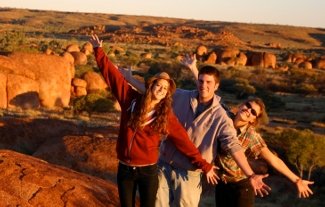 Why did you decide to study abroad with GlobaLinks in Australia?
Cody: I decided to study abroad in Australia because I wanted the chance to get out and explore the great big world beyond my small-town home in the Midwestern US. I also wanted the chance to explore and learn the skills of independent life in an exciting new, yet somewhat familiarized setting (i.e. Westernized in the case of Oz.)
Australia was the perfect place for me because it offered the perfect versatile balance of wild adventures, big city life, hometown neighborhoods and amazing University life. I'm not completely confident with my foreign language skills, so Australia was prime as an English speaking country, plus everything about it just makes it a pleasant place to live.
I chose Australearn because my school was acquainted with their program and they offered amazing helpful services and adventure opportunities that I would never have been able to successfully organize on my own. So far the experience has been everything that I could have ever possibly wanted and more!!
What made studying in Sydney a unique and special experience?
Cody: This experience has been very special for me because I have had the fortune to be able to make friends and travel around this wonderful country. I live in Sydney, which has beaches, bustling city life, simple residential centers, quick easy access to scenic, peaceful, and beautiful natural beauty at parks and national wildlife reserves, a crazy hopping downtown, and a wonderful University with its own culture and events to experience.
I have easily been able to travel to all these different locations, as well as father away towns like Cairns and Melbourne all because this country has a uniquely special travel-friendly culture. Another special experience about my studies have been making friendships and strong bonds with colleagues and people I've met with whom I share common interest. These friends have shown me around, treated me, and made this whole experience such a wonderful adventure.
How did this experience impact your academic development?
Cody: In many ways, I will take a lot from this experience. First, I will take home new skills and wisdom about living independently and being a self-sufficient mature individual. Just by simply taking the initiative and actually leaving the country for the first time, I've proved to myself that going out in the world is in no way unachievable. I've grown up, learned more about the world all around (by meeting people from literally everywhere in the world and just simply by getting out), and I gained a renewed zeal for life.
Professionally, I look forward to this being an indispensable asset to which I can speak about in future educational and employment opportunities. I have gained globalized knowledge which immensely helps in my field of study (as well as practically any other,) and I have a better taste of what the international job market looks like now – it is possible to get jobs or go to school elsewhere in the world!
Finally I have learned how different institutions and countries approach academics differently. I have learned new skills toward independent study, explored my interests intellectually, and figured out just what learning styles work for me in the future. This will be great to take back home. In almost every way possible, this experience has impacted my life and is playing a large part in the person I am becoming for the future. And trust me, it is ALL impacting positively.