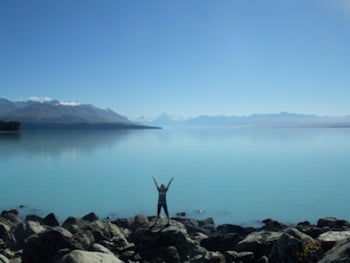 Why did you decide to study abroad with GlobaLinks?
Natalie: I looked at Globalinks initially because they had many different universities to choose from located all over Australia. I decided to study abroad with them because their orientation week included a Monday through Friday trip to Cairns on the Great Barrier Reef. With it being my first time abroad I wanted to see as much of the country as possible and the Great Barrier Reef was definitely on my list. This gave me a chance to explore the area and spend my traveling money on other adventures. It was also an opportunity to meet other Americans studying at my university and staying at my student housing before classes started. My favorite part was getting to scuba dive and swim with sea turtles on our "reef day".
What is one piece of advice you'd give future GLA - Sydney students?
Natalie: Get involved with everything Sydney has to offer; whether it is through your University, through a part time job or through community events. Not only is it a great way to meet locals, you can sometimes add it to your resume. The best part is, it's fun! I attended local Sydney festivals, such as a Mardi Gras fair at Victoria Park on campus. (Did you know Sydney has one of the biggest Mardi Gras celebrations in the world? Including a huge parade?) I saw the Australian comedy group Axis of Awesome perform at a venue in my neighborhood. I went to Creamfields for my first live electronic music experience. I went to a weekend surf camp (Mojo Surf) for my 21st birthday. The possibilities are endless and all encompassing. All you have to do is glance around and keep an open mind.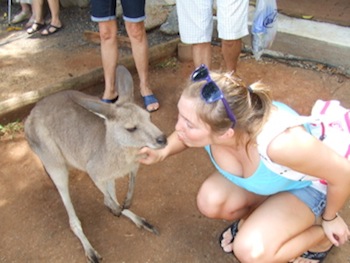 What are some interesting cultural tidbits you noticed about your host country?
Natalie: What I noticed about Australia was how the culture was a fusion of European, American and Asian influences. The people I met were from all over the world and many my age had already done an extensive amount of traveling during "gap years". I still find myself using some of the lingo, such as "sunnies" for sunglasses and "brekkie" for breakfast (but there is a lot more than that). It's true that the culture is more laid back than in the U.S. and possibly even more sarcastic. While it is considered normal in the U.S. to go away to college and live in dorms or houses off campus, with Sydney being so expensive its much more common for Uni students to live with their parents while completing their degree. Some even commuted for 2+ hours to get to school everyday, with another 2+ hours back.