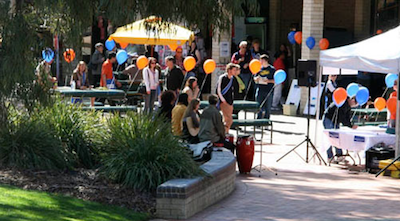 Why did you decide to study abroad with Canberra?
Hannah: The idea of studying abroad first crossed my mind when my home university held a study abroad fair. I held the approach that there was no harm in looking, so I attended some booths to discover what studying abroad was really like. After hearing some of the inspiring testimonies of students that had studied abroad, I knew that I wanted to enrich my degree and my learning by going overseas. As I didn't want a country with a language barrier, my options were the USA, Canada and Australia. I chose Australia because their prospectuses were the most vibrant and lively, much like the culture. I was surprised to find that nobody else had applied to the University of Canberra, because for me, being in the capital made my decision. I wanted to be at the heart of the country where all the politics and special events happened.
What made this study abroad experience unique and special?
Hannah: Upon arriving at the University of Canberra, the study abroad program leaders were so welcoming and helped with all the administrative aspects of my stay. They even helped me enroll into my classes and if there was anything I needed help with or problems I were encountering, they were always there to talk to. I expected to be overwhelmed by the amount of local students who would know exactly what they were doing and expected that I would feel alone. Instead, students were fascinated by the fact that I was from England and wanted to ask me many things about living in Britain, commenting on my accent and generally accepting me into their social groups. In this sense, they made me proud to be an international student instead of excluded for being one. I had believed that I would need to try to 'fit in' but I was actually able to be myself. The University of Canberra study abroad program made me feel like Australia had welcomed me with open arms.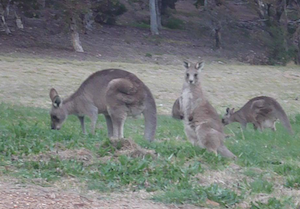 How has this experience impacted your future?
Hannah: Now, when I return to England, I will appreciate my heritage a lot more because studying abroad had shown me that it is something to treasure. I wouldn't have truly appreciated being British if I had never left the country, I might have possibly taken my country for granted. In addition, I now have the knowledge and experience of living and studying in another culture. This experience has been especially invaluable to me. It's a big world out there and now I feel one step closer to seeing more of it.
The friendly locals and the general attitudes towards kindness that every person in Canberra seems to exhibit has even made me consider coming back someday for employment or further study. Academically I was able to take electives that the rules and parameters of my degree back home wouldn't allow. Consequently I was able to study areas that broadened my learning such as PR, Business and Marketing so that I could better apply my degree to real world issues and ethics. In addition to this, my year abroad was a chance to take even more units in my future field of work, journalism. This would not have been possible without studying abroad for administrative reasons regarding switching minors in my second year. It is, above all, the best decision I could ever have made.