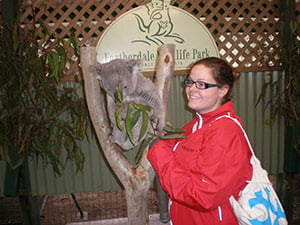 Highlights: So far the highlight of my study abroad experience has been the exchange student trip to Sydney where we visited the harbor, zoo, aquarium, paddy's markets, the opera house, and many other interesting sights. Next I look forward to the trip I am taking with the exchange program where we are all going to learn how to surf and a personal trip up to Airlie beach and the Great Barrier Reef.
Morning: I start my day in my huge room and wake up to sunshine almost every morning. As I live in a homestay (with a family who lives in Canberra) there are many benefits including the beautiful big windows which I really like to let the light shine in while I wake up. I go out into the kitchen and make myself some breakfast usually consisting of cereal or toast and a piece fruit. After getting ready and gathering all my school supplies (on weekdays) I make my way to the bus stop which takes me about 5 minutes to walk to. Usually I get there about 10 minutes early as the bus can be 5 minutes early or late. When the bus arrives I travel to school which takes me about 40 minutes.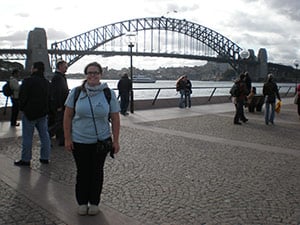 Afternoon: When I get to school most days I head to the library right away. I use the extra time I have before classes to get caught up on assignments, tend to my email, and keep connected to my family and friends on facebook and skype. Then I make sure I am always at least 5 minutes early to class as it is rude to show up late. Some days I will buy my lunch at school and others I will bring my own hand made lunch. Being from Canada, eating on campus is a bit pricey for me but about once or twice a week is fine. The food venues in the refectory are less appealing to me as they do not have very good customer service so I would suggest going to one of the restaurants or the pub. At the end of my classes I like to go to the gym on campus as many days as I can.
Evening: My evening starts by travelling home after school; usually I leave school at about 4pm except Wednesdays when I have a night class so I leave school at 9:30pm. I travel another 40 minutes on the bus home and when I get there my dinner is already made for me by my homestay mom. Due to the homestay agreement I get dinners, laundry, and rent included in my fee of living there. At night I watch a bit of television, sometimes work on school projects, have a shower, and go to bed.