What inspired you to volunteer with Volunteer Programs Bali?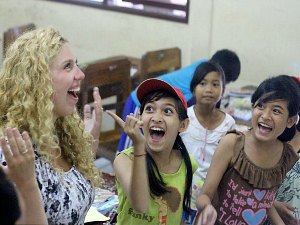 Elizabeth: I was originally meant to volunteer with another program in Bali, and had even been accepted and bought my plane tickets.
However, upon further inspection I discovered that there were many questions they simply wouldn't answer and that they wouldn't give me the support and materials needed to acquire the right visa.
I then found VP Bali, and their complete transparency rang true, and they gave volunteers the materials needed for the correct visa.
Tell us about one person that you met.
Elizabeth: At Program by the Sea I worked with a young man named Ketut. He was the founder and director of the yayasan (youth foundation). It started as a tiny establishment with only he and his sister teaching, and a few years later it has grown incredibly.
He has built classrooms, a school temple, a guest house for a growing number of volunteer teachers, and most recently a brand new computer room.
When I asked why he had decided to start the yayasan, he told me that years ago he had met a brilliant and smart young man who desperately wanted and deserved to continue his education, but could no longer afford it.
This inspired Ketut to help this young man and other deserving students in his community, which is one of the poorest in Bali. Ketut now has over 100 students with over half of them sponsored, and he works feverishly to sponsor those who have yet to procure one.
He is incredibly dedicated to helping underprivileged children and improving his village, and was an inspiring and wonderful person to work with.
What was the best moment of the trip?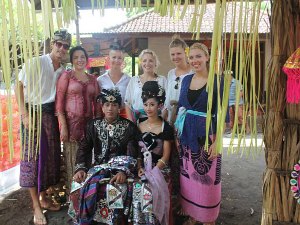 Elizabeth: It's literally impossible to give a single answer to this question. What was the best moment? I don't think I could choose. Was it when I fed a baby elephant? Swimming in the sea with my students? Climbing an active volcano?
Praying in the village temple with my students during one of the most important holidays? Creating life long friends? I did all those things and more, and they are each so great that they feel immeasurable against each other.
If you could go back and do something differently, what would it be?
Elizabeth: I volunteered at two of the three programs, Program Ubud and Program by the Sea. During my last week in Bali I visited the third program, Program WG with my friends who had volunteered there for two months.
The school and organic garden was beautiful and the students were incredibly lively. I wish that I had spent one of my three months volunteering there as well, but ultimately every program is amazing.
Has your worldview changed as a result of your trip?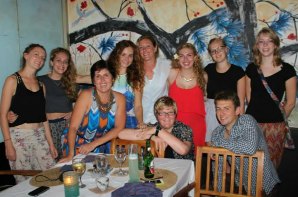 Elizabeth: I wouldn't say that my worldview has changed. It's expanded and left me drooling for more.
I took a gap year with the intention of taking the timeout to try to discern what it was I wanted to do in life.
My time in Bali more than helped me accomplish that. Perhaps it was all the spiritual energy or maybe it was the people I met, but being in Bali I realized what I want to do is continue to work abroad and help people.