Why did you pick this program?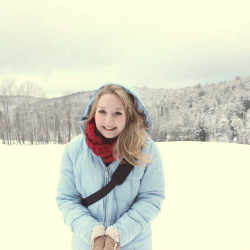 I chose VP Bali because it is located right in the centre of Bali, in Ubud, which is a town known as the major cultural and arts centre of the island. I planned to go to Bali to research about the traditional music there, but I also really wanted to volunteer as a teacher too during my one-month stay.
The program seemed really appealing to me on the website and Facebook page, and after reading really great reviews about it I knew it would be the perfect program to apply to. It is very inexpensive too, which is really great for students!
What is the most important thing you learned abroad?
One important thing I learned abroad was not to be afraid to follow your dreams (no matter how scary they seem!) and know that you can do something really great on your own. My experience teaching in Bali was a real self-esteem booster for me; I gained a huge amount of independence and confidence, and not to mention lots of amazing friends!
Two other important things I learned were how important family, connection and community is to leading a happy life, and to always remember that your actions affect everybody around you. I have never been so happy as I was in Bali, the Balinese are so kind and friendly and always ready to laugh or to point you in the right direction if you get lost on your moped!
What do you tell your friends who are thinking about going abroad?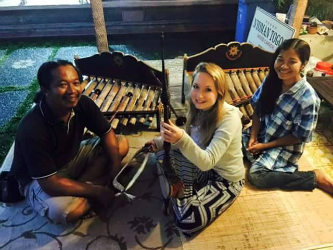 I think, just go for it! You have nothing to lose; it really will change your life forever! You learn so much about the world, about others and about yourself.
I have never met anybody who regretted going abroad to travel - you can see amazing landscapes, learn about other cultures and languages, become independent, and study what you love. It expands your mind and brightens your personality, and I think going abroad makes you really appreciate your own family and what you have back home. And, of course, you will always have amazing stories to remember for the rest of your life!
What was the hardest part about going abroad?
The hardest part about going abroad for me was worrying about my studies at university, and that what I would be doing in Bali wasn't really related at all to my studies. I also worried about getting the right flights and navigating my way around the airport in Hong Kong, about luggage going missing or that the VP Bali driver might not be waiting for me at the airport. I suppose I was thinking about the worst-case scenarios as I hadn't travelled that far before, which wasn't a good idea!
Thankfully the journey went smoothly, and my time in Bali has really helped my studies since as I arrived home much more motivated and inspired!
What's your favorite story to tell about your time abroad?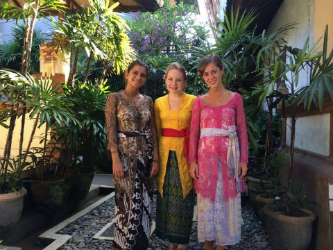 I think climbing Mount Batur to see the sunrise was one of my favourite experiences in Bali. We had just a couple of hours sleep before waking at 2:30am and being driven to the foot of the volcano to climb and see the sunrise at 5:30am. It was pitch black, and we were given torches and two Balinese guides to help us hike. I remember, about halfway up, looking back down and not being able to see anything except a long path of torchlights going all the way back down, it was so magical!
Once we eventually had arrived at the summit (1,717 metres!) we waited for the sunrise. It was incredible, and so colourful, I remember everybody cheering and then becoming silent and just watching. There must have been almost fifty people up there with us.
On the way down we were taken into bat caves and to see monkeys, and to see hot steam rising from fissures in the volcano. On the way home, we were so exhausted that we decided to visit a coffee plantation. Needless to say after sampling every type of Balinese coffee that exists we were ready for a day of teaching!
Tell us about an experience you had that you could not have had at home.
On my last day there was a ceremony at our school in Ubud celebrating Saraswati, the Hindu goddess of knowledge, learning, wisdom and music. We all wore Balinese ceremonial dress, and took part in the whole ceremony as special guests of the school.
After it had finished we had rice on our foreheads and chests, lotus flowers in our hair and were all smelling of incense. Some of the students played instruments and danced throughout the ceremony; it was just beautiful and the perfect last day of an amazing month.
What is one piece of advice you'd give to someone going on your program?
On your weekends off, hire a moped and explore the whole island as much as you can!
What made this trip meaningful to you, or how did this trip change your perceptions or future path?
I studied a lot of traditional music and the relationship between music, community and religion. The experience has made me think about studying Ethnomusicology after graduation next year, and I will hopefully be exploring more of SE Asia with a funded research program which I am excited about!
I made amazing friends from all over the world, not just Bali, and learned that I absolutely love teaching! I will never forget the experiences I had there.
How much does it cost to stay in Bali?
It is very cheap to live in Bali. Meals cost about $2 - $3, and accommodation for one night is about $8! I went to Bali with just £150 for the whole month, after paying the program fee (which included accommodation).
Also, don't be afraid to haggle prices with the local Balinese! And definitely try street food.