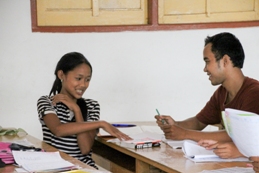 What is your favorite travel memory?
My favorite travel memory was our team building weekend with VP Bali to Gili Air. We went for 3 days with all the team members for a recycling event and did a lot of team building. It was great fun and a very good experience.
What do you believe to be the biggest factor in being a successful company?
Keep trying and never give up!
What is the best story you've heard from a return student?
I like it when volunteers are coming back to visit the school or volunteer with us again. They are so happy to come back to the schools and see all the kids. My personal experience was with a volunteer from Czech Republic who came visit the school after 2 months traveling and it was great to see her again and to see the kids happy to see her.
How have you changed/grown since working for your current company?
Since I work with VP Bali I improved my English skills because I'm able to practice it everyday.
What unique qualities does your company possess?
Working at VP Bali does not feel like working because we have so much fun together. It is a very small team and we feel like family. We can even take selfies with the boss!
Describe a time when you felt especially proud to be part of your current team.
When I was alone on our program because the other staff was sick and I managed to organize everything. I am proud that the team gave me the trust to organize it.