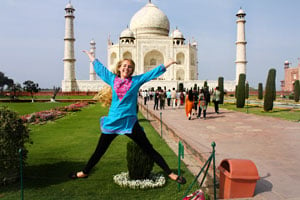 Why did you decide to go abroad with your provider?
Alisha: Well, let's see - you live on a boat - already pretty cool. You will circumnavigate the world, visit about 16 countries, kiss a fish, maybe shave your hair off, see dolphins,wales and the bluest water ever, most beautiful sunsets and sunrises too, eat outside every day and so much more - pretty much unbeatable.
I've done a lot of traveling and I can still claim with so much confidence that this is the coolest thing that has ever happened to me. I wish I could tattoo ''I love SAS'' on my forehead without looking like an idiot. I think the program speaks for itself and there is nothing comparable out there. Just ask yourself, when will you ever be able to experience so many countries and cultures in your life?
Describe your program socially and academically.
Alisha: During SAS you'll never be alone. There is ALWAYS something going on - info events, dance classes, speeches by students and faculty, meeting interport students from other countries, competitions, theater plays, open-mic nights and so forth. I feel like I've never been any more social active than during SAS.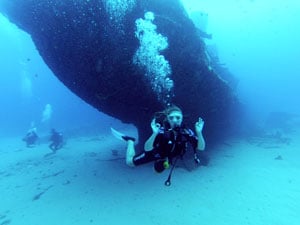 Plus, everyone is gonna be new on the boat, so there are no cliques and feelings of being an outsider or 'the freshman' and therefore I have never, ever felt lonely. The staff and crew are the sweetest people ever. I worked in the Campus Store and my supervisor smuggled cookies out of the kitchen for us whenever she could.
It was kind of like having a family of about 600 people. Academically, the offered courses are awesome and hands-on. Choose a marine biology course and go investigate the pacific ocean in Mauritius, or how about a theater course and then have a visit at the Indian theater to watch some Kathakali?
I met so many teachers that were beyond being just a teacher - they were professionals in their subject and able to give you a more in-depth, real work life experience than just telling you what's in the text book. Most teachers are being chosen every year by the program because they are professionals in their fields, not 'just' a teacher. I absolutely loved it to learn about communications and having someone tell me how communication companies operate at the same time.
If you could do-over one thing, what would it be?
Alisha: Everything. As you might have figured by now, I might be the greatest supporter of the Semester at Sea program. This is because I've always felt supported, starting from bombarding the office with about 50 emails every day and them still replying with the greatest patience, to the the time when my backpack with all my valuables got stolen. I really wish I could just relive every day again, with a go pro mounted to my head, to be able to experience what I experienced, even if the bad parts are included.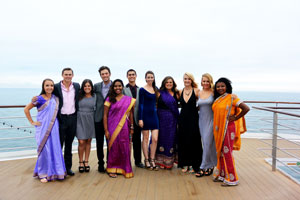 Did you run into a language barrier? Did you ever think you knew more/less of the language?
Alisha: Heeeeeeck yes. First of all, English is not my first language and as a European the education system will 'raise you' to speak two or three languages, so I have never had this (un)conscious assumption that my native language will be understood by pretty much anyone anywhere in the world.
Consequently, I prepared myself quite well and printed out general sentences that would be handy if I was stuck somewhere, lost, hungry or hurt in over 6 languages to show them to people who I couldn't talk to in English. Yes, almost every country has English as the first foreign language to be taught, but especially Asian countries learn 'paper English', which means that they can read it but that's about it.
I also got this super cute picture dictionary that featured everything in pictures including diarrhea, ha. I've had only good experiences with this system except for in China, where nobody even wanted to look at my sheets and people at the airport didn't understand the word train station. We were almost stranded in a city named Changcha if it wasn't for our hero Peachy (his self-chosen English name) who helped us getting back to Hong Kong.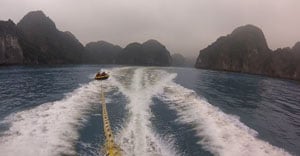 Do you think your program changed you as a person?
Alisha: Yes. It has influenced me so much. From my career-wishes to personal views. Whenever someone mentioned NGO's I was always thinking about politics and almost dozed off instantly - through SAS I discovered my interest in NGO's and that it is much more than just politics.
I'd like to ask you a question: What is your nationality? You're probably going to say ''Hey, that's easy, I am this and this'' and I've always seen this as something that anyone has - kind of like gender or eye color. When visiting Myanmar I was taught better: There are millions of people out there who are stateless because being born in a country does not automatically grant you citizenship like in the US.
And the most shocking thing - this can even happen in developed countries like European countries. This was just so eye-opening to me. I have also always considered myself as quite realistic about life - I don't like wasting food, appreciate money and my fortune to be born in well developed country and therefore wasn't thrown off-track to see poverty and poorer living conditions, but I still have to admit that it did still impact me to think how truly,truly fortune we are and that we need to care for those in need who have less.