CAPA: The Global Education Network
Studying abroad with CAPA means learning in the classroom, then supporting that structured academic foundation by going beyond and experiencing the diverse global city firsthand. You'll do this through field studies and cultural events as well as on your own. Through coursework, internship opportunities, and My Global City cultural activities, you will participate in challenges that excite and inspire you.
CAPA has one of the longest histories as a study abroad internship provider, and works with more than 3,000 organizations across its global city locations. Interning with CAPA means you'll have an incredible professional development opportunity right at your fingertips.
CAPA offers both in-country and online study abroad programs and remote global internships. Challenge yourself and go abroad (or online) with us. We have a good feeling that you'll find a second home and an experience you'll never forget.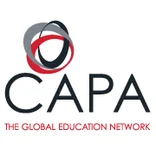 CAPA Scholarships and Financial Aid
Each year, CAPA awards $1.5 million in study abroad scholarships, grants, and affiliate benefits! With CAPA you can participate in a study abroad and/or global internship program in Barcelona, Dublin, Florence, London, Paris, Prague, and Sydney.
Alumni Interviews
These are in-depth Q&A sessions with verified alumni.
Staff Interviews
These are in-depth Q&A sessions with program leaders.