ISA Study Abroad in Reading, England
Term
Academic Year, Fall, Spring, Winter
View Other Details

Pricing

Price Details

Program Cost Includes

• Comprehensive Advising and Support

• Tuition at the Host University

• Official Transcript from Host University with ISA Cover Letter

• Housing

• Meals

• Bridging Cultures Program

• Full-Time Resident Staff

• On-Site ISA Offices

• Computer and Internet Access

• Excursions

• The ISA Discovery Model

• Cultural Activities

• Medical Insurance

• Comprehensive Health, Safety and Security Support

• Airport Reception

• Visa Support

• The Professional Development Toolbox

• Scholarship Opportunities
7 travelers are looking at this program
Reading is a community rich with numerous music, art and cultural festivals, in addition to a thriving theatre scene. Situated on the River Thames, and only a 30-minute train ride from Central London, Reading provides a great blend of suburban living with easy access to the big city. A walk through town shows off Reading's unique blend of old and new, with picturesque streets lined with traditional red brick structures and modern commercial buildings. A quick jump on a train can have students venturing out into the surrounding English countryside for a pleasant stress free day.
Study Abroad students will quickly discover that this English university is a great destination for international students who find themselves on a campus comprised of 300 acres of landscaped parkland; once a medieval manor estate. The campus provides an ideal setting for a modern university and a perfect environment for study abroad students to immerse themselves in the local culture and traditions.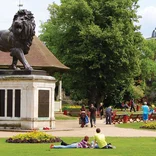 The University of Reading is one of the top 20 research-intensive universities in the United Kingdom and one of the few global business schools to hold triple accredited status (AMBA, EQUIS, AACSB). Reading offers subjects such as accounting, economics, literature, politics and international relations, and agriculture policy and development. Its contained campus covers over 300 acres of landscaped parkland, which was once a medieval manorial estate.
ISA Scholarships and Financial Aid
ISA is committed to increasing all students' access to study abroad's many benefits. We don't let financial hardships to get in the way of a life changing educational experience.