CAPA London: Creative Arts Certificate
1 traveler is looking at this program
From the famous West End to hidden Secret Cinema performances, the grand Royal Albert Hall to Camden's hole-in-the-wall music venues, and some of the best galleries in the world that make up just a few of the 857 art spaces in the city, there's no better setting than London to study creative arts. Influence in this industry comes from all countries around the globe. One of the world's most innovative and dynamic global cities, the cultural diversity and artistic creativity of London is unparalleled.
CAPA London's certificate program explores the creative arts sector in the UK generally with a focus on arts management and cultural production. You'll complete an internship and gain valuable professional experience while you're abroad. Earn a minimum of 15 credits and you'll return home with a Certificate of Study in Global Creative Arts.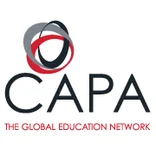 CAPA Scholarships and Financial Aid
Each year, CAPA awards $1.5 million in study abroad scholarships, grants, and affiliate benefits! CAPA also offers internship programs in several exciting cities around the world. With CAPA you can participate in a program in Dublin, Shanghai, Florence, London, Barcelona, Buenos Aires or Sydney.