Term
Academic Year, Fall, Spring, Summer
Need-based funding, Merit-based funding, General grants/scholarships, Payment plans, LGBTQIA+ funding, BIPOC funding
View Other Details

Program Details

Housing

Apartment

Host Family

Pricing

Price Details

The CET program fee covers tuition, housing in the city center, activities and excursions (day trips), medical insurance, and course materials/textbooks.

The program fee does not include transportation to/from Florence or Siena, visa fees, meals, homestay fees and a refundable housing deposit.

Still wondering how to budget for your time abroad? CET offers scholarships, and CET staff is happy to provide advice on keeping discretionary purchases to a minimum (i.e., they can tell you where to get cheap eats).

What's Included

Accommodation

Activities

Classes

Wifi

What's Not Included

Airfare
29 travelers are looking at this program
CET Italy programs offer a culturally immersive experience with individual attention from professors and staff, first-rate academics, and the chance to embrace local culture. Choose from a wide variety of electives ranging from Marketing to Economics, Art History to Psychology. CET Florence and CET Siena both offer homestay options with local families, or the choice to live in an apartment with other CET students. Both of these programs offer wonderful cultural experiences such as cooking classes, museum visits, local engagement, and more!
CET is an environmentally conscientious organization at our headquarters in DC and programs all around the world. In each of our centers, we adopt local measures to reduce our carbon footprint and contribute to sustainable practices. As part of our ongoing efforts towards sustainability, we've partnered with Cool Effect, a nonprofit focused on reducing carbon emissions through scientifically-proven, hand-selected carbon projects worldwide. For each trip taken by one of our staff members, travelers, or students, we donate to support three carbon projects chosen by staff volunteers every year.
When we set up a program overseas, we become a part of that local community. And as a community member, we are responsible for contributing to local initiatives in meaningful ways. Our website lists some local philanthropic organizations that help us fulfill this responsibility—they host our students, and we support their missions.
Program Highlights
Academically engaging courses that suit a variety of majors
Group excursions around Italy
Out-of-classroom learning & assignments
Italian language classes
Live in the beautiful downtown areas of Florence or Siena: apartment or homestay options available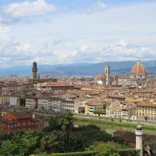 Want to study in one of Italy's most beautiful and cosmopolitan cities? Looking to travel to a different European destination every weekend? The CET Florence program offers the chance to embrace Italian culture—you can visit the Gucci factory or learn from a Tuscan chef. Check off major requirements with classes like Cross-Cultural Psychology or International Marketing. Try something new with Renaissance Art and Architecture. The class meets at least half the time in a museum, church, or piazza!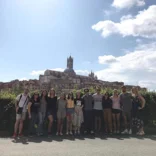 CET Siena is for those who want to dive in to the Italian lifestyle. Study Italian language and choose from a wide variety of electives. Visit a contrada to learn about the Palio horserace one day. Choose to live with local roommates or homestay. Students from all colleges and universities are welcome!
CET Academic Programs Scholarships
CET is a study abroad provider with locations in Brazil, China, Colombia, the Czech Republic, Italy, Jordan, and Taiwan.
CET offers scholarships and financial assistance for their high school abroad, gap year abroad, and college study abroad programs. Financial assistance and scholarships are need and merit based.
Upon applying to any CET program, you'll gain access to CET's scholarships application.