Seamester: Virgin Islands to the Mediterranean - 70 Days
Location
Multiple Locations
+4
British Virgin Islands
Portugal
Spain
Italy
View Other Details

Program Details

Activities

Boating

Sailing

Scuba Diving

Pricing

Price Details

9 academic credits from the University of South Florida

International Yachtmaster Training (IYT): International Crew Certificate & Navigation Master

What's Included

Accommodation

Activities

Equipment

Meals

Park Fees

Tour Guide

What's Not Included

Airfare
25 travelers are looking at this program
Crewing a yacht on a transatlantic voyage is not something many can say they have achieved, yet members of our Sea|mester crew will also earn 9 college credits in Nautical Science, Oceanography, and Leadership while visiting Caribbean, Portuguese, British, Spanish, and French ports along the way.
As a team, your sense of accomplishment will be profound, and as an individual, the experience will set you apart. The skills you'll develop and challenges you'll overcome are uncommon. Not only a perfect subject for any job interview, but this Sea-mester voyage is also likely to contribute long after you have departed the vessel. After all, we are the sum of our experiences and this one will be indexing.
Program Highlights
Sail Across The Atlantic
Earn 9 College Credits from the University of South Florida
Learn To Sail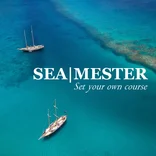 Seamester Scholarships & Financial Aid
Sea|mester offers scholarships, financial aid, and tuition assistance to applicants who show great potential to succeed and grow from our unique experience yet would otherwise be only able to attend with financial assistance.
The total amount of funds available for any given semester varies. There is no scholarship application fee, and all Sea|mester applicants are eligible to apply.