Uruguay: Montevideo - Spanish Language, Agribusiness, Viticulture, and Gender Studies
Term
Academic Year, Fall, J-Term, Spring, Summer
Need-based funding, Merit-based funding, General grants/scholarships
View Other Details

Program Details

Housing

Dormitory

Host Family
1 traveler is looking at this program
This program focuses on the rich culture and contributions of the area known as the Rio de la Plata. Courses like Spanish, History and Culture; Latin American Social Revolutions; Cinema; and Dances of Latin America will introduce you to cultural lifestyles of this region. The program is based in Montevideo, the capital of Uruguay. The location provides a vibrant, laid-back lifestyle and offers a robust music, theater, and arts scene. ORT—Pocitos, the host University, is the first and largest private University in the country with easy access to a gymnasium, stores, cafeterias, and banking. Many field trips and tours are organized throughout the semester in Buenos Aires, Argentina, Colonia, Piriapolis and Punta del Este. Organized extracurricular activities are also available: the Buddy Program, indoor soccer, cinema day, beach activities, and events all with local students. USAC has opted to locate the program in Uruguay due to its safety, political, and economic stability.
There are LGBTQIA+ friends, colleagues, and allies throughout the world. However, cultural understanding of gender identity and sexuality does vary from country to country. USAC has compiled a lot of resources to help you through that learning process.
USAC is dedicated to working closely with students with disabilities to ensure the best study abroad experience possible. You may request reasonable accommodations after your initial application is complete. We routinely receive requests for scheduling, material, and environmental accommodations for the classroom setting, which may include assistive technology, scribes and readers, printed material, and interpretation.
Environmentally-conscious students choose USAC because many of our programs are held in some of the most sustainable countries in the world. There are options to take coursework in sustainability and the environment, as well as field trips and studies where students can leave a lasting impact on their host country.
Program Highlights
Experience a unique opportunity to study and explore the Spanish, Italian and African cultural influences throughout Uruguay.
Take courses in Spanish, Latin American studies, viticulture and agribusiness.
Enjoy the thriving cultural scene of Montevideo, consistently rated as having the highest quality of life of any city in Latin America.
Explore nearby regions on the optional tour to Buenos Aires, Argentina and Colonia, Uruguay.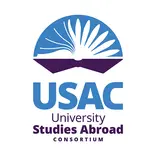 USAC Scholarships and Financial Aid
USAC awards over $2 million in scholarships and discounts each year to assist students with their study abroad expenses.