Philippines Volunteer Programs from $26/day | Most Affordable & Trusted
View Other Details

Program Details

Timeframe

Spring Break

Summer

Winter

Year Round

Travel Type

Budget

Family

Older Travelers

Solo

Women

Pricing

Price Details

Fully hosted experience from only $380 for 1 week - this includes accommodation, meals, airport pick-up, orientation and 24/7 in-country support.

What's Included

Accommodation

Some Activities

Airport Transfers

Meals

What's Not Included

Airfare

Travel Insurance

Visa
40 travelers are looking at this program
Trusted by 125,000+ volunteers, IVHQ offers the world's #1 rated volunteer programs in Philippines and 50+ destinations worldwide.
For the past 5 years, we've won the "Top Volunteer Abroad Provider Award" from GoOverseas, so you can trust that you're in the safest hands with IVHQ in Philippines.
Our affordable projects start from $26/day for your accommodation, meals, airport pick-up, project placement and local support. Projects run year-round, with durations from 1-24 weeks. Choose from 4 projects, ranging from Teaching, Kindergarten and Environmental in Palawan, an archipelagic province. Plus, you'll stay with other like-minded, impact-focused travelers from around the world (private room options available).
With IVHQ's superior pre-departure support services, you'll gain exclusive access to your own Volunteer Travel Specialist, comprehensive preparation tools and volunteer training before you leave home.
Program Highlights
Cheapest volunteer programs from $26/day for your accommodation, meals, airport pick-up, project placement & local support.
Volunteer for 1-24 weeks, year round start dates most Mondays.
15+ years experience & only B Corp certified volunteer travel organization.
Get free changes up to 14 days before you start with our flexible booking policy.
Affordable way to earn college credit - gain 5 credits for only US$500!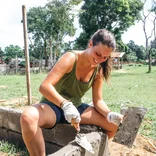 Transform schools, daycare centers, and medical facilities in the Philippines with IVHQ's Construction and Renovation volunteer project in Palawan. Help with renovations, restoration, painting, and carpentry to create functional and beautiful spaces for under-resourced communities.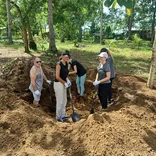 Protect Palawan's pristine natural environment as an Environmental volunteer! Rehabilitate mangroves, clean up beaches, and promote eco-education in local schools. Make a meaningful impact on the local marine and bird life by restoring vital habitats and protecting the shoreline.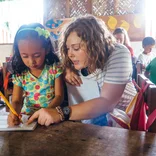 Help provide quality education to under-resourced kindergartens in the Philippines as a volunteer. Follow the government curriculum in an exciting way, with an essential focus on fun. Volunteers can also conduct special classes during holiday periods, providing an opportunity to be creative and flexible.