View Other Details

Program Details

Timeframe

Short Term

Spring Break

Summer

Winter

Groups

Medium Group (16-30)

Pricing

Price Details

Since we are booking accommodation and food in a partner hotel for you, to confirm your spot we will require a 129 EUR refundable confirmation fee: 99 EUR refundable deposit + 30 EUR admission fee (including transaction and foreign exchange costs/fees pertaining to online payments, bank charges or wire transfers, as well as local tourism and eco taxes).

What's Included

Accommodation

Activities

Meals

Wifi

What's Not Included

Airfare

Travel Insurance

Visa
44 travelers are looking at this program
Do you want to stay in a beautiful countryside resort for free while meeting talented youth & discovering the local culture? Welcome to Angloville.
Angloville is offering cultural exchange programs in Poland, Hungary, Malta, Greece, etc. where you will stay for free in a quality hotel in the middle of the beautiful countryside for 6-10 days meeting talented and ambitious youth from all over the country in a very laid back environment.
Angloville Junior focuses on enabling cultural and linguistic exchanges between international English speakers and local young people who are interested in studying abroad. During the program you will meet, talk & play in English, share your knowledge and experience with them, be the ambassador of English culture and learn about local culture through a series of activities.
Program Highlights
100% free board and lodging (3 meals a day, shared room, private bathroom)
A chance to become TEFL-certified (optional)
Meet new international friends (12+ nationalities)
Opportunities to travel across Europe: Malta, Greece, France, Poland, Hungary and many more.
A lot of fun guaranteed!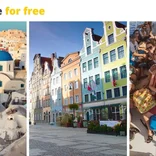 Angloville is one of the biggest providers of free educational & cultural exchange programmes in Europe. We offer a fun and intercultural experience during which international participants can discover 8+ European countries and meet locals for free: Malta, Italy, Greece, France, Berlin, Hungary, Poland, England, Belgium, and Netherland. Where do you want to travel to next?