Teach Abroad
How to Create an ESL Teacher Resume that Will Get You the Job
No matter where your overseas journey takes you, there's one important document you'll need to help you land that coveted teaching position: a job-scoring ESL teacher resume.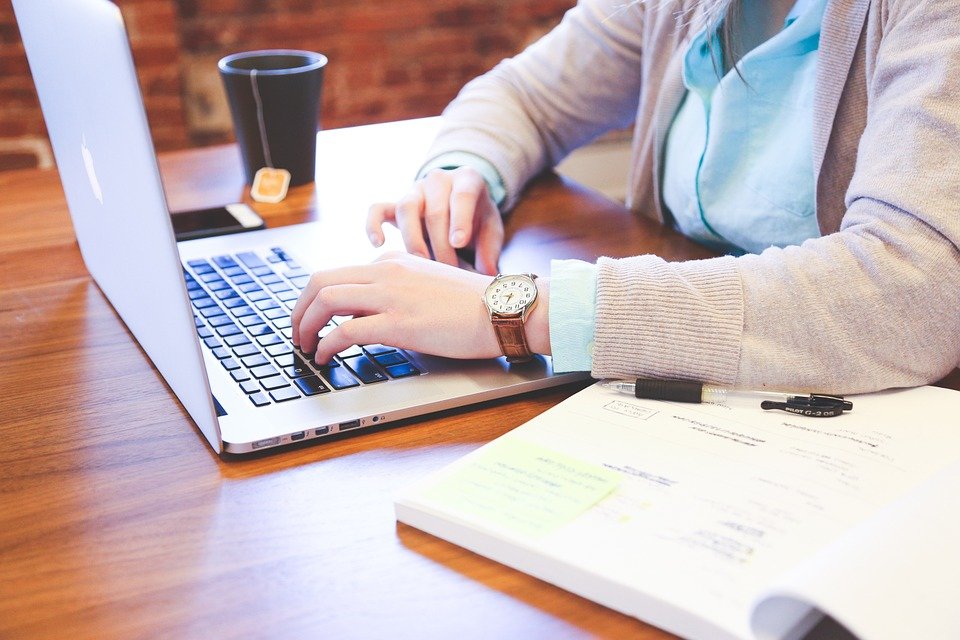 Whether you are planning to move to the snow-peaked caps of the Chilean Andes, the rolling desert of Saudi Arabia, or the smart city streets of Rome, there's an important document you'll need to help you land a coveted teaching position abroad: a resume.
If you have experiences that are more relevant than your current ones you can also list positions in order of their relevance.
It should come as no surprise that in order to teach English overseas, as is the case for the majority of jobs out there, you will need to prove your qualifications. The standard way to do this is through a resume. Though submitting a resume may not necessarily be the first step in your journey toward teaching abroad, most all programs use this tool at some stage in the process as an effective way to evaluate your preparedness for such a position.
Writing a resume can be a difficult task even when you have a ton of experience in the field, and it can be even more daunting if your prior teaching experience is limited. But whether you've spent several years teaching or have never set foot in a classroom, there's a way to craft a resume that demonstrates your teaching potential to future employers.
General Resume Requirements
No matter what industry, there are a few general requirements that every resume must have. Perhaps most importantly, your resume should have your name and contact details clearly stated at the top of the page so your prospective employer can contact you easily.
When it comes to fonts and colors, stay with simple fonts such as Times New Roman, Arial, or Garamond, and professional colors such as black, dark gray, or navy blue. Sticking to a white background for your document is also a good rule of thumb to follow.
Along the lines of professionalism, it is of the utmost importance that you spell check the document. It should also go without saying that you should never lie on a resume. Don't include experiences, titles, or skills that you don't actually possess.
A Note on Resume Creativity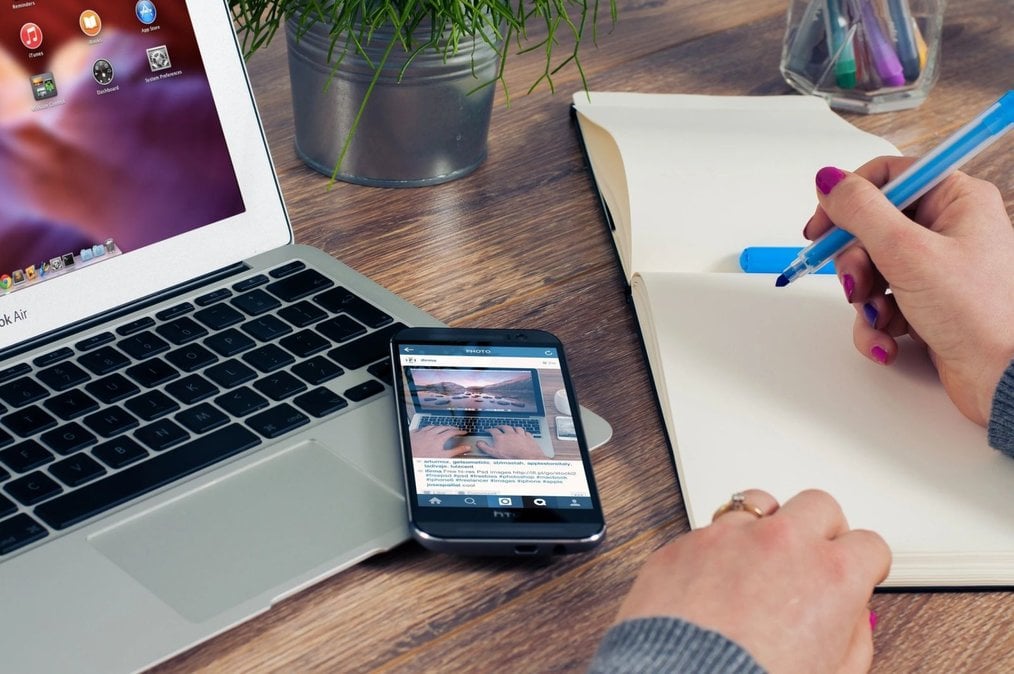 Resumes are all about the spin. Regardless of the field of your past experiences, you can find a way to spin them so that the skills you learned and qualities that are relevant to teaching English stand out.
For starters, include any experiences that you have working with students in the age range of the position. Even if they aren't in-classroom experiences, noting that you have tutored fellow classmates, been a camp counselor at summer camp, or babysat on the weekends are all examples of experiences that demonstrate your skills with children and youth.
It's also important you demonstrate any leadership experiences you have that can carry on to your skills teaching in the classroom. Were you president of a school club? Served as first chair violinist in your high school orchestra? Organized a trash pick up day for residents of your dorm? Led a class debate team to victory? Write those down.
Of course, as you're applying for a position teaching English, include any English language experiences as well, such as writing for a student newspaper, involvement in a poetry club, or taking journalism or literature courses at your university.
ESL Teacher Resume Objective
The first section we recommend you include on your resume -- after your name and contact details -- is an objective. Only one to three sentences in length, this section is a succinct way to summarize yourself as a candidate and your intentions in submitting your resume for a certain position.
Of course, this section needs to be tailored to each specific job you apply for, for example: to obtain a position teaching English to Elementary school students in Madrid or highly skilled ESL Teacher with five years experience who seeks a position at ABC institute in Qatar.
ESL Teacher Resume Experience
The experience section is perhaps the most important section of your resume, as it provides potential employers with the meat of why you are a great candidate. This is where you will want to list your current and past employment as well as relevant field work, leadership experiences, or volunteer work.
Be sure to include your position title, the company or organization name, dates of employment/affiliation, and a description of your responsibilities, duties, and key skills.
As far as order is concerned, traditionally resumes include the most recent experience at the top, with the rest listed in chronological order. However, if you have experiences that are more relevant than your current ones you can also list positions in order of their relevance.
Tip: read through the job description and place key skills, experiences, or verbs in the requirements section into the descriptions of the experiences you list. This not only makes it easier for you to figure out how to write about your experiences, but it also helps employers identify that your experiences match what they are looking for.
ESL Teacher Resume Skills
The skills section is another place where you can concisely list the relevant skills you have that will help you succeed in a teaching position. You can list both hard and soft skills.
Examples of relevant hard skills are:
Prior teaching experience
English language proficiency
Proficiency in other languages
Computer skills
Writing/editing
Examples of relevant soft skills are:
Communication
Patience
Relationship building
Adaptable
Crisis management
Additional Sections to Include
Another important section to include is your education level. This is especially important to include if a college degree is a requirement. Include your university name, degree program, graduation date (or anticipated date if you haven't graduated yet), and GPA.
You may also want to include any awards or honors you've received in courses or leadership activities. If you have any teaching certifications, like a TEFL certification, or others that can help in the classroom such as first aid, you'll want to include these as well.
ESL Teacher Resume Sample
After reading all our advice we want to share an example resume with you so that you can better visualize all that we've discussed: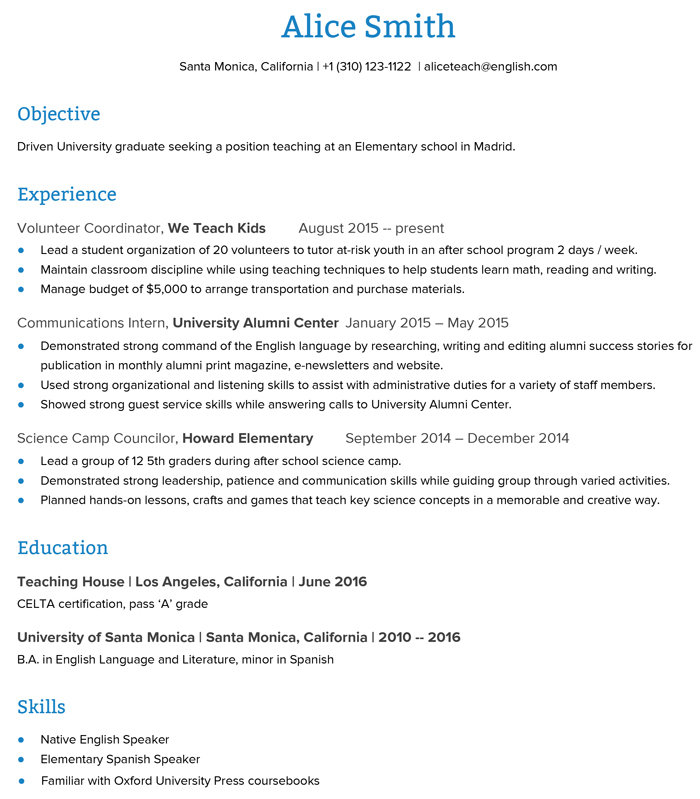 Final Resume Check List
Before you hit the send button on that email (or electronic application), there's a few things you must double check. Here's a final checklist:
Is your name and contact information clearly displayed at the top of the resume?
Do the fonts, color choices and layout accurately reflect you as a professional candidate?
Have you read through the document (and spell checked) to ensure the resume is free from grammar or spelling errors?
Is your objective specific to the job you are applying for?
Have you included all relevant skills that would be useful in convincing a future employer that you are the best candidate for the job?