Internships Abroad
How to Get the Most Out of a Virtual Internship
Just because your internship is completed from behind a computer screen, doesn't mean you can't derive all the benefits and more from it. Explore the best practices to gain as much as you personally can from a virtual internship.
What Should I Expect from a Virtual Internship
So you heard the rumor that the future of work is remote and are ready to get digital work skills with a remote internship? Or perhaps you saw the increasingly available data showing that employers rank the importance of internship experience higher than GPA, chosen major, or school attended when comparing to two candidates? Regardless, you have made an excellent decision to consider or complete a remote internship, but it may be hard to know where to start.
There are many articles about how you can succeed at remote work, as well as tips to stand out in your internship, but a good question may be how can you, personally, get the most out of your virtual internship and where exactly should you start.
Read more: 10 Best Virtual Internship Programs
Any internship can work to build your understanding of workplace culture and help you master the ambiguity of real-world work. It can also impact your soft skills development such as communication, leadership, problem-solving, and global fluency.
Most importantly it can help you learn more about yourself, what projects you love the challenge of, and others that you would prefer to avoid in the future. It lets you explore which types of companies you feel most comfortable in, whether a small start-up or large corporation. This full exploration can be taken best advantage of through networking, consistently noting your achievements, getting crucial Linkedin recommendations, investigating the company and country culture, and taking advantage of all your virtual internship provider has to offer.
Record Your Learnings and Achievements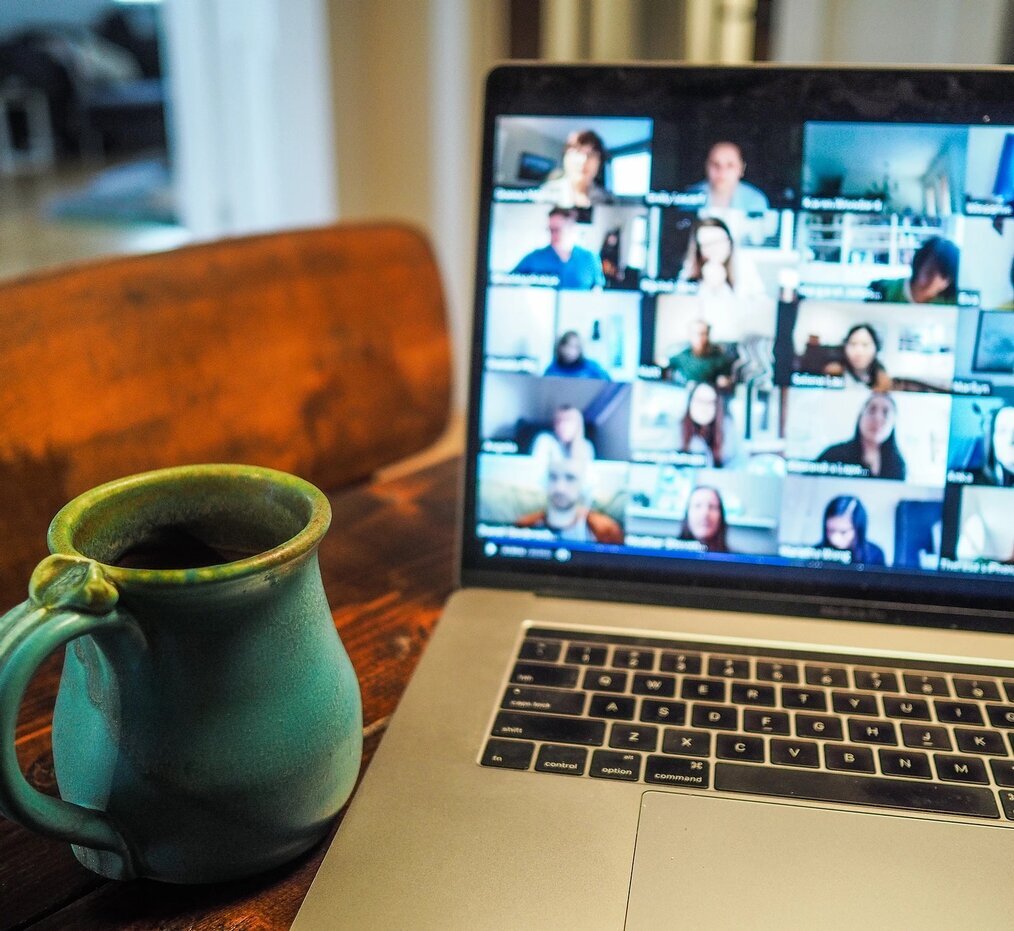 It's time to start a diary! While some may hesitate here to use the term 'career diary', I am in fact suggesting just that. We can call it a project log if you prefer a more corporate term, but essentially to get the most of your internship you need to ensure that you are pausing to record your learnings and achievements, which will allow you to reflect on your experience, good or bad.
In this career diary (project log) you should take time each week to reflect on the projects you completed and impact you made. Furthermore you should consider what was a highlight of your work, and what challenged or disappointed you. By recording these reflections weekly, when it comes time to end your internship and update your resume, or even interview for your next role you will be more capable of articulating your key projects, as it won't be based-off memory but easily referenced in your diary.
More importantly you will be able to pull key trends from your reflections that could drive your future career management. Did you notice your challenges always centered around meeting deadlines? Perhaps you need to hone your project management skills. Did your notes get more positive when you discussed communication projects? Potentially this is a key responsibility you want in your future roles.
When reflecting on these trends, remember that during an internship it is just as important to learn what you love to do, as learning what you don't want to do. As you progress throughout your experience here are a few questions you might want to answer in your career diary:
What did I like about my day/week at my internship? Simple yes, but important.
What projects have I most liked working on and why?
What are my personal goals of this internship experience?
What hard skills or soft skills am I aiming to work on?
How can I measure or track progress towards these goals?
How you record these reflections is up to you, and you can choose the old-fashioned pen to paper, with a small notebook by your workstation, or perhaps digitally in your calendar or notes, or the even more organized can use excel. For me, all my key achievements and projects are housed in the notes app on my phone, for easy access, and to ensure they don't get lost from role to role.
Some experts suggest that 70% of people ended up in their current position thanks to networking.
Master the Art of Planned Networking
Many times completing an internship leads to future employment within the company or can be leveraged for employment elsewhere. In fact, in an employer survey from the National Association of Colleges and Employers notes that employers weigh the importance of an "internship within their organization" as the most important attribute an applicant can have, with an "internship within their industry" a close second. Virtual Internships, a provider, reports that 26% of their interns are offered to extend their internship, proceed in a part-time role, or hired full-time post-program. This transition from internship to employment is bolstered by ensuring that you build a presence and professional network during your internship.
Completing an internship is a perfect place to start building a professional network, but in a virtual setting, you may be wondering how. Long gone are the chances of bumping into the CEO in the elevator, or even joining a simple chat on the latest hit show. While chance networking may be gone, virtual work leaves you wide open for planned networking, allowing you to build that crucial network all from behind the computer screen and with a plan of action.
As an intern, other professionals within your organization understand that the purpose of your role is to learn, which makes it easy to ask co-workers or professionals outside of your organization to schedule an informal 15-30 minute conversation. Planned networking puts you in the driver's seat for creating opportunities for conversation, connections, and network building. During any internship, I would suggest that you try to complete one internal and one external informational interview, where you can learn more information about the company, role, and expertise of the person you are connecting with. Unlike attending an in-person networking event, this allows you to complete meaningful, private, and targeted conversations with key people that can enhance your career exploration.
Beyond informational interviews, I would work hard to try to have the gift of GAB:
Goal setting is key. Each week I set a goal to reach out to one colleague I haven't met before or spoken to in a while to check-in, and offer any assistance. I also have a goal to join any group conversations I am present and available for, for example, if a colleague shares an article, even if busy, I try to take 5 minutes to peruse and respond, joining the conversation and showing my insight.
Ask for introductions to key colleagues, allowing your supervisor or coworker to identify strong professionals to learn more from, and allow them to start the conversation if you may have been too meek to do so yourself.
Be brave. Yes, it can be hard to ask someone to an informational interview or to strike up a chat with a new colleague but remember we are all in the same boat of working remotely and seeking virtual connections. Being brave will let you meet more people and stand out in your internship. At my most recent company's monthly global meeting, all 70 colleagues came together and played an icebreaker. The first person to raise their hand, turn on their camera, and answer a question was our brand new virtual intern. After the meeting, the CEO reached out personally to ask me who that was, showing how easily being brave and trying to be part of the conversation can let you stand out.
Prove it on Linkedin
Many people consider Linkedin as a digital resume, but it is so much more than that. Linkedin is this great wide world of professional networking, shared resources, courses, and of course job opportunities. While I assume that the importance of Linkedin is as clear to you as the importance of networking, if not I will reiterate it again, networking and Linkedin are crucial for the success of your current and future professional goals.
When building their Linkedin profile many interns seem to replicate their resume, sometimes word for word, and forget the many other key features that can make it pop. One key feature that can be earned during an internship is the request for posted recommendations. This is a way to really highlight your experience with verifiable skills and experience confirmation. Linkedin recommendations are great as they allow you to have that permanent brief reference on your external profile for any recruiter or hiring manager to see.
As you have already done the hard work of completing planned networking throughout your internship and logging all your key achievements in your career diary, asking for one or more recommendations for your Linkedin page the final week of your internship should be an easy feat. Simply select a few of your newly built networks from coworkers to supervisors to fellow interns, and from Linkedin request a recommendation. When requesting carefully note 2-3 projects or highlights from your career diary to highlight and assist them in jogging their memory of your hard work making the recommendation writing as easy for them as possible.
Explore the Culture of Your Virtual Internship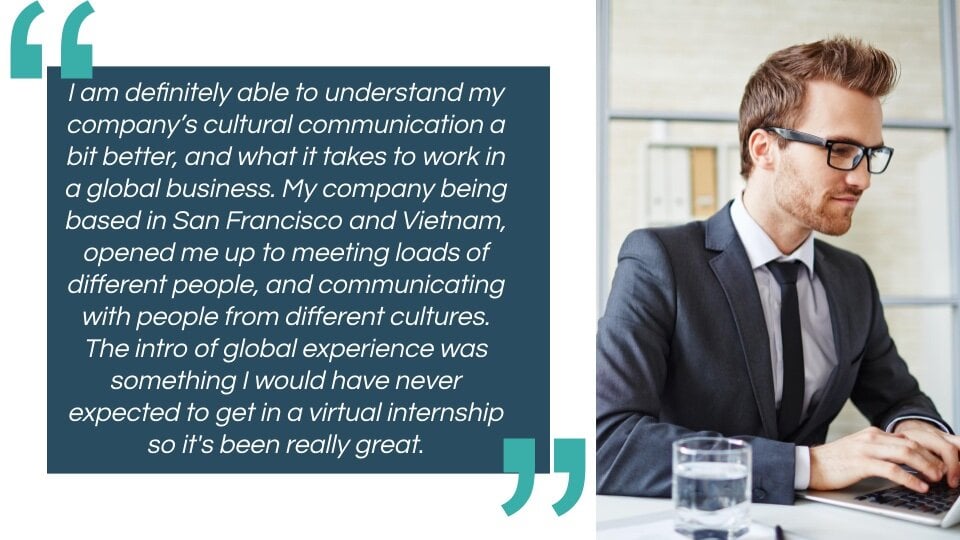 There are many benefits of remote internships: flexibility of schedule, project-based work, lack of daily commute, and gaining important digital skills to meet the new future of work. One of the greatest benefits though can be the ability to work across the globe to experience new countries, cultures, and connections from the comfort of your own home.
As an intern, it will be important for you to explore and understand two distinct cultures, first your company culture and second the culture of where your company is located. By taking time to investigate and understand both you will be better understanding what type of company and culture you want to work with in the future as well as building your intercultural skills.
Understanding culture both within a workplace and country can be investigated by reviewing Hofstede's cultural dimensions:
Power Distance: Here we consider power being defined as the degree to which a person is able to influence other people's ideas and behavior. In reflecting on power distance you may ask yourself if the boss gave an opinion, and a lower-ranking staff member pushed back or questioned the opinion how would that be taken? The higher degree of power distance would mean that the boss should be supported and not questioned, with the lower degree allowing for discourse and questioning of authority. Understanding the power distance of the culture you are working with, will help you navigate when to speak up, and who to speak to when an issue or conversely an innovative idea arises.
Individualism vs. collectivism: Here we consider the emphasis of "I" versus "we". Individualistic cultures will look to the individual's work, impact, and outcomes compared to a collectivistic culture working more towards a common goal and working together for the best group outcomes. This will be important to understand why certain projects may be prioritized and how they are completed within a company.
Uncertainty avoidance: Here we are considering tolerance for ambiguity, comparing those who embrace the unexpected, or shift from the status quo, or those who avoid it at all cost. You can see this readily in how your company takes on new ideas, processes, or solutions or if there is common ideation to move forward with how they have always done things. Understanding this will allow you to better present new ideas or innovations, to be received positively.
Take Advantage of all the Program Supports
There are many paths to an internship. Some may go it alone and find their placement applying to roles on job boards, others may directly engage with their career services offices for guidance, with many other interns utilizing the robust support of internship providers. While these options range in support, they will all most likely offer some guidance, workshops or webinars, resume reviews, supervisor feedback, and more.
The challenge comes when an intern loses focus on the additional supports and opportunities and hones in only on the day-to-day work. This is a huge shame, as virtual internship providers and some individual companies have carefully curated their internships so that you can walk away with the strongest outcomes and skills development. By not taking advantage of these program supports you may be only completing half the professional puzzle.
Providers will usually have an online course or live webinars to help you learn more about industry trends or professional development best practices. These inclusions may allow you to learn key insights and information to stand out in your current internship. They can also help you in your future job search giving you resume and interview guidance.
One crucial inclusion that intern providers have is the monitoring of outcomes and skills gain. Ensure that you don't miss out on the opportunity to see your pre and post-program assessments, unpacking your individual skills and reflections of the program. Any good provider should give you access to a final program report with this information, which you can then add to your career diary.
Finally, consider your provider another resource for networking. Try to connect with fellow interns working at different companies to learn about their experiences. Share your challenges and your achievements, and ultimately peer mentor each other to success, and to make it easy to do so many providers have planned networking events to connect. Going on a provider internship program means that you will never be without support whether it be from your host company, program manager, or fellow interns, and you should work hard to network with each, and lean on them when you need support.
It's Time to Get to Work
When it comes to work, school, even fun, you ultimately get out what you put into it. Completing an internship is a really important step to your professional path, and taking control of your career management, but the impact will only be as big as your effort. I applaud you for taking the first step on securing a virtual internship, and for seeking out best practices to ensure that you get all that you can from the experience.