Volunteer
How to Volunteer at an Elephant Sanctuary in Thailand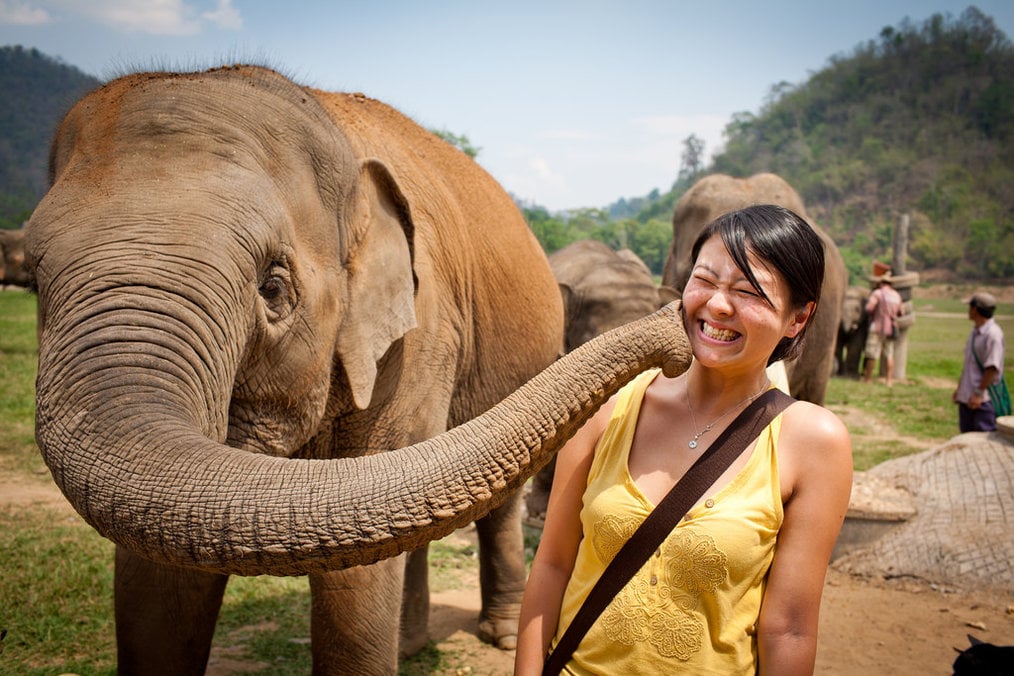 Working with elephants is one of the most popular volunteer activities in Thailand. And for good reason; they're huge, adorable, and very intelligent. Elephants are often looked upon as gentle giants, but it's good to remember that this isn't always the case. Sadly, many elephants have faced terrible abuse, beaten into performing tricks or overworked and underfed in the streets or at money-hungry tourist attractions. An abused elephant can become an angry elephant, and elephants can kill if they feel threatened.
All that being said, volunteering with elephants can be a very rewarding experience. The important thing is to find the right opportunity. There are plenty of elephant sanctuaries and parks, in Thailand especially, where you can do worthwhile work that serves to better the lives of these amazing creatures. The key is to do your research and watch out for places that promise you the world for a big chunk of money.
If the volunteer organization seems to be putting more emphasis on elephant rides and the elephants doing tricks, be on alert that it is probably not a place with the elephants' best interests in mind. Unfortunately, elephants in Thailand face real struggles everyday, including illegal trade, poachers, and government scandals.
Read on to learn the in's and out's of volunteering at an elephant sanctuary in Thailand.
The Reality of Volunteering with Elephants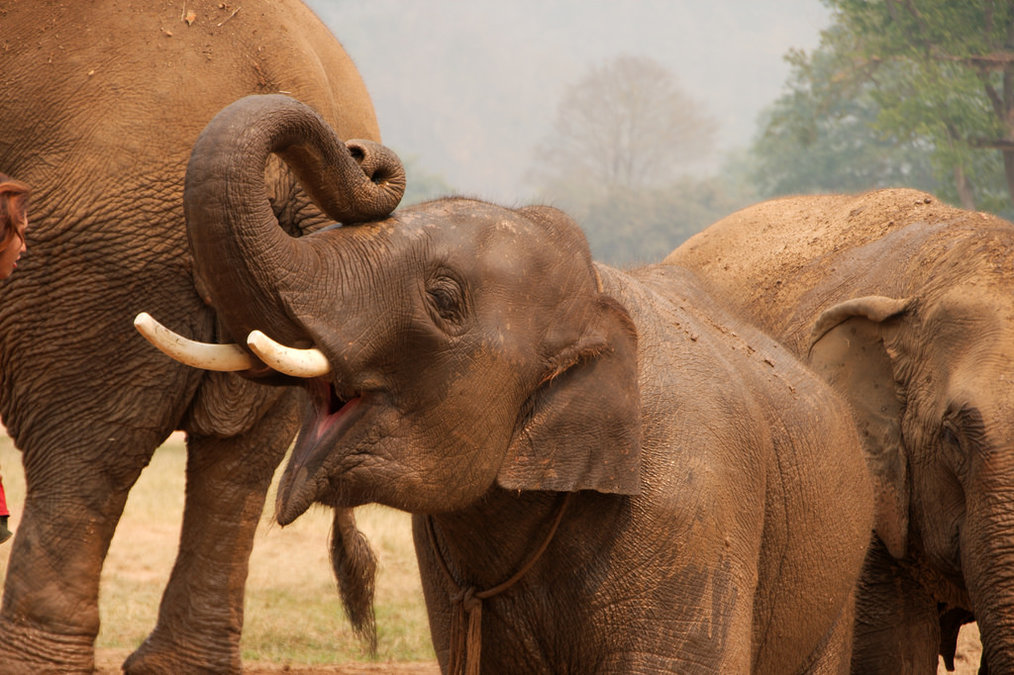 Some elephant conservation projects really do not need volunteers for the work they do, but it's the money the volunteers pay that convinces (or enables) elephant owners, often villagers in remote areas, to not work their elephants.
These owners would otherwise be taking their elephants into the streets to beg for money, force them to perform at shows, or give rides to endless lines of tourists. This is not just so the owners can make money for themselves, but also to be able to afford to feed the animal, which can eat up to 250 pounds of food a day. These programs will allow volunteers to get more up close and personal with elephants in more fun or desirable ways, such as bathing them in the river.
On the other hand, there are projects that genuinely need volunteer help. Often this may be more manual labor -- cleaning enclosures, preparing food, construction. Neither type of project is necessarily better than the other. Both are necessary to keep elephants off the streets and out of abusive, unsafe or unhealthy environments. It's simply up to you as a volunteer to decide what kind of work you want to do and how you want to make a difference.
Another potential positive outcome of volunteering with elephants is the ability to show their owners how to provide a safe working and living environment for the elephants. As projects do generate income for elephant owners and their families, they are less motivated to overwork and mistreat their elephants. Together, volunteers and Thai locals celebrate the beautiful domestic creature and encourage behaviors to enrich, rather than detract, from their quality of life.
Watch Out for Scams and Don't Ride the Elephants
Of course, not every elephant sanctuary is what they say they are. Some exist purely to bring in tourist dollars and don't treat their elephants humanely. To avoid this, run a background check on the organization you're volunteering with -- even a simple Google search will help.
And no matter what, don't ride the elephants. The Huffington Post has a great article on why this practice is harmful, but the main thing to recognize is that most trainers use abusive practices to get elephants to a point where they're submissive and docile enough to ride.
Volunteer Projects at Elephant Sanctuaries in Thailand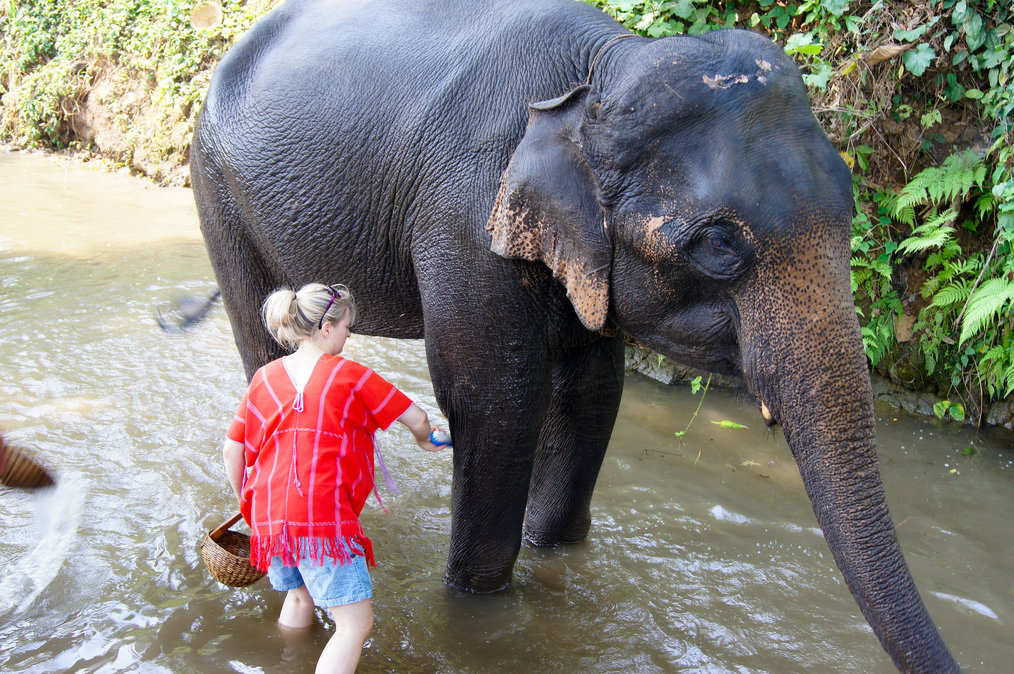 A number of volunteer programs send volunteers to the Elephant Nature Park, one of the best-recognized elephant parks in Thailand, located about 60km from Chiang Mai. The sanctuary for distressed elephants accepts both volunteers and visitors, and focuses a lot on educating people about elephants and the issues they face in Thailand.
Volunteers can expect to do a little bit of everything, from feeding and bathing the elephants to interacting with guests and helping out with other tasks around the park.
This elephant sanctuary has been able to support itself on various donations and volunteers; recently, it has also tapped into the tourist market to earn additional funds. Though adding a tourist element to these sanctuaries has potential to be exploitative for the animals, but park strikes a good balance.
Other well reputed elephant sanctuaries for volunteering in Thailand include Elephant's World and Wildlife Friends Foundation in Thailand.
Below is a list of excellent volunteer projects working with Elephants in Thailand.
GapXperience Asia: Bathing, Feeding, and Cleaning, Oh My!
Volunteers looking to have more of the fun, up-close-and-personal time with elephants, while enjoying a more relaxed and adventure-filled volunteer vacation time in Thailand, may enjoy a program more like that offered by GapXperience Asia at an elephant camp near Chiang Mai.
Volunteers do less of the hard work, and get to spend more of their time with the animals -- primarily bathing and feeding them. The project includes a homestay, so there is a strong cultural aspect, as well as other activities.
The money from volunteers is what keeps the elephants there at the camp -- where they even get to sleep out in the forest rather than in captivity -- rather than out being overworked to earn their owners the same money. However, before choosing this type of opportunity, be sure to weigh the pros and cons of short-term volunteer programs.
Surin Elephant Park: A Mix of Work and Fun
This project at the Surin Elephant Park through Travellers Worldwide offers a mix of the fun, hands-on interaction with elephants -- feeding, walking, and bathing them -- with the hard work required to keep the park up and running.
Some days will be spent up close and personal with the elephants, maintaining a strong quality of life, other days volunteers will be doing different kind of work that still directly affects the more than 300 elephants at the park. Volunteers will help to build the new elephant sanctuary, plant and harvest food, clean enclosures, and do some community development work to ensure strong ties with the local villagers.
GVI: Reintroduce Elephants to the Wild
You know right off the bat this GVI program is a good one, since they state they "do not partake in riding elephants or having them demonstrate skills learned from being trained." Volunteers work with rescued elephants, most of which have come from difficult lives being used as circus-like performers, giving rides, or begging in the streets.
Unlike many other projects, you are not taking care of the elephants, per se, but in a sense enabling them to care for themselves. Much of the time, volunteers are following the elephants who have been reintroduced in the forests, monitoring their behaviors. Volunteers may also get the chance to help out with health inspections and other tasks.
While this project may not offer the same fun-sounding activities like bathing in the water with elephants, it is quite possibly the most beneficial of them all for the elephants, and volunteers will probably learn the most about elephants in this program. They will have the chance to spend a lot of time in the forests of northern Thailand, observe elephants -- and other creatures -- in their natural habitat, and live with villagers in an authentic Thai village.
Where Will You Go?
However you choose to spend your time in Thailand, and whatever type of volunteer project you choose, there is nothing quite like being up close -- and perhaps even forming a bond -- with these fantastic animals. Rest assured that, as long as you do your research and choose a reputable project, your volunteering will help save this endangered species from the brink and create happier, healthier lives for many elephants.