Volunteer Abroad
How to Volunteer at an Elephant Sanctuary in Thailand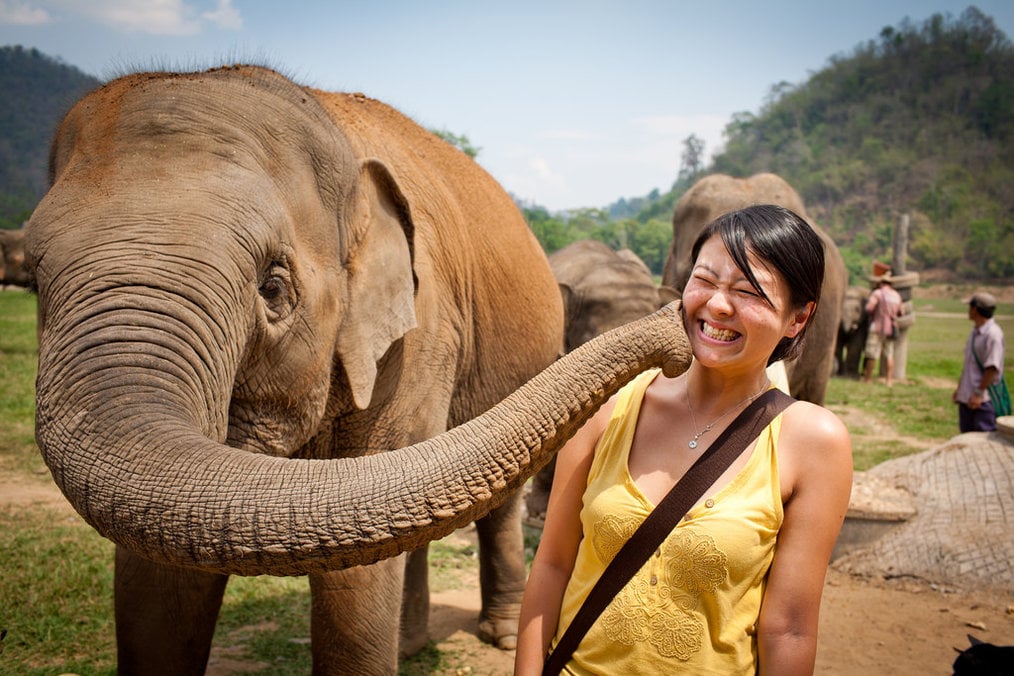 The opportunity to encounter highly endangered elephants draws travelers from around the globe to Thailand. Elephants are incredibly intelligent creatures -- they have the largest brains of land mammals. Sadly, captive elephants have endured horrific abuse in order to 'break' them into being docile around humans. If you love the world's largest land mammal then you may want to consider volunteering at an Elephant sanctuary in Thailand.
Volunteering with elephants is often a very rewarding experience. Retired working elephants are no longer capable of reentering the wild and rely on human support for daily care and nourishment. The best sanctuaries are those with large plots of land that allow the elephants to roam freely in semi-wild environments.
Working with elephants is one of the most popular volunteer activities in Thailand. Read on to learn about ethical elephant sanctuaries where you can volunteer in Thailand.
What to Consider Before Volunteering with Elephants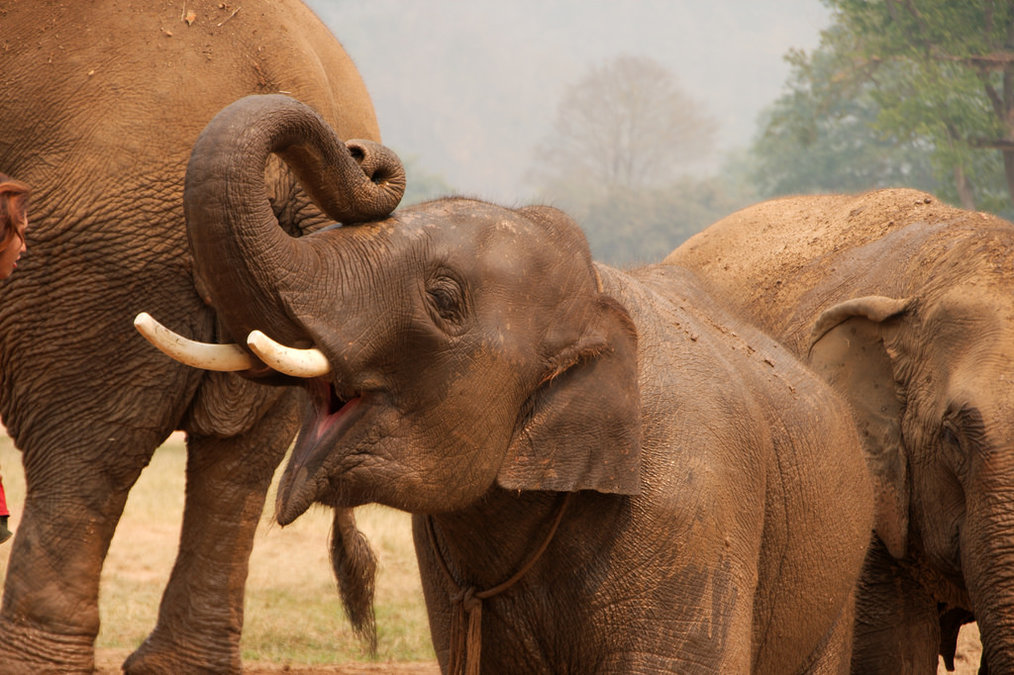 As you decide which organization you're going to volunteer with in Thailand, keep these questions in mind:
Does the sanctuary offer harmful tourism experiences?
Elephant riding isn't the only unethical task -- elephants don't usually need assistance with bathing or to bathe on schedule. A legitimate sanctuary allows elephants to live as they please.
To keep your ethics intact, stay away from organizations that allow tourists to bathe, feed, or touch elephants. Never collaborate with an establishment that uses elephants for performances, such as elephants painting with their trunks. Avoid any phony sanctuary that promotes elephant rides, even bareback.
Is proper training provided for volunteers?
An ethical elephant sanctuary will engage volunteers in training with mahouts, or elephant keepers, to ensure they know how to safely interact with the creatures. It's crucial to join a program that ensures you'll always be in the presence of a trained mahout and that you'll never be expected to handle the elephant on your own. Having travel insurance in case of an emergency is always a good idea when working with animals.
Are you prepared to do work that doesn't involve elephants?
Don't expect to spend all day with elephants as the work that needs to be done at most sanctuaries is manual labor such as cleaning enclosures, preparing food, assisting with construction projects around the site, etc. Some elephant conservation projects don't actually have an urgent need for volunteers as the jobs could be handled by mahouts.
A responsible volunteer will research in order to ensure that they aren't taking a paid job opportunity away from a local by offering their services free of charge. Be sure to weigh the pros and cons of short-term volunteer programs.
Is the organization you're working with reputable?
It's critical to ensure that you volunteer with an organization that's been vetted so that you can be confident in knowing the sanctuary is a haven for formerly abused elephants and not a tourist trap. Read alumni reviews on the Go Overseas program page for honest appraisals of first-hand experience.
Sign Up for Volunteer Abroad Details
Travel info & inspiration, delivered straight to your inbox ✈️🌎👋
The Reality of Volunteering with Elephants
What most elephant sanctuaries in Thailand really need are the finances to support their projects, which is why they welcome foreign volunteers that can afford to pay their 'voluntourism' prices. Elephants are herbivores and spend 18-20 hours a day grazing. A single elephant can eat up to 250 pounds of food a day. Just providing enough nourishment for elephants is an expensive undertaking.
Elephant volunteer programs are important as they allow travelers to contribute financially in a mutually beneficial way: the organization continues to raise the necessary funds to keep their elephants out of riding camps and circuses, and the volunteers get to have a unique experience with Asian elephants. In turn, this encourages other elephant owners to consider more humane lifestyles for their animals once they see that ethical elephant experiences can be profitable.
Volunteer Projects at Elephant Sanctuaries in Thailand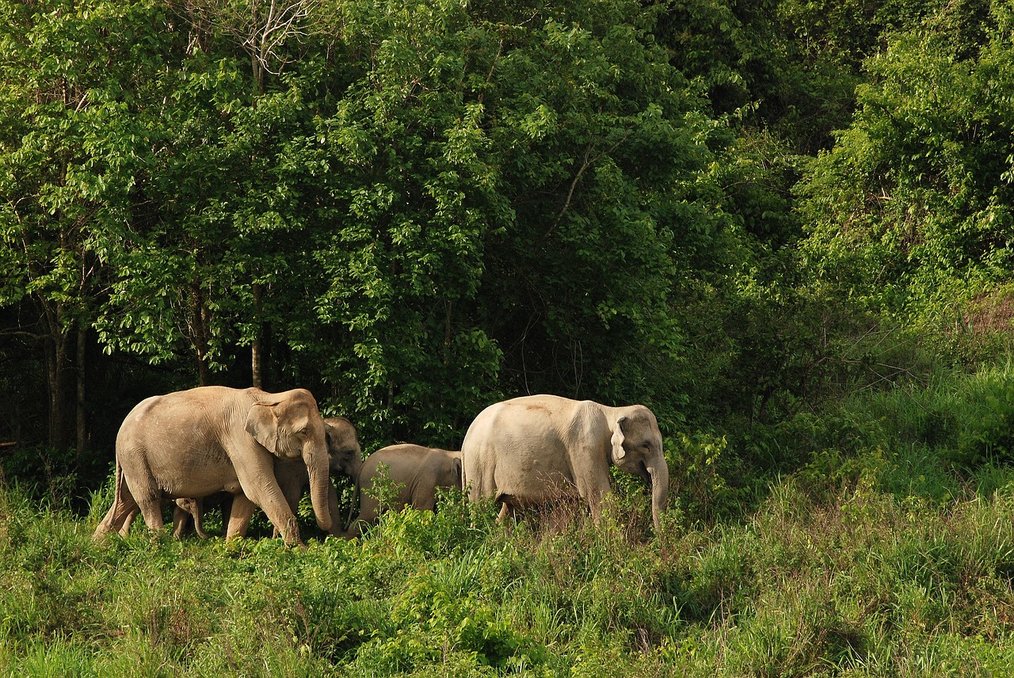 Below is a list of excellent grassroots volunteer projects where you can contribute your time to work with elephants in Thailand.
Kindred Spirits Elephant Sanctuary
Volunteers looking to have up-close-and-personal time with elephants while being immersed in the village life of a hill-tribe community near Chiang Mai will enjoy Kindred Spirits Elephant Sanctuary. The elephants at Kindred Spirits have been retired from harmful tourism roles and are free to enjoy their days in their natural habitat. Guests and volunteers are allowed to go for hikes with the semi-wild elephants in the lush Thai forest. The charity is socially sustainable as they employ local villagers who would otherwise work at elephant riding camps.
There are a few volunteer programs with Kindred Spirits. If you have experience in a classroom and native-level English you can teach community members during a 3-month volunteer role. Those who are passionate about sustainable travel can work on conservation tourism projects. There's also the chance to help gather data about the elephants for research projects. Other volunteer duties at Kindred Spirits include cutting grass, tending to fields, and participating in educational presentations for locals and tourists about dangerous elephant tourism.
Burn and Emily's Elephant Sanctuary (BEES)
Burm and Emily's Elephant Sanctuary is a sanctuary that's dedicated to improving the living conditions for elephants that were captive and made to work in the logging or tourism industries. BEES is one of the most ethical elephant sanctuaries in Thailand as they have a strict no riding, no bathing, no abuse, no tricks policy. Their approach is entirely hands-off, so tourist can't feed elephants or take photos touching them. You'll be able to observe these fantastic animals from a respectful distance in the forest.
Volunteers stay at BEES for a week from Monday to Sunday to help change the fate of old, injured, and retired elephants. The workload varies on the current needs of the sanctuary but usually consists of cleaning, preparing food, building shelters, and teaching English to local youth. Many of the volunteer projects contribute to the conservation of the jungle so you'll have the chance to plant trees and grass. There are many exciting cultural activities available for volunteers too such as visiting local weavers, taking cooking classes, river tubing, and cultural events at Thai Buddhist temples.
Mahouts Elephant Foundation
Volunteers can work with Mahouts Elephant Foundation in the mountainous region of northern Thailand for a rewarding experience with the UK-registered charity. Mahouts Elephant Foundation was awarded the ECOA grant in 2017 for their important work providing care for rescued and retired elephants.
Volunteers at the jungle sanctuary have the chance to see elephants roam freely in the protected forest and trek with the giants from a safe distance. The elephants care mostly for themselves, so volunteers are encouraged to observe and monitor the behavior of the animals in their natural habitat. You'll have the chance to learn about these incredible creatures from the mahouts that care for them. Volunteers will camp with local Karen villagers and lend a hand with community tasks.
The Surin Project
Located in northeast Thailand, The Surin Project is dedicated to providing sustainable living conditions for 12 elephants at a time. The sanctuary collaborates with the government operated Surin Elephant Study Center in the village of Ban Tha Klang which is home to a Gwi community. At the Surin Elephant Study Center, there are 180 Asian elephants and 200 mahouts.
Volunteers are encouraged to stay at Surin for anywhere from 1-8 weeks so that they can contribute to conserving Thailand's vulnerable elephant population. When you volunteer here you'll be able to walk with mahouts alongside Asian elephants in their natural surroundings. You'll learn firsthand about elephant conservation and the exploitive tourism issues that elephants face in Thailand.
Elephant Nature Park
Many travelers who want to volunteer with elephants in Thailand head to Elephant Nature Park, located near Chiang Mai. It's the most established park and they're often booked months in advance. ENP takes in blind, disabled, and orphaned elephants and helps other elephant owners in Southeast Asia implement more ethical treatment of their animals.
Elephant Nature Park has several week-long volunteer opportunities experiences where you'll participate in hands-on conservation work. Volunteer duties range from maintenance work, preparing food, feeding elephants, watching them bathe in the river, and even scooping elephant poo. You'll learn about the plight of elephants in Thailand or partake in cultural activities and nature walks. Vets and qualified animal medical specialists are invited to provide their highly skilled aid.
Wherever you choose to volunteer with elephants, observing these creatures and contributing to their conservation will be otherworldly. Exercise due diligence to ensure that you don't work with an illegitimate elephant sanctuary so that you know that you've helped to save this endangered species.
This article was originally published in May 2013, and was updated in November 2018.