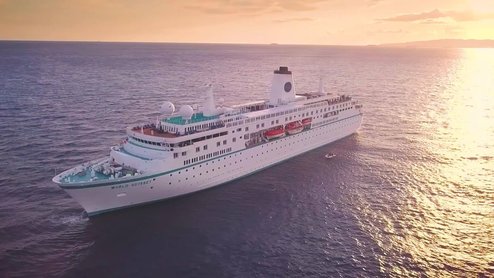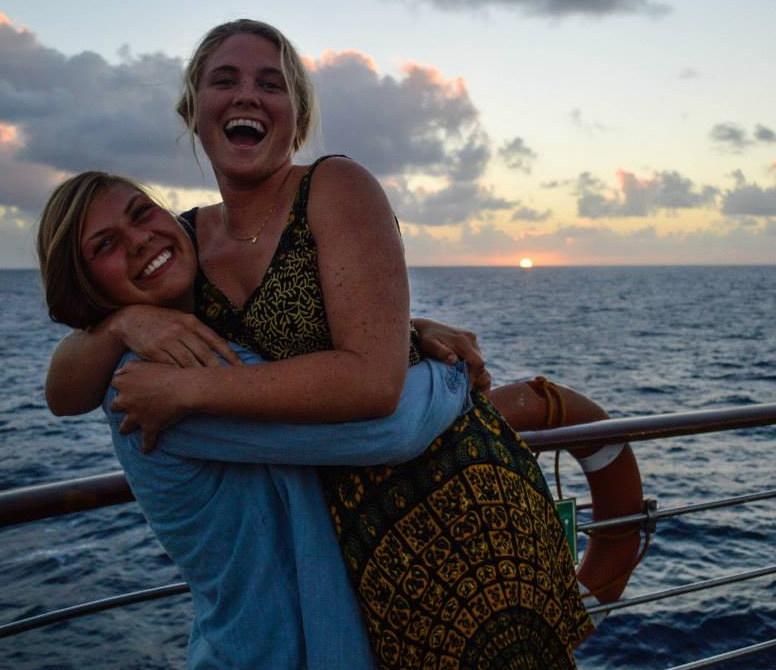 Looking for the study abroad program of your dreams? You're in the right place: Go Overseas has a wealth of information about basically every study abroad program on the planet. In fact, it might be a bit overwhelming if you're not sure what kind of program you want to do.
If you do have an idea, and you've ended up on this article, you've probably heard about Semester at Sea -- and you might be like me: I knew that Semester at Sea was the perfect study abroad program for me from the moment I heard about it.
If you're not familiar with it, Semester at Sea is not your typical study abroad program. Rather than study in one country, you study in 10, 11, or 12 countries all over the world. Instead of living in dorm rooms, you live on board a ship. Your classroom isn't so much a room as it is the entire world, with "field programs" in port cities all over the globe.
Does this sound intriguing -- or maybe it's perfect for you? Either way, you may have some questions about what it's really like spending your time studying abroad aboard a ship. I traveled and studied with Semester at Sea on their summer 2010 voyage, and here's what it was really like.
Studying on a Floating Campus Has Its Perks
You might be wondering how exactly you can study an entire semester on board a cruise ship. Unlike a cruise, you're not going to be on vacation while enrolled in Semester at Sea
While the MV World Odyssey, the ship for Semester at Sea, used to be a cruise ship, it's been completely repurposed into a "floating campus." It's outfitted with just about everything a traditional college campus would have, including a cafeteria, a library, study spaces, a gym, an auditorium, a campus store, and of course, classrooms.
There are some great perks to studying on the MV World Odyssey. First of all, there's a pool on the top deck with a food and beverage bar. Lounging poolside with views of an endless ocean beats just about any student center I can think of. Secondly, you get to live on a ship with your professors, so there are constant unique learning opportunities. For example, the astronomy professor held weekly stargazing sessions on the top deck of the ship at midnight. If you think the stars look incredible in the countryside, imagine how they look in the middle of the Atlantic.
Seasickness Is Real
The one downside to studying on the water is probably the one you expected: seasickness. While I didn't experience any, many of my fellow students did. They got used to it after a week or so, but that first week was rough for some.
Even if you don't get seasick, you will experience some occasional "turbulence". You'll often see classmates stumbling to class if you're not falling over yourself. One night, the waters got so rough that I awoke with a start when my textbooks went flying off my bookcase. When you finally port in your first country after a week at sea, you'll wobble off the ship with a serious case of sea legs.
It's unlikely that any of your classmates who study abroad on land-based programs will have these experiences to commiserate over -- but Semester at Sea will give you some truly unique stories to share when you return home.
Visiting 11 Countries in 3 Months Requires Stamina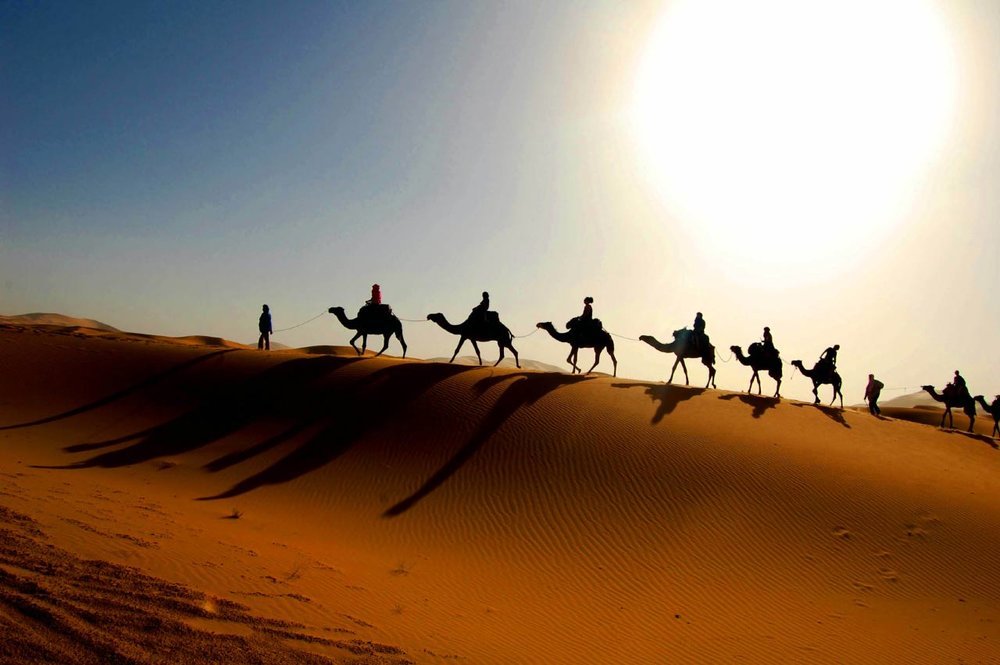 Circumnavigating the globe is not for the faint of heart. Semester at Sea's fall and spring voyages visit at least 10 countries and four continents in about 15 weeks. In many countries, the ship will dock in more than one port and you may visit up to five different cities.
It's a lot to take in! But you always have a few days to decompress on the ship in between ports and reflect on your experiences with your classmates and professors. Plus, packing so much into one semester means you often learn more than you would in several years back home. You will come home feeling like a different person.
You'll Do Things You Never Thought You Would
Before going on Semester at Sea, you'll probably spend months researching the best things to do in each country. However, nothing will prepare you for all the crazy, unexpected experiences you're bound to have while traveling with Semester at Sea.
During my short semester abroad, I crossed off more bucket list items than I had in my whole life beforehand. In Egypt, I rode a camel to the Pyramids of Giza. I stayed in a hostel for the first time in Rome. I took a hot air balloon ride over the Turkish countryside, drank homemade wine and danced with a family in Croatia, and learned how to make paella in Barcelona.
In Italy, I took a spontaneous train ride to Tuscany, where I had the best meal of my life. I climbed the Parthenon in Greece, stayed with a Berber family in the Atlas Mountains of Morocco, and watched a meteor shower from the middle of the ocean.
There is no other study abroad program in the world where you can have all of these experiences in one semester.
The World Is Your Classroom with Field Programs in Every Port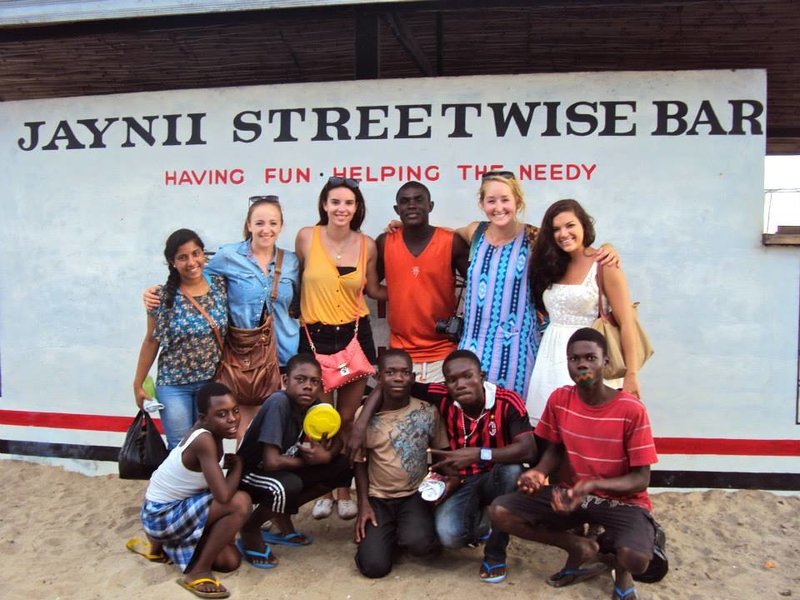 While some of these experiences were independent trips I did with friends I made on the ship, many of them were "field programs". These are organized trips led by a professor that are meant to be learning experiences that add to your traditional textbook learning, and they're often unique experiences you couldn't get on your own.
In Egypt, I visited an orphanage and met the Egyptian woman who started it, despite having fewer rights than her male counterparts.
My economics professor took us to the souks in Morocco, where we haggled with carpet dealers over mint tea and learned about the economics of haggling.
In Bosnia and Herzegovina, our history professor taught us all about the history of the Bosnian genocide and showed us buildings with bullet holes from the Bosnian War.
We went to the ancient city of Pompeii with an archaeology professor, saw a play in an ancient theater in Athens with a theater professor, and went to the Salvador Dali Theater and Museum in Spain with an art history professor.
You'll even get to experience lectures and meetings with all kinds of incredible figures around the world. Some of Semester at Sea's notable contributors and guest lecturers have included Nelson Mandela, Fidel Castro, Indira Gandhi, and Mother Teresa.
You'll Make Lifelong Friends On Board the MV World Odyssey
Experiencing so many life-changing moments with your classmates and professors, all while living on a ship with them, means you're going to make friendships that last a lifetime. More than one couple that met on my voyage is now married with kids!
It helps that the MV World Odyssey has more extracurriculars and school spirit than lots of traditional college campuses. One of the biggest events each semester is the Sea Olympics. Every cabin hall is grouped into a team, and you have regular meetings with your team, come up with a team name, a team motto, and even a team song and dance. At the end of the voyage, the greatly anticipated Sea Olympics take place, in which the teams compete against each other for first place by participating in all kinds of bizarre and hilarious challenges. From volleyball to wetsuit relays to lip-syncing contests and synchronized swimming, the challenges are bizarre, hilarious, and great for bonding. You'll come home with lifelong friendships like I did.
You'll Never Stop Traveling after Semester at Sea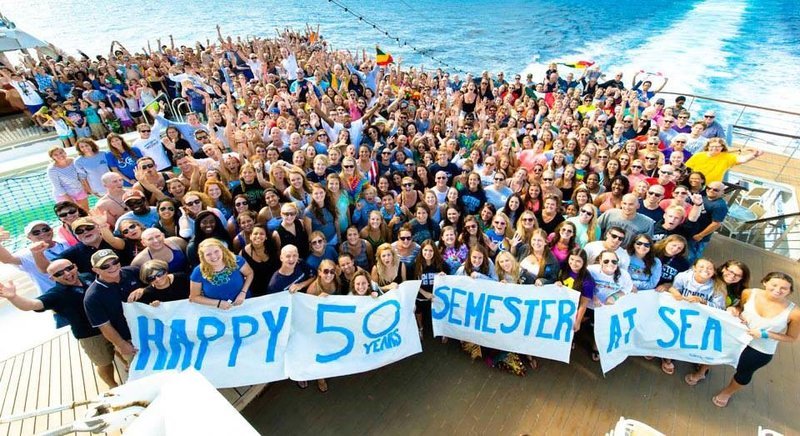 Semester at Sea is an experience that will stay with you for the rest of your life. Eight years after my voyage, and I still haven't stopped traveling. In fact, I now live abroad in Costa Rica!
Many of my classmates have also been living abroad and traveling ever since they graduated. Read the stories of other Semester at Sea alumnus, and you're likely to see a common theme: they're all travel-obsessed, and many of them are changing the world on a global scale.
But don't take my word for it. Nobel Peace Prize Recipient Archbishop Desmond Tutu is an alumnus of Semester at Sea! So is the CEO of Time, Inc., and the founder of Kiva, a microfinance organization that supports entrepreneurs in 80 countries all over the globe. While everyone has a different experience on board the MV World Odyssey, we're all united by the fact that Semester at Sea turns you into a global citizen... and a travel addict.