View Other Details

Program Details

Qualifications

At least 18 years old at the time of application
Enrolled in a university degree-seeking program
Sophomore standing or higher at the time of the internship
Grade point average of 3.0 or higher on a 4.0 scale
1 traveler is looking at this program
Gain valuable career experience working remotely for an internationally-based company through a virtual internship with businesses and organizations that are based at our Specialty Program locations around the world.
Three-credit virtual internships are arranged by USAC Specialty Program directors with local companies, NGOs, and governmental organizations. Virtual internships include an online course component where students learn how culture is reflected in the workplace and develop skills necessary for success in the global workforce. 

Program Highlights
Earn three credits and professional experience during a semester internship.
Work with international companies, NGOs, and governmental organizations.
Internships are available in popular fields such as: digital communications, business, event planning, engineering, and more.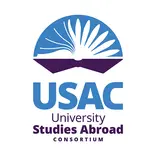 USAC Scholarships and Financial Aid
USAC awards over $2 million in scholarships and discounts each year to assist students with their study abroad expenses.