Why did you decide to intern abroad with Hutong School in Beijing?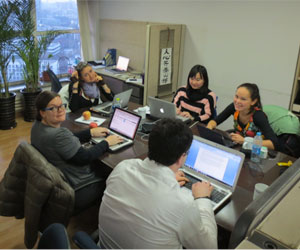 Laetitia: I choose Hutong School, because it looked like a pretty serious and trustable company. I knew I wanted to do an internship in China; however, I had some issues finding an internship there.
So Hutong School solved the problem for me and it was easier to go to China with the program compared to going on my own. I rather prefer Beijing than Shanghai, because the first one is more traditional and reflects the Chinese culture more than the second one.
What made this internship experience so unique and special?
Laetitia: I had a great time, because I had the opportunity to meet people from all parts of the world. Students at Hutong School come from different countries and that it the special thing about it. Another good thing about the program is that the school was always there to help me when I needed it, so I just had to focus on enjoying the trip.
How has this experience impacted your future?
Laetitia:After the experience I feel more self-secure, because I know that I'm able to live in a country that is pretty different from mine. I also proof myself that I am a really flexible person with an adaptability capacity. This is relevant both in a personal and professional aspect. This experience is extremely valuable for my career (I study a business career) and will be relevant in my CV. When I will be looking for a job, this will be a point in favor for me.
What is one piece of advice you would give someone considering interning abroad in Beijing?
Laetitia: Just go ahead and enjoy your trip. The experience is worth what it costs.