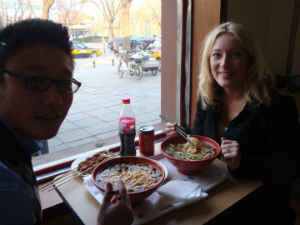 Why is language learning and cultural immersion important to you?
Anne: The world is a global village, as Marshall McLuhan wrote. He is speaking about the internet, however, these days the world really feels like a global village!
It is so easy to find your ideal destination and step on an airplane! There are enough reasons to immerse yourself in other interesting cultures like China; for business, but also for your personal development. The world has so much to offer, why not explore it?
What unique qualities does your company possess?
Anne: Hutong School (our language and culture school in China) is one of those unique places where you can really immerse yourself in a different culture! The atmosphere at the school is great, the students love it and also the staff are really committed to making sure the students have a great time!
China is upcoming, and can be a bit challenging for people who don't speak the language, but that is where Hutong School comes in: with our program that takes care of housing, logistical issues and offers you Chinese classes to get on your feet.
As well as this, the school is also offering programs like our Volunteer Program. This means that during your stay you will work at an NGO. What is nicer then getting to know the culture, learning Chinese and helping to make the world a better place at the same time?
What is the best story you've heard from a return student?
Anne: We have had many students returning to the school for all kinds of reasons. Some because they love the language so much and where else can you learn better Chinese then in China itself?
We also have students who come back after being offered jobs after their internship, or simply because they fell in love with the city or with each other! Hutong School has been in China for 8 years now... so we sure do have a big Hutong School family now.