Why is language learning and cultural immersion important to you?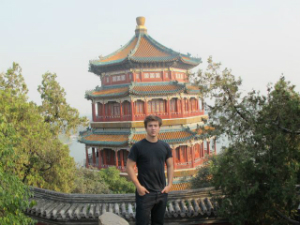 ​Olivier: This is a combination, one cannot go without the other one, and that works especially for China. You cannot get the culture without speaking the language, and speaking the language without understanding what China is will not bring you far enough.
When I first came I couldn't speak a word, and I am not exaggerating. Melting, feeling, tasting is part of our journey in China, and so far I am delighted by experience, everyday is a new surprise, everyday is an addition to my knowledge.
What do you believe to be the biggest factor in being a successful company?
​Olivier: Flexibility and communication. You have to be ready to help your co-workers any time, when they face difficulties. On the other hand, you have to be ready to ask for their help. This is how you create a great synergy.
This is a quality I found when I joined Hutong School, we all gather our strengths to provide the best service and create an unbelievable experience for our students.
What about the future of the industry? How do you think study/intern/volunteer abroad and international education will change over the next 10 years?
​Olivier: The education industry keeps growing in China. When we have enquiries from students, the first thing I tell them is they are making the right choice.
Besides the economy boom China is experiencing, China is attractive because it is a bit of a mystery for many foreigners who want to learn more than what they read in the newspaper. People understand in this world economy that speaking Chinese, and understanding the culture, is definitely a value to add to their resume and personal experiences.