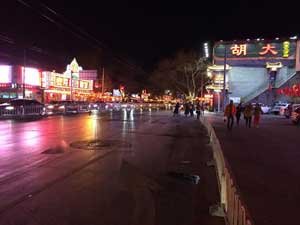 Why did you decide to study abroad with Hutong School?
Nikai: I liked their website, it looked pretty neat and trustworthy. The main thing for me was the flexibility though. I had graduated in November, and I didn't really have time to spent 6 months or a year in China.
The great thing about Hutong was that you can basically start every week, and you can just join existing groups of students. The other good thing is that you can decide on the length of the program, which goes per week and not per month or semester.
Do you feel you got a chance to see the city from a local's perspective?
Nikai: Yes, I did. We (me and my two roommates) were housed in an area (with a guarded gate) where really no other foreigners lived. We got a few tips from people at Hutong where to eat in the area, and that way you can visit many small restaurants with only locals. Near the school there is a small canteen where a lot of the students go to eat, it's very cheap (10-20RMB for lunch), very crowded and very noisy. The teachers often eat there too, so it's basically a very local place!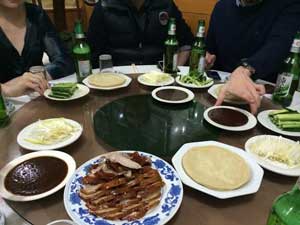 However it totally depends on you. If you want, you can eat western food every day, visit bar street and live the typical western expat life. If you want to see the city from a local's perspective, there's plenty of opportunity to interact and live that life as well. The teachers/employees of Hutong took us out to a few local places, so if you are interested, the school is definitely willing to help out. Beijing is a pretty big city, and there are still areas where you are will be stared at when you speak English, but there are also big areas that are used to foreigners.
What made this study abroad experience unique and special?
Nikai: There is a special kind of group feeling when you study abroad. The thing about studying abroad is that everyone is far from home, wanting to experience new things and everyone is free from obligations such as family, hobbies and friends. That basically means you will be spending a LOT of time with your fellow students for studying, eating, going out and also living in the same house.
In this case that was even more amplified, because the actual school is quite a small place, and you run in to other students all the time. The other thing is that as a foreigner in China, you really stand out, especially in smaller cities, so you're even more drawn together, experiencing a new culture together!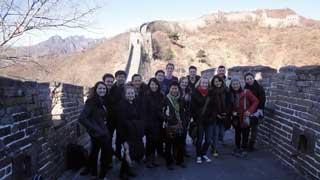 Did you run into a language barrier? Did you ever think you knew more/less of the language?
Nikai: After I took a Chinese course in university, I spend around a year going from pinyin-only to learning the characters by myself. During this time I didn't really have any opportunity to practice speaking, so when I arrived in Beijing and took my first group class, I had a hard time joining the conversation.
My Chinese level is around HSK3, so at that time I definitely thought I knew more! Took me forever to form sentences and think of the words. Don't be discouraged though if you are just starting out or are rusty, you pick it up quite quickly with 4 hours a day of practice.