View Other Details

Pricing

Price Details

Price may be an estimate, the lower end of a range, or from a previous term. Please see our website for specifics.

What's Included

Accommodation

Activities

Classes

Some Meals

Travel Insurance

What's Included (Extra)

Please visit our website to see all that's included.
10 travelers are looking at this program
On our Summer in Costa Rica programs, you'll live in the vibrant capital of San José at Universidad Veritas. Here, you can improve your Spanish, take fascinating courses in English, and explore the country's incredible biodiversity. For students entering the health professions, study Spanish for Health Professionals to set you up for success. You'll live with a local family to truly immerse yourself in Tico culture. When you aren't hitting the books, you can dip a toe into the activities that make Costa Rica a top destination, like hiking volcanoes, zip-lining over the rainforest, and sipping delicious home-grown coffee. The Costa Rican saying "pura vida!" translates to "pure life," which you'll find is the way of life in this laid-back Central American country.
Program Highlights
Multiple dates and program options to fit any schedule
Wide course selections, from art to business to tropical ecology
Additional excursions available throughout Costa Rica for an additional fee
Cooking classes, dance classes, and sports events to help you bond with your classmates
Choose the Health professionals program for healthcare-focused courses in English and Spanish with health-related vocab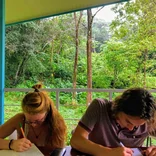 Spanish for Health Professionals in Costa Rica is designed for students preparing to enter any healthcare field who would benefit from Spanish proficiency. This program offers a health course taught in English and a Spanish-language course focused on health-related vocabulary. You'll be based in the vibrant capital of San José at Universidad Veritas. When you aren't studying, you can explore nearby volcanoes, zip line over the rainforest, hit the beach, and sip some of the best coffee in the wor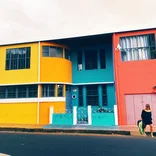 Choose the Language and Culture Exploration track or an Intensive Spanish track with multiple sessions throughout the summer. You'll enjoy activities such as cooking classes, dance classes, and sports events to help you meet your local and international classmates. Choose from a wide variety of courses taught in English, from business to tropical ecology to photography. Small, engaging Spanish classes for all language levels will help you make the most of your language studies!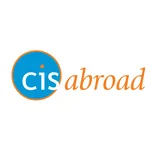 CISabroad Scholarships and Financial Aid
70% of all CISabroad students receive scholarships, grants, or discounts to study abroad. We're unapologetically committed to increasing access to international education for all students.