Term
Academic Year, Fall, Spring
Need-based funding, Merit-based funding, General grants/scholarships
View Other Details
19 travelers are looking at this program
Ever wanted to study abroad in London, England? Then check out USAC's summer term option 'Arts, Literature and International Business Studies' at the Imperial College London or the semester/academic year term option for undergraduates at London Metropolitan University! Imperial College London tied Oxford University as the fifth best University in the Times Higher Education World University Rankings. London Metropolitan University is the largest single University in all of London. Both offer great course options in differing fields, and both allow students to explore London, the United Kingdom, and many European must-sees!
There are LGBTQIA+ friends, colleagues, and allies throughout the world. However, cultural understanding of gender identity and sexuality does vary from country to country. USAC has compiled a lot of resources to help you through that learning process.
USAC is dedicated to working closely with students with disabilities to ensure the best study abroad experience possible. You may request reasonable accommodations after your initial application is complete. We routinely receive requests for scheduling, material, and environmental accommodations for the classroom setting, which may include assistive technology, scribes and readers, printed material, and interpretation.
Environmentally-conscious students choose USAC because many of our programs are held in some of the most sustainable countries in the world. There are options to take coursework in sustainability and the environment, as well as field trips and studies where students can leave a lasting impact on their host country.
Program Highlights
Live and study in the heart of London, one of the world's greatest cities and host of the 2012 Summer Olympics
Explore endless entertainment options—theatre, film, music, 90 free museums and galleries, 143 parks and gardens, dozens of historic buildings, shopping, eating out—enough to see and do to last a lifetime!
Savor access to famous sights and attractions, from the Tower of London to Westminster Abbey
Enjoy London's vibrant position in the center of the British film, arts, and music scene, with a rich cultural and historic heritage as well as a modern centre of global business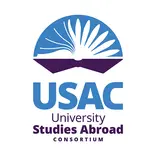 USAC Scholarships and Financial Aid
USAC awards over $2 million in scholarships and discounts each year to assist students with their study abroad expenses.