Study abroad in the heart of Berlin
View Other Details

Program Details

Program Type

Direct Enrollment

University

London South Bank University

Degree Level

Bachelors

Masters

Housing

Apartment

Dormitory

Pricing

Price Details

This price is for the campus study model and includes graduation fee. An additional USD 1.000 fee is charged for studying at one of our on-campus locations.

What's Included

Some Accommodation

Some Activities

Classes

Wifi

What's Not Included

Meals

Transportation
15 travelers are looking at this program
Germany is recognized as a top study destination and a top education provider in the world. Students from all around the world can find an intimate, welcoming, and easily accessible campus at the IU international campuses in Berlin and Bad Honnef.
This is a great place to study, meet other students, talk to your professors, and socialize. Berlin's hustle and bustle or Bad Honnef's idyllic atmosphere - either way, you'll have an unforgettable international student experience in Germany.
We believe in giving you flexibility in your learning journey so you can succeed at your own speed.You'll benefit from a mix of online studies and classroom learning alongside your peers.
IU offers a wide range of IT, Business and Engineering degrees, find out more and request our brochure.
Program Highlights
Fall, Spring, Winter and Summer start dates
Get full support from your personal study advisor
Accredited and recognised worldwide
Scholarships and bursaries are available
All study programs are in English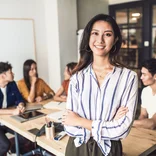 Managers, executives, decision makers: Companies are always looking for professionals with the expertise to drive their growth and success. IU International University of Applied Sciences places great emphasis on practical experience and prepares you for such a position - and secures your international market prospects.
Our professors can guide you with expert industry knowledge and help you find the focus industries you are passionate about.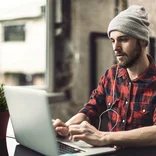 The most important economic and social development of our time is digitalization, and Data Science is at the heart of all digitization processes.
The bachelor's degree in data science covers data preparation, visualization, and analysis; everything you need to know to start a career in the field.