IFSA - University of Edinburgh Partnership
Term
Academic Year, Fall, Spring, Summer
View Other Details

Pricing

Price Details

IFSA doesn't believe in the nickel-and-dime approach to the study abroad experience. All of our programs include events and excursions exclusively for our students throughout their time abroad. We see these extras as a part of the larger academic experience. There are no hidden fees or expenses on an IFSA program. All of our fees, deposits and any supplemental charges such as meal plans are clearly outlined in our program fees.

IFSA has awarded millions of dollars in merit- and need-based scholarships over the past five years. Awards range from $500 to $5,000. We also believe that study abroad should be within the reach of every student, so we offer a wide range of scholarships and financing opportunities for our students.
66 travelers are looking at this program
Hallo agus fàilte! Study abroad amid beauty, history and friendliness by making Scotland your home for a semester, year or summer. The country is an impressive mixture of fertile farmland, rugged cliffs and mountains, yet it also has its share of sophisticated cities and friendly towns. Scotland's long history shows in the architecture and preserved ruins throughout the country, but Scots of all ages are also enjoying a cultural and artistic renaissance.
Edinburgh is a wonderful study abroad destination, combining the rich history of an ancient city with the modern feel of a capital city. Founded in 1583, the University of Edinburgh is located in the heart of the city and has consistently ranked as one of the top 50 universities in the world.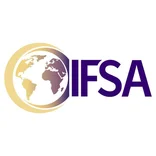 IFSA Scholarships and Financial Aid
We believe that study abroad should be within reach of every student, so we offer a wide range of scholarships and funding opportunities for all our participants.