Discounted TEFL online certification with TEFL HQ
View Other Details

Program Details

Certifications

Online TEFL

TEFL

Pricing

Price Details

Enroll in the TEFL online course today and gain an internationally recognized TEFL certification for the discounted rate of just US$399.

The TEFL HQ online course is 100 hours and can be started at any time. The course is entirely self-paced. Prospective teachers who choose TEFL HQ have the advantage of designing their own schedule and completing the course from anywhere in the world!
4 travelers are looking at this program
Get an internationally recognized TEFL certification for teaching English abroad or online.
TEFL HQ and International Volunteer HQ offer a 100-hour, self-paced, and online TEFL (Teach English as a Foreign Language) course that cultivates skills such as teaching language, adapting to learning styles, and managing behavior.
Why get a TEFL certification?
It builds confidence, develops transferable skills, and enhances employability. It also enables you to earn money while traveling, volunteer, and earn higher salaries. Start anytime, anywhere, and go at your own pace.
What opportunities are available with a TEFL qualification?
Learn to Teach English, volunteer, or earn a salary teaching English intern
What are the benefits of TEFL HQ's online certification?
- Study from anywhere with a WiFi connection
- Complete the course on any device, including mobile phones
- Work at your own pace with maximum flexibility
Program Highlights
Most affordable online TEFL course on the market - plus get $100 discount with IVHQ
100-hour, self-paced, and online course to learn essential teaching skills.
Develop transferable communication and language skills for your resume, job or college application.
Gain the ability to teach English abroad, online, or volunteer as a teacher.
Enhance your skills as an aspiring or experienced teacher, and expand your knowledge as a traveler or retiree.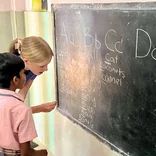 Get ready to make a difference in India! The International Volunteer HQ's Teaching project in Kerala is the perfect opportunity to gain teaching experience in Kochi. With a shortage of teachers in the area, volunteers can step into the classroom and help students improve their English skills. By volunteering, you can make a valuable contribution to the community and help students reach their full potential.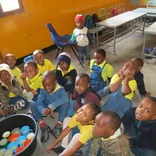 Become a volunteer teacher in Tanzania with International Volunteer HQ's teaching project! Help local teachers lead classes, gain experience in a range of subjects, and make a real difference in the lives of students. You can even work in a school for students with disabilities and provide them with the support they need to thrive and succeed. Join the project today and experience the rewards of teaching abroad!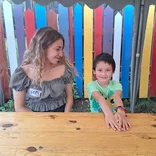 Looking to teach English and make a difference in Romania? Join International Volunteer HQ's Teaching English project! Volunteers get to work alongside local teachers to provide engaging English lessons in Romanian schools, while gaining valuable teaching experience. With fluent English-speaking teachers in high demand, volunteers can inspire students and encourage them to continue learning the language.