Get TEFL Certified & Teach English in South Korea
View Other Details

Program Details

Certifications

Online TEFL

Online TESOL

TEFL

TESOL

Pricing

Price Details

Tuition for all ITA TEFL courses includes:

✔️ Personal guidance from an experienced Job Search Advisor.

✔️ ESL Job Search Manual: All of our graduates receive a 400-page manual containing all relevant information for major job markets around the world.

✔️ESL worldwide school directory listing over 20,000 schools & online teaching companies worldwide.

✔️ Referrals to preferred recruiters, placement agencies, online teaching companies, and language schools.

✔️ Job interview assistance for International TEFL / TESOL course participants.

✔️ Engaged alumni community of 45,000+ ITA graduates in 80 countries worldwide.

What's Included (Extra)

✔️ Highly experienced university-level instructors
✔️ Award-winning accredited TEFL courses
✔️ Personalized pre-enrollment guidance
✔️ All TEFL courses include live practice teaching

What's Not Included (Extra)

updated program type
68 travelers are looking at this program
Are you a native English speaker with a 4-year college degree? Earn your top-quality TEFL certification with ITA to teach English in South Korea, where you can delve into one of the most dynamic countries in Asia & save up to $15,000 per year.
International TEFL Academy (ITA) offers one of the only accredited TEFL courses in S. Korea (Inchon), as well as award-winning TEFL courses online & in 20+ additional locations worldwide.
In addition, ITA offers an exclusive 100% Guaranteed Job Placement Program for teaching in South Korea featuring top salaries, matching with schools that meet your preferences, personalized interview coaching, & visa assistance.
Armed with your ITA TEFL certification & ITA's lifetime job search assistance, you'll be able to find professional teaching jobs in Korea & in more than 80 countries worldwide. We've helped more than 45,000 people get TEFL certified & experience the world. Change your life, make a difference, and earn some money along the way!
Why is International TEFL Academy the Right Choice?
One-on-One Pre-Enrollment Guidance: What TEFL class is best for teaching English in South Korea? Is South Korea the right country choice for me? How much money do I need to bring with me to South Korea & what kind of visa do I need? Your personal ITA Advisor will help you navigate these questions about TEFL certification & teaching English abroad in South Korea, including detailed information about English teaching jobs in popular cities like Seoul and Busan.
Professional TEFL Certification Courses: We offer accredited TEFL certification courses online (11 weeks online) and in-person (4 weeks) in 25 locations worldwide, and of these would qualify you to teach English in South Korea. Every ITA TEFL class exceeds international professional standards for instructor qualifications, accredited curriculum, and student teaching hours. It's recommended to get TEFL certified in your home country because you apply for your job in South Korea via Skype before you leave. It's much easier to complete your work visa paperwork from home before you head abroad.
We Have Been in YOUR shoes: Everyone on the ITA staff has extensive international experience. Travel is in our blood. It's our passion to help people realize how realistic this dream of living & working abroad can be. We all appreciate the challenges & rewards of living, traveling, and working abroad.
One-on-One Job Search Guidance for Teaching English in South Korea: How do I actually find a teaching job in Seoul or Busan? Once enrolled in any ITA TEFL class, you'll work with our team of expert Student Affairs advisors to help you prepare for your job search in Korea. Enjoy access to the most comprehensive job resources & guidance on the planet to help you navigate international job markets across South Korea, Asia, and in 80 countries worldwide.
Access to ITA Worldwide Alumni Network: Don't know anyone in South Korea? No problem! ITA has a massive group of ITA alumni in Korea, and you'll be able to connect with a bunch of fellow teachers before you head abroad. As an ITA alumni you have exclusive opportunities to network, connect, and correspond with our 20,000 ITA alumni teaching English across the globe. This is a great way to meet friends before you leave for Korea & get all of your questions answered by current ITA alumni on the ground abroad in Asia!
How Do I Get Started?
Contact International TEFL Academy for your starter brochure or call us directly at 773-634-9900 & start working with your personal Admission Advisors. Your advisor will work with you one-on-one to answer your all of your questions, go over your options & set up your game plan to see the world. Your advisor will be happy to speak with you as many times as you need to go over job markets, hiring requirements, TEFL course options & much more.
Your journey begins now so let's get in touch & let's get started!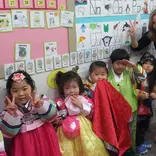 Are you considering teaching English in Korea but want to avoid dealing with dodgy recruiters, complicated contracts, and visa paperwork?
Eliminate the uncertainty of finding an excellent teaching job in South Korea by enrolling in our comprehensive TEFL job placement program, where we match you with top teaching jobs that meet your preferences.
From assisting with interviews and navigating visas to providing thorough cultural training, our program offers complete support and guidance.