Sports Volunteer Programs in 10 countries from $22/day
Location
Multiple Locations
+10
Argentina
Brazil
Ecuador
Greece
Ghana
Fiji
Kenya
South Africa
Jamaica
Morocco
View Other Details

Program Details

Timeframe

Short Term

Spring Break

Summer

Winter

Year Round

Travel Type

Budget

Family

Older Travelers

Solo

Women

Pricing

Price Details

Fully hosted experience from only $275 for 1 week - this includes airport pick-up, orientation, accommodation, meals and 24/7 in-country support.

What's Included

Accommodation

Some Activities

Airport Transfers

Meals

What's Not Included

Airfare

Travel Insurance

Visa
6 travelers are looking at this program
Trusted by 125,000+ volunteers, IVHQ offers the world's #1 rated Sports volunteer programs 10 destinations worldwide.
For the past 5 years, we've won the "Top Volunteer Abroad Provider Award" from GoOverseas, so you can trust that you're in the safest hands with IVHQ, wherever you choose to go.
Our affordable projects start from $22/day for your accommodation, meals, airport pick-up, project placement and local support. Projects run year-round, with durations from 1-24 weeks. Choose from 15 Sports projects, suitable for energetic volunteers who are passionate about sports and wellbeing, to help youth and teens develop skills in teamwork and sportsmanship.
With IVHQ's superior pre-departure support services, you'll gain exclusive access to your own Volunteer Travel Specialist, comprehensive preparation tools and volunteer training before you leave home.
Program Highlights
Cheapest volunteer programs from $22/day for your accommodation, meals, airport pick-up, project placement & local support.
Volunteer for 1-24 weeks, year round start dates most Mondays.
15+ years experience & only B Corp certified volunteer travel organization.
Get free changes up to 14 days before you start with our flexible booking policy.
Affordable way to earn college credit - gain 5 credits for only US$500!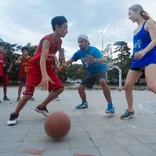 Join IVHQ's Sports Education project in Buenos Aires and help break the cycle of poverty in low-income communities. As a volunteer, you'll work with local teachers to promote physical activity and social connections through sports. Football and hockey are favorites, but you can share your own sports too. Bring sports gear from home or purchase it in Argentina. Coaching, running games, and setting up activities are among the tasks. Come make a difference while sharing your love of sports.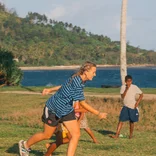 Experience the colorful culture and stunning landscapes of Bali while making a difference in local communities. As a volunteer, you can join the Construction and Renovation project and help build or renovate schools, temples, and other community buildings. No prior experience is required - just a willingness to work hard and learn. You'll also have time to explore Bali's temples, beaches, and rice fields, making it an unforgettable trip.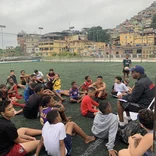 Experience the vibrant energy of Rio de Janeiro while making a positive impact on the community through sports. As a volunteer with IVHQ, you'll assist local staff in providing recreational opportunities for all ages, abilities and genders in safe and supportive environments. Soccer is a passion shared by all in Rio, so get ready to coach, play games and share your love of sports to empower and uplift those in need. Make a difference and immerse yourself in the unique culture of Brazil!