Teaching Volunteer Programs in 30 countries from $18/day
Location
Multiple Locations
+7
Costa Rica
India
Ghana
Indonesia
Argentina
Brazil
Cambodia
View Other Details

Program Details

Timeframe

Short Term

Spring Break

Summer

Winter

Year Round

Housing

Apartment

Host Family

Groups

Small Group (1-15)

Medium Group (16-30)

Pricing

Price Details

Fully hosted experience from only $275 for 1 week - this includes airport pick-up, orientation, accommodation, meals and 24/7 in-country support.

What's Included

Accommodation

Airport Transfers

Meals

Wifi

What's Not Included

Airfare

Travel Insurance

Visa
40 travelers are looking at this program
Trusted by 125,000+ volunteers, IVHQ offers the world's #1 rated Teaching volunteer programs 30 destinations worldwide.
For the past 5 years, we've won the "Top Volunteer Abroad Provider Award" from GoOverseas, so you can trust that you're in the safest hands with IVHQ, wherever you choose to go.
Our affordable projects start from $18/day for your accommodation, meals, airport pick-up, project placement and local support. Projects run year-round, with durations from 1-24 weeks. Choose from 45 Teaching projects, in subjects ranging from English, Math, French, other subjects or extracurricular activities. From qualified to first-time teachers, IVHQ offers teaching opportunities for all levels of experience, working alongside local staff to help increase the quality of education.
With IVHQ's superior pre-departure support services, you'll gain exclusive access to your own Volunteer Travel Specialist, comprehensive preparation tools and volunteer training before you leave home.
Program Highlights
Cheapest volunteer programs from $18/day for your accommodation, meals, airport pick-up, project placement & local support.
Volunteer for 1-24 weeks, year round start dates most Mondays.
15+ years experience & only B Corp certified volunteer travel organization.
Get free changes up to 14 days before you start with our flexible booking policy.
Affordable way to earn college credit - gain 5 credits for only US$500!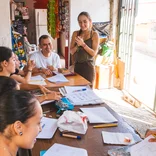 Looking for a way to give back while also improving your teaching skills? As an English teacher volunteer in Latin America, you'll help disadvantaged communities gain access to better education and opportunities. Teach in schools and community centers, plan lessons and set up educational activities for eager students of all ages.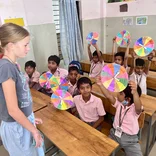 Be a part of the change for marginalized and vulnerable street children in India by volunteering as a Slum Teacher. Help provide access to basic education and new opportunities for those who work on the streets to make a living. As a Slum Teacher, you'll lead classes of 30 students and teach them English and other subjects, facilitate games and entertainment, introduce them to new activities, and plan lessons. Your contribution as a Slum Teacher can make a huge difference in their lives.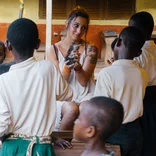 Volunteers fluent in English can make a huge difference in improving education quality for disadvantaged students in rural Ghana. As a Teaching English volunteer, you can teach, tutor, and plan lessons either solo or with local teachers. The school year is divided into three terms with four-week breaks, and volunteers are encouraged to bring their own resources. During school holidays, volunteers can lead English-based workshops for school children.