Study Abroad
8 Amazing Weekend & Day Trips for Study Abroad Students in Madrid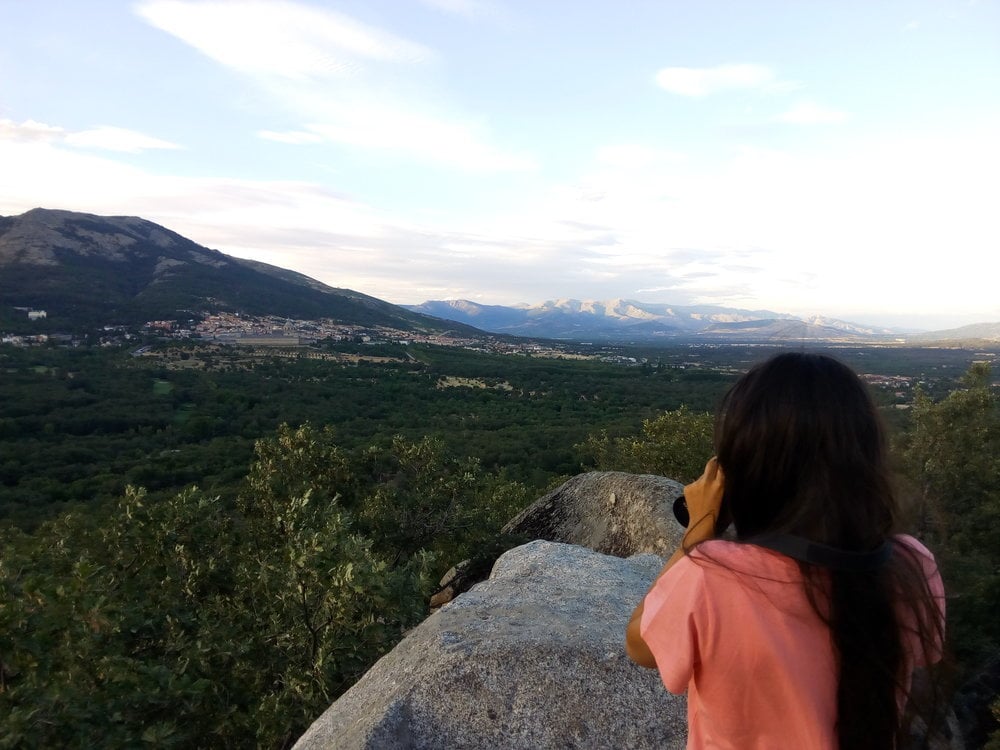 If you've chosen Madrid as your destination to study abroad, there's no shortage of reasons why your decision is magnífico.
Any madrileño will eagerly agree that Spain's capital city throbs with energy, and is filled with plazas, statues and barrios that give it its own unique sense of style and beauty. For a European city, the cost of living is relatively low, meaning you fill up on tapas, save on rent and still have money left over to travel.
Related: How to Study Abroad in Madrid on a Budget
That there's never a dull moment in Madrid is something I learned very quickly upon my arrival to the city to teach English as part of the government's Auxiliares de Conversacion program. Between the city sights and easy access to nearby destinations, not a weekend went by where I didn't find myself enjoying my foreign surroundings and soaking up some sort of adventure. I want to share my tips and insight with you, so if you're studying abroad in Madrid, read on for our list of the best weekend and day trips from Madrid.
Weekend and Day Trips From Madrid
Situated in the geographic center of Spain, Madrid's strategic location makes it a great base to explore the rest of the country. Since it is a capital city, Madrid is also well connected to not only other pueblos and cities in Spain but must-see locations throughout both the greater Iberian Peninsula and Western Europe. The extensive network of bus, rail and air connections makes it so easy to explore this beautiful section of the world.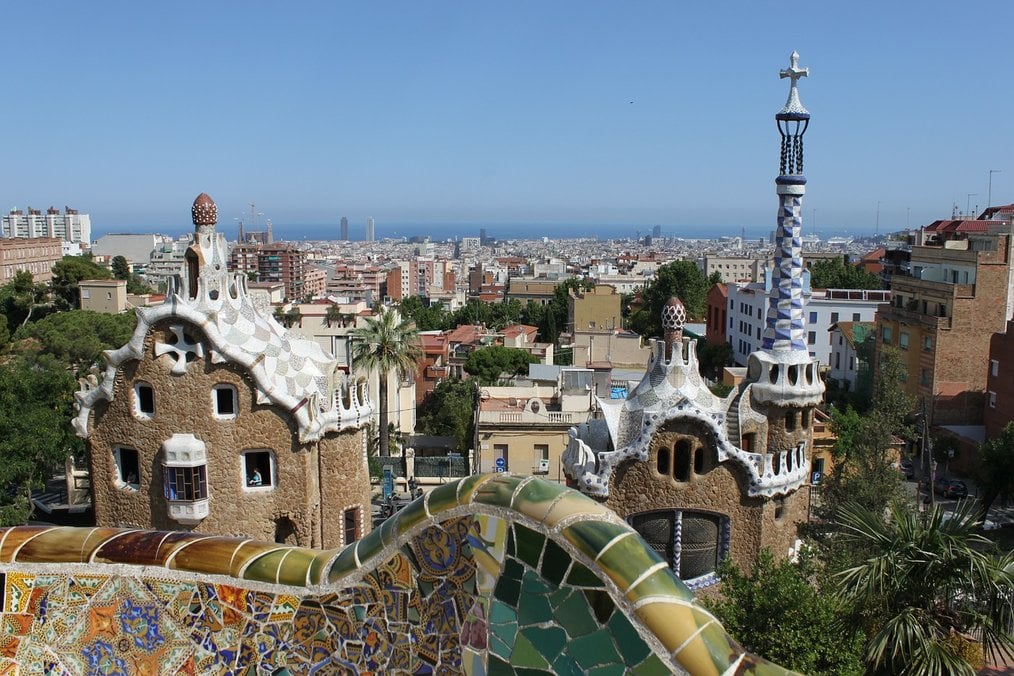 Barcelona
Best time to visit: end of Spring semester (May/June)
How to get there: AVE high-speed train or flight
Finally, no trip (let alone a semester!) to Spain would be complete without visiting Barcelona, one of the most beloved cities in Spain which often lands on many traveler's lists of favorite cities in Europe.
Located in the North East of Spain, Barcelona is the capital of the Catalonia Province, which has an entirely different feel, culture, and even language than the rest of Spain. The Spirit of Barcelona is distinctive. Perhaps it comes from all the warm sunshine or breezy beats of guitar chords that fill the streets, but the air of this city is just doused with excitement, beauty and imagination.
A central pioneering force in molding this spirit was Antoni Gaudi, a Spanish architect who spearheaded Catalan Modernism. The city is marked by his profound architectural style with seven UNESCO World Heritage sites such as La Sagrada Familia cathedral, Casa Batllo, and Park Guell.
A stroll down La Rambla, an iconic pedestrian boulevard lined with trees, shops and street performers is a classic way to pass a morning in Barcelona. Enjoy breakfast (I recommend the fresh fruit juices) at Mercat de Sant Josep de la Boqueria, a giant food market that is popular with both tourists in search of some of Barcelona's best street food, and locals, stocking up on fresh ingredients for home cooked meals. Wander the stalls and sample on what catches your eye!
La Rambla borders the gothic quarter, the old city of Barcelona. Buildings here date back to the 1800's. You'll also want to be sure to visit Palau Nacional, a neo-Baroque style building on Montjuic hill that is home to the Museu Nacional d'Arte de (MNAC).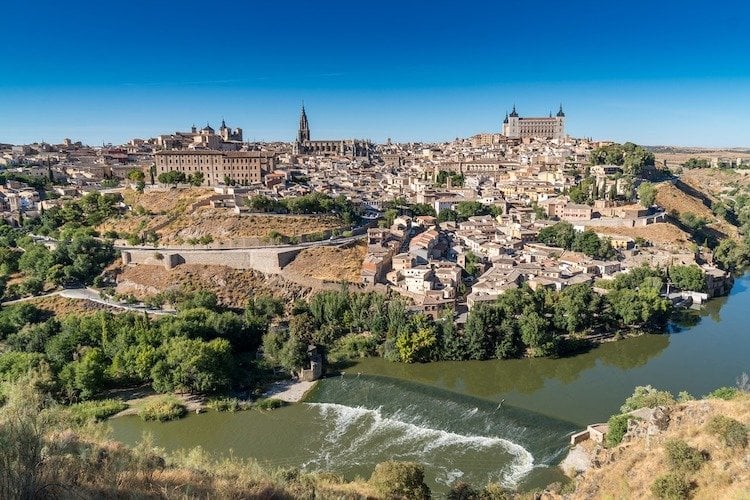 Toledo
Best time to visit: end of Spring semester, Summer, or beginning of Fall semester
How to get there: AVE high-speed train or bus
At the top of any classic list of day trips from Madrid you'll find Toledo, an ancient city listed as a UNESCO World Heritage. The town dates back more than 2,000 years and was founded by the Roman Empire. Throughout the centuries the world's three major religions -- Judaism, Christianity, and Islam, converged in the city.
Unlike other Spanish cities, the ancient town has not been eaten up by modernity. Toledo is surrounded by medieval walls, and the Alcazar, or ancient Moorish fortress, still guards the town from a hilltop. In fact, the majority of the town's layout remains intact as it was in ancient times. The Catedral de Toledo, Monasterio de San Juan de Los Reyes, Cristo de la Luz, Santa Maria la Blanca and Puente de Alcantara are all essential stops on a walking tour to discover the fascinating and diverse architecture that awaits.
In addition to these medieval attractions, another must-do in Toledo is the El Greco Museum, home to 20 paintings from one of Spain's most prominent painters. The museum is located in the Jewish Quarter, in a house he has said to have lived in.
Insider tip: Don't leave before sunset. Toledo has some of the most gorgeous sunsets in the country.
Segovia
Best time to visit: mid-Spring semester to mid-Fall semester (April to October)
How to get there: AVE high-speed train or bus
Segovia is another classic choice for a day trip from Madrid. Originally founded by the Celts, this ancient city was conquered by the Romans in 75 BCE. Several Roman structures in Segovia have stood the test of time, including the Roman aqueduct that is nearly 2,000 years old. The aqueduct is a UNESCO World Heritage Site and symbol of the city.
Apart from the aqueduct, the crown-topped Segovia Cathedral dominates the city. One of Spain's most unique cathedrals, vistas in the winding enclave of this gothic-style wonder offer some of the best views of the town and its surrounding landscape.
Serious history aside, fans of Disney will find a reason to rejoice on a visit to Segovia. The castle of the Alcazar of Segovia served as one of the inspirations for one of Disney's most iconic fairytale castle. More specifically, the blue turrets inspired those found at Cinderella Castle at Walt Disney World Resort.
Madrileños will be quick to tell you that, apart from these historical attractions of course, the number one reason to visit Segovia is for the cochinillo asado, or roast suckling pig, the town's local specialty.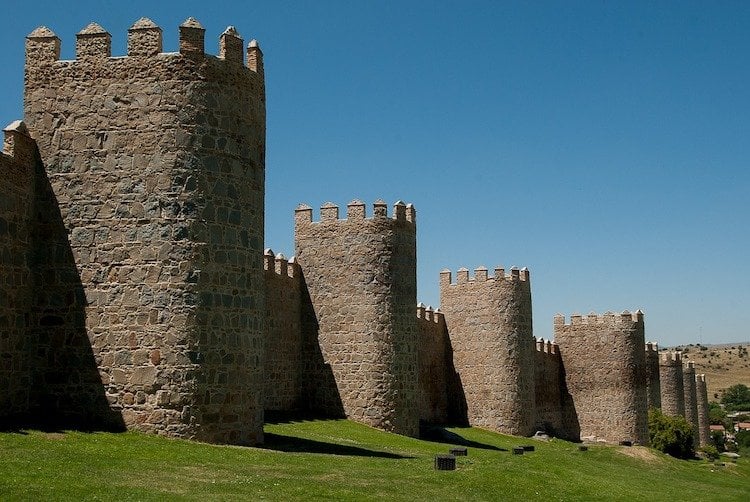 Avila
Best time to visit: Fridays at the end of Spring semester, in Summer, or beginning of Fall semester
How to get there: Cercanías (metro) or bus
The third of the classic day trip options from Madrid is Avila. At this point, you may be thinking "great. Another ancient city," but what sets Avila apart is the intact medieval walls that stand strong and intact, encircling the town.
Avila dates back to pre-roman times and was originally the site of a Bronze Age fortress for the local Celtic people in the region. The city was eventually conquered by the Romans, and its famed walls were constructed in 1090. The walls and their well-preserved turrets remain a large draw for tourism today. Visitors can walk along the top of the wall, on a path called the allure, or around the walls from below.
The walls have landed the town on Spain's list of UNESCO World Heritage Sites. The walls are well ingrained into local culture and life; theatrical performances and poetry readings take place on the allure regularly. Apart from the walls, Avila is home to several cathedrals and basilicas, a plaza mayor, a robust shopping scene and several restaurants.
Insider tip: For the best views of ancient Avila, be sure to visit the Four Posts, a shrine to St. Teresa that is located on a hilltop just outside the city.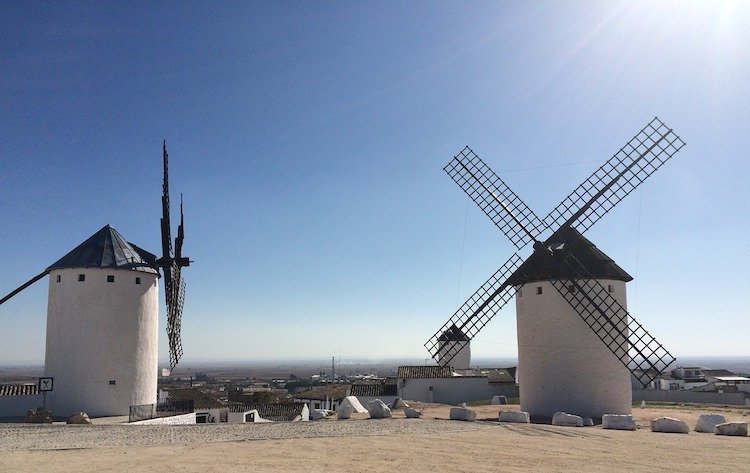 Campo de Criptana
Best time to visit: end of Spring semester, Summer, and beginning of Fall semester
How to get there: Renfe train
Campo de Criptana keeps a lower profile than either Toledo or Segovia, but it easily stood out as my favorite day trip I took while living in Madrid.
Just two hours from Madrid by train, this small pueblo is located in the region of La Mancha. Sound familiar? That's right, La Mancha is the setting for the most famous Spanish novel of all time, Don Quixote. Written by Miguel de Cervantes in 1605, the novel chronicles the adventures of Alonso Quixano in his quest to revive chivalry. One of the most iconic scenes involves Don Quixote fighting a collection of windmills that he mistakes to be giants.
These windmills live on today in Campo de Criptana. The pueblo is home to ten 16th century windmills that sit on a hilltop overlooking the town and the La Mancha countryside. Many of the town's buildings are white and blue and a walk through the winding streets to the hilltop setting is a lovely way to pass the morning or afternoon.
Apart from exploring the windmills there's not too much to do in Campo de Criptana, but you can easily round out the day by visiting the Cathedral and town square, and soaking up the sun at one of the town's restaurant terraces and relaxing with a cold cerveza.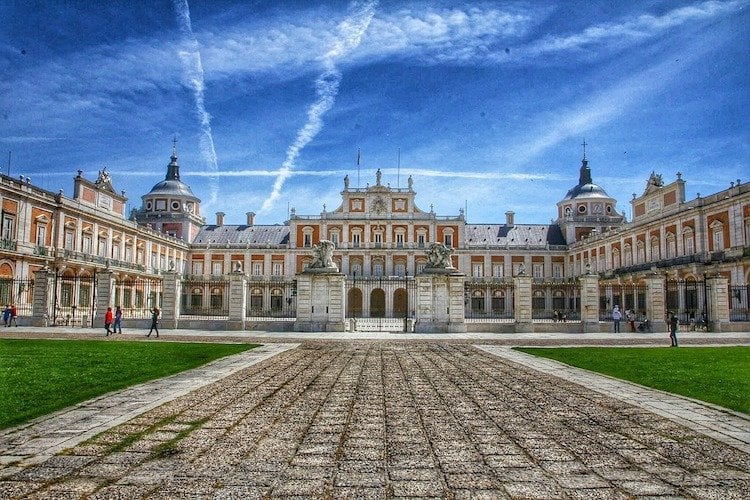 Aranjuez
Best time to visit: Spring semester, for the blooming gardens
How to get there: Cercanías (metro) or bus
If fairytale castles are your scene, you must also take a day trip to Aranjuez; The Royal Palace of Aranjuez remains one of the official residences of the King of Spain, Felipe VI. While it's not likely you'll see the King, Queen or two princesses while you visit, you are guaranteed to see beauty that makes it easy to understand why it is a UNESCO World Heritage Site. With a red and white marble façade, this opulent palace has housed the Spanish monarchy since the 19th Century. The blooming gardens here made it a popular choice for royal families to spend the Spring season.
Apart from the Palace, there is also a small historic quarter to explore and the plaza de toros hosts bullfights throughout the season.
Insider tip: If you're looking for a place to spend an 'out of the city' study break, the palace gardens are open to the public and offer benches, trees, and grassy knolls -- the perfect backdrop to do some reading in peace!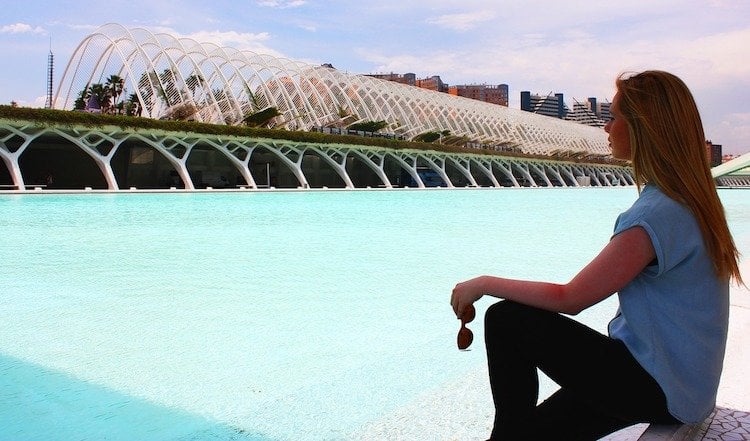 Valencia
Best time to visit: end of Spring semester, or Summer, to hit the beach
How to get there: AVE high-speed train or flight
Moving further afield, many of Spain's most visited cities are easy to squeeze into a weekend trip from Madrid. Valencia, Spain's third-largest city is about three hours away via bus or train. This sunny port city sits on the Mediterranean coast and is a great destination for a beach weekend.
Several of Spain's top beaches, including Las Arenas, Malyarrosa, and El Cabanal are just 15-minutes away from the city center and accessible by metro or tram. While most accommodations are located in the city itself, the beach area does have a happening nightlife scene with great restaurants, bars and clubs.
Apart from the beaches, the star attraction of Valencia is without a doubt the enormous and impressive City of Arts and Sciences. The five main structures in a futuristic series of complexes stretch for nearly a mile along a dry river bed, infusing the city with a sense of futuristic wonder. The attractions within the City of Arts and Sciences are dedicated to sharing scientific and cultural knowledge. There's even an Imax theater and aquarium.
Like most cities in Spain, Valencia also contains a well-preserved historic quarter. Valencia is known for its variety of plazas and the Valencia Cathedral is home to what some claim to be the Holy Grail.
For foodies, the city's Central Market is a haven for good eats. As I mentioned before, cuisine in Spain is quite regional, and one of the city's most famous dishes paella hails from Valencia. Paella con pollo y mariscos (paella with chicken and seafood) is the most authentic option, however, these days there are a great number of paella recipes with ingredients that cater to every taste.
In addition to its regional cuisine, Spain is known for its regional festivals. Each March, Valencia hosts the las Fallas Festival. Originally conceived to honor Saint Joseph, in modern times the five-day celebration is known more for being one of Spain's biggest parties that involve the creation of large paper mache dolls and their destruction for fire. Burn on!
Granada
Best time to visit: Spring semester and Fall semester, for fewer crowds
How to get there: Altaria high-speed train or bus
Granada, a medium city in the south of Spain, is around four hours from Madrid. This sparkling jewel that is a must on any traveler's itinerary who seeks to truly see and understand Spain. Located in the Andalusia region, Granada provides some of the country's most interesting historical and cultural landmarks set amid the picturesque backdrop of the Sierra Nevada mountains.
Originally founded by the Romans, Granada, and much of the South of Spain, were conquered by the Moors, an Islamic population from North Africa, in the 1200s. Atop Granada's Sabika Hill lies the city's main gem – the Alhambra. Known as 'the red castle,' this fortress and palace has roots dating back to the 900's. Built by the Moors and later controlled by the Jews and then Catholics, Islamic influences still run deep and it is a splendid place to take in Moorish art and architecture.
The Alhambra is quite large so expect to spend a half a day or more exploring depending on your level of interest. Apart from this attraction, the city offers a plethora of museums, gardens and quaint streets for shopping and wandering. While most cities in Spain (and Europe for that matter) will involve enough walking you'll want to lace up those running shoes, Granada is also close to some of the country's best hiking trails in the Sierra Nevada.
Flamenco is another one of those customs that is seemingly synonymous with Spain, but actually regional. So much more than dancing, this folk art is an intricate mixture of guitar playing, singing, and of course, heart-pounding dance moves. Flamenco hails from the Andalusia region, and Granada is one of the best places to check out some of the most authentic performances in the many cuevas that fill the town.
Get Ready to Explore
If I can conclude with one final piece of advice it is this: get ready to explore! If you are studying abroad in Madrid you've chosen one of the best-located cities in Spain for discovering the entire country. One or two semesters may seem like a lot of time when you are first moving to another country, but the time is going to pass quickly. Living abroad in Spain may be a once-in-a-lifetime experience, so be sure to see, learn and do as much as you can while you can.